4 Things You'll Learn About Laser Skin Resurfacing During Laser Training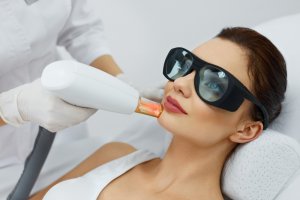 Everyone wants perfect skin, but few people are fortunate enough to have it.
Skin concerns such as sunspots, skin discoloration, wrinkles and acne scars may leave individuals with lower self-esteem and a desire to correct their skin concerns.
Fortunately, laser skin resurfacing can help rejuvenate your skin and minimize skin imperfections.
Did you know you can learn laser skin resurfacing and other cosmetic laser treatments during laser training at National Laser Institute?
What You'll Learn About Laser Skin Resurfacing During Laser Training
1.When you have laser skin resurfacing makes a difference
Did you know winter is considered "laser season"? Because laser-treated skin is sensitive to sun exposure, cosmetic laser techs recommend undergoing laser resurfacing and other laser treatments during fall or winter months when you spend most of your time indoors and covered head to toe.
During laser training, you will learn to advise your clients to wear a broad-spectrum SPF 30 or higher sunscreen daily regardless of what time of year you have your laser procedure. Wearing sunscreen not only helps to keep your results looking great, but it also provides protection against the skin cancer and premature aging.
2. Having darker skin does not necessarily prevent you from laser resurfacing
A common misconception among clients is that laser skin resurfacing is only safe for light skin types. While certain lasers pose a higher risk for discoloration or cell damage in darker skin, there are safe and effective skin resurfacing options. Clients with darker skin may consider other skin resurfacing options such as radiofrequency treatments or microneedling.
3. Different lasers are optimized for different issues and skin types
The reason there are various laser options is that one laser cannot treat all patients or skin concerns. One way different laser resurfacing methods differ is the degree to which they penetrate the skin. There are three categories of laser skin resurfacing devices.
Ablative lasers work by uniformly affecting the skin. Each pass of the laser will remove another thin layer of skin.
Non-ablative lasers, on the other hand, cause heat damage to the upper or deeper layers of the skin.
Fractional lasers are either ablative or non-ablative. This skin resurfacing method involved coaxing the body into responding to fractionated laser light.
Here are two lasers that you will come across during laser training at National Laser Institute:
Fractional Lasers. This type of laser breaks up the laser energy into thousands of tiny beams to treat only a fraction of the skin in a particular area, which reduces downtime. Fractional lasers can be ablative or non-ablative, and they are used to treat many age-related blemishes.
Intense Pulsed Light (IPL). Technically, IPL laser treatments are not lasers, but they are often used to treat similar concerns as lasers like rosacea, acne, sun damage and hyperpigmentation.
4. Clients should plan on having multiple treatments
As a cosmetic laser tech, you will learn that most non-ablative lasers require a series of treatments for the best results. This is one of the trade-offs that comes with a minimal-downtime treatment. But once the series of treatments is complete, the results are long-lasting.
What Can Laser Skin Resurfacing Improve?
Fine lines and wrinkles around or under your eyes, forehead or mouth
Acne scars
Non-responsive skin after a facelift
Aged or sun-damaged skin
Liver spots
Overall skin complexion
Warts
Birthmarks such as linear epidermal nevi
Enlarged oil glands on the nose
Cosmetic Laser Training at National Laser Institute
Did you know you can become a certified cosmetic laser technician after just 1-2 weeks of training from National Laser Institute?
With over a decade of excellence, we provide you with both classroom education and clinical hands-on training for the most comprehensive training experience.
Our cosmetic laser courses are taught by some of the industry's leading experts, including cosmetic laser techs, nurses, physicians and skincare specialists with up to 20 years of experience in the field. During didactic (classroom) education, you will learn from up to 13 different instructors alone!
In the classroom, you will learn things like laser biophysics and tissue interaction, patient selection, pre-and post-patient care and more! This will prepare you for your hands-on training.
Your clinical hands-on training will be done in a medical spa environment where you will treat scheduled clients to gain real world experience. We have a dedicated staff that works around the clock to book paying clients for you to perform treatments on. We like to keep our classes small to provide you with a more intimate and personalized learning experience.
You will have the opportunity to learn cosmetic treatments such as:
Laser Hair Removal
IPL Photofacial
Acne Reduction
Laser Tattoo Removal
Laser Spider Vein
Fat Reduction
Cellulite Reduction
Micro Current
Lamprobe
Dermal Infusion/Vibration non-crystal advanced Microderm
Radio Frequency Skin Tightening
Laser Facial Peel
Nonsurgical Body Contouring (CoolSculpting)
Once you complete your laser training, you will feel confidant and comfortable to perform a variety of laser treatments in any medical setting!
If you would like to learn more information about our cosmetic laser training, feel free to give us a call at 800-982-6817 or fill out the form on your right.