4 Reasons to Get PDO Threads! Learn Why During PDO Threads Training!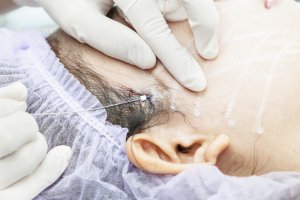 Achieving a youthful appearance has never been easier, thanks to PDO threads!
PDO threads can quickly and effectively contour the neck and jawline as well as erase wrinkles from the skin to combat signs of aging.
The best part: If you are a physician, nurse or medical professional, you can attend PDO threads training at National Laser Institute!
What are PDO Threads?
PDO threads, nicknamed the non-surgical facelift, stimulate collagen growth by lifting the face to accentuate the cheeks, tighten the jawline and diminish the jowls.
In recent years, polydioxanone threads have gained recognition in the medical aesthetics industry. The threads can be inserted almost anywhere in the body, but physicians and nurses have found that they are most effective when treating the neck and jawline.
In addition to stimulating new collagen growth, there are several PDO threads treatment benefits:
Skin rejuvenation
Brightened skin tone
Improvement in skin wrinkles for up to 12 to 18 months
No surgery and minimal downtime
Here's Why You Should Try PDO Threads
Just one PDO thread treatment can quickly and effectively contour the neck and jawline, erase wrinkles from the skin and so much more! Here are a few reasons why you should try PDO threads:
Improved elasticity and texture. As we get older, the sun and the aging process naturally takes a toll on our skin's elasticity and texture. We go from having smooth, soft skin to skin that no longer has the same elasticity as when we were younger.
Reduces wrinkles. Like Botox, PDO threads are a great way to reduce the wrinkles on your face. They can help with fine lines that are starting to develop as well as deep folds that you may have had on your face for several years.
Brightens skin tone. PDO threads improve the condition of your skin, giving you a more radiant appearance. This treatment rejuvenates the skin because of the lifting effect, which will give you more defined facial contours.
Natural-looking results. Just one PDO treatment makes it possible to reverse unwanted signs of aging and enhance your overall appearance – all without a painful, invasive process or extended recovery time! Whether you want to contour your jawline, reduce nasolabial and marionette lines or lift the skin around the eyebrows and cheeks, PDO threads make it possible.
PDO Threads Training at National Laser Institute
At National Laser Institute, we offer PDO thread and injection training for physicians, nurses and medical professionals who have completed our Botox, Dermal Filler & Advanced Injectable course OR has six months of Botox/dermal filler injecting experience.
During a PDO threads course, attendees will receive clinical hands-on training where they will treat scheduled clients in a medical spa environment to gain real-world experience. You will be trained on how to administer PDO thread lifts on some of the most in-demand treatment areas:
Cheek vector
Jaw
Lip enhancement/Perioral lines
Nasal labial folds
Attendees who complete their PDO threads certification will demonstrate knowledge of three types of threads: smooth, twisted and barbed.
With threads certification from National Laser Institute, you'll be prepared to comfortably and confidently provide these treatments to your clients in a safe, professional and efficient manner.
If you would like to learn more about National Laser Institute's CE/CME training courses, fill out the form on the right, or give us a call at 1-480-290-7399 for more information.