Top Medical Aesthetics Treatments for the Holidays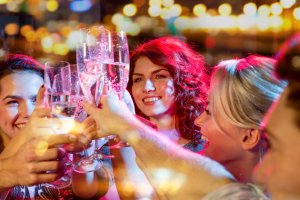 Getting ready for the holidays is never easy, but if your plans this holiday season involve cosmetic treatments don't put off making those appointments.
We're breaking down five of the most popular treatments for the holidays – and how you can learn them during medical aesthetics training at National Laser Institute!
Top Holiday Treatments
Here are some of the most requested aesthetic treatments for the holidays that you will learn during cosmetic laser training.
Botox. Botulinum toxin (Botox) is by far the most popular aesthetic treatment. In fact, over 7 million treatments were performed in 2016. As a cosmetic nurse, you will find many clients favor Botox injections, because they are quick, relatively painless and the results are amazing. A treatment can even be performed during lunch! So, say goodbye to those crow's feet, forehead lines and frown lines.
Dermal Fillers. Did you know that visible signs of aging are caused by volume loss? Fillers are an easy way to plump the lips and restore volume that has been affected by aging and collagen loss. After a filler treatment, many clients have reported seeing volume-boosting effects right away, but it can take up to two weeks to see results, according to physicians. During medical aesthetics training, you will learn these soft tissue fillers are commonly used to target the nasolabial folds, cheeks and lips.
CoolSculpting. With more than five million treatments performed worldwide, it's no secret CoolSculpting is the world's #1 non-surgical fat-reduction treatment! During medical aesthetics training, attendees learn that this FDA-approved treatment uses controlled cooling to eliminate stubborn areas of fat. This treatment can treat the abdomen, flanks (love handles) and the inner thighs.
Kybella. Kybella is a deoxycholic acid injection approved by the FDA that contours and improves the appearance of submental fullness, most commonly known as a double chin. A typical Kybella treatment only takes 15 to 20 minutes, and the number of treatments varies depending on the client.
Halo. This cosmetic laser treatment can address a variety of skin imperfections that will make your client's skin look younger! What is unique about this treatment is it can perform ablative and non-ablative skin rejuvenation simultaneously.
Medical Aesthetics Training at National Laser Institute
With over a decade of excellence, National Laser Institute offers medical aesthetics courses that can be completed in just two weeks.
Our courses are led by some of the industry's leading physicians, nurses and cosmetic laser experts who have over 20 years of experience in the field. Each course includes classroom (didactic) education and clinical hands-on training for the ultimate learning experience.
The Comprehensive Laser Course is by far our most popular course for estheticians and career changers. It covers some of the most in-demand cosmetic laser treatments such as laser hair removal, Intense Pulsed Light (IPL) photofacial, skin rejuvenation, skin tightening and more.
Our CE/CME training courses are geared towards physicians, nurses and medical professionals looking to earn their Botox certification. Attendees will have the opportunity to learn aesthetic procedures like Botox, dermal fillers, Kybella, platelet-rich plasma (PRP) and more.
To learn more about National Laser Institute's course options, please fill out the form on the right or give us a call at 1-480-290-7399.