Salary for Medical Estheticians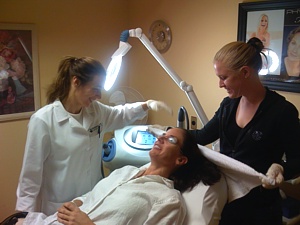 The world of beauty, skincare and anti-aging is an exciting and fun environment if you're passionate about helping your clients gain self-confidence within their appearance.
Medical estheticians are those who can perform a variety of cosmetic laser treatments (laser hair reduction, radiofrequency skin tightening, laser tattoo removal), and if they have a medical professional background, cosmetic injectable treatments (Botox, Juvederm, Restylane, etc.).
Income and salary are the top concerns for those who are interested in jumping into this market as a medical esthetician. It's understandable. You need to know if attending one of many medical esthetician schools will be worth it in the end. That's why we help break it down.
Qualifications
Before we begin talking esthetician salary, it's important to cover qualifications.
In order to attend medical esthetician school in most states, you must have your high school degree or GED. However, there are a few states that only allow medical professionals, like nurses or doctors, to perform cosmetic laser treatments, so it's important you check your regulations. In order to attend cosmetic injectable courses at medical esthetician schools, you must be a medical professional.
Check your state's regulations and gain more information by calling 800-982-6817.
Pay Structure
How much does a medical esthetician make?
According to the Bureau of Labor Statistics, skincare specialists earn an average salary of $30,270 per year. The Bureau of Labor Statistics also stated that medical estheticians in particular earn anywhere between $32,000 – $52,000 per year, but there are many variables that contribute to those numbers, such as the type of business, skill level, location, part time versus full time, tips and bonuses, your state's regulations and how hard you choose to work.
For instance, in California a medical esthetician typically makes much more than $52,000 a year. This may be because California is heavily populated, the standard of living is much higher and thus people pay more, and state regulations. However, that may not be true for someone who lives in a small town CA with no demand for medical esthetic treatments.
If you truly enjoy this business, you will want to hustle to gain and keep clients. You know the saying, "you get what you pay for"? Well it also works with "you get as much as you're willing to put into this." The harder you work, the more you should be rewarded.
There are three different pay structures for medical estheticians:
Hourly. It's common for medical estheticians to earn an hourly pay rate. Again, the amount varies depending on the variables we discussed above. National Laser Institute pays medical estheticians $20 an hour plus tips. Be prepared for hourly pay if you are considering entering this marketplace.
Commission. There are some places that offer medical estheticians a commission structure pay scale. This can be 10%-40% depending on, again, the above variables. Tips may be included in this structure as well.
Salary. Salary is the least common pay structure in this business. Although it is rare, there are some places that do offer it.
Schools for Medical Estheticians
Before you can start making money, you need to look into medical esthetician schools in order to gain training.
National Laser Institute is the leading medical esthetic school in the nation and has been around for over a decade. We provide you with hands-on training with state-of-the-art equipment and the latest techniques.
Our courses are divided into 2 sections: didactic (classroom) and clinical hands-on training to give you the ultimate learning experience.
You will also be treating real clients within a retail medical spa setting in order to gain a real world feel for these services. We also give you access to our Graduate Services Department, which provides over 500 job leads each month in order to help you find your perfect career once you graduate!
To learn more about medical esthetician schools or National Laser Institute, simply fill out the form to your right or call 800-982-6817.
Learn more: