Sweaty Palms? See How Cosmetic Injections Can Help!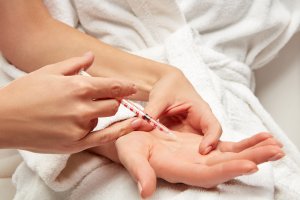 Excessive, uncontrolled sweating of the hands can be stressful and embarrassing.
Several medical treatments can address hyperhidrosis, but there is one that might surprise you.
Botox, the same cosmetic injectable that is used to fight fine lines and wrinkles, can turn off the waterworks!
Botox For Sweaty Hands
Botox injections are used to treat several medical conditions. It is a neurotoxin made from botulinum toxin, which addresses fine lines and wrinkles. While Botox got its start as a cosmetic treatment, physicians also use it to treat a variety of neuromuscular conditions such as muscle spasms, migraines and hyperhidrosis.
A medical term for excessive sweating, hyperhidrosis refers to any abnormal sweating. Botulinum toxin treatments have been FDA-approved for people who sweat excessively from their armpits. Individuals who sweat excessively often soak through their clothing as normal antiperspirants don't work well enough.
The procedure may also be used "off-label" to reduce sweating in the hands, feet and face. Simply put, off-label means a product is used for something other than what it was approved to treat.
Studies have found that Botox has successfully treated sweaty palms in 80 to 90 percent of all cases.
When Botox is administered to an injection site, the overactive nerves are paralyzed. When the nerves are unable to signal the sweat glands, you don't sweat.
Botox Training at National Laser Institute
During National Laser Institute's Botox training courses, we teach physicians, nurses and medical professionals the latest, most advanced techniques for treating their clients.
Each Botox and fillers course combines didactic theory with clinical hands-on training for the ultimate learning experience.
In the classroom, you will learn about facial anatomy, Botox injection techniques, patient selection, contraindications and more. Clinicals are spent in a medical spa setting where you will put your new skills to use as you watch comprehensive Botox demonstrations and treat scheduled clients.
One of the things that set us apart from other medical aesthetics schools is we spend millions of dollars each year on scheduling clients for you to work on to gain real-world experience in a medical spa environment.
By the end of a cosmetic injectables course, you will have had experience with Botox, dermal fillers (Restylane®, Perlane® and Juvederm®), Kybella, Platelet-Rich Plasma (PRP) and more!
To learn more about National Laser Institute's Botox training, give us a call at 800-982-6817 or fill out the form on your right.