Career Change at 40: Easier Than You Think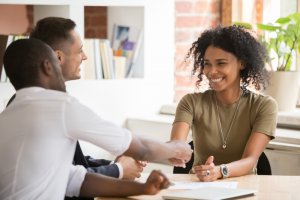 Have you been having a hard time finding good choices for a career change at 40? Making a career change is always intimidating, but it can feel extra daunting when you have reached middle-age. If you are looking to make a late career change, consider the field of medical aesthetics. This booming industry has some of the best jobs to retrain for at 40.
Forget Everything You Thought You Knew About Career Change at 40
For many people, starting a successful new career at 40 may seem like nothing but a pipe dream. You may be convinced that making a career change means going back to school for another two- or four-year program. Or you may just feel underqualified to go into a new field at all.
The good news about the medical aesthetics industry is that it is ready to welcome anyone willing to learn. In most states, the only real requirements are that you:
Be of eighteen years of age or older,

Have a high school diploma or its equivalent
Forget everything you thought you knew about a career change at 40. The only thing standing between you and your new career … is yourself!
… Okay, Maybe Don't Forget Everything
Some students come into their medical aesthetician courses with more transferable skills than others. This is not surprising, as the field of medical aesthetics exists somewhere between dermatology and cosmetology.
After getting certified, nurses and physician assistants frequently open up private practices as medical aestheticians. Alternatively, they may work at physicians' offices or spas to maximize their income potential. This is especially common when working with Botox and other fillers. As mentioned before, only those with previous medical training can inject fillers. (In contrast, anyone can undergo the training to become a laser technician.)
But there is no reason to be discouraged by a lack of experience with the above "hard skills." According to the Bureau of Labor Statistics, some of the most important qualities that go into being a medical aesthetician involve business skills, customer service skills, initiative, physical stamina, tidiness, and time management skills. Most people have extensive experience with at least one of these skills—and, of course, these "soft skills" can always be honed over time.
Medical Esthetician School for Career Change at 40 Near Me
The National Laser Institute has been an industry leader for nearly two decades. We are dedicated to helping our students advance to the next stage of their careers. Whether you are a medical professional looking to expand your business or a recent graduate entirely new to the workforce, we are here to help.
During our Hybrid* Online Comprehensive Laser Course, you will receive online classroom laser training with a variety of instructors and live demonstrations with several hours on each modality. Modalities include Laser Hair Removal, Photofacial, Laser Skin Rejuvenation, Radiofrequency Skin Rejuvenation, Coolsculpting, Cellulite Reduction, Tattoo Removal, Radiofrequency Skin Tightening, and Microneedling.
During our CME Hybrid* Online Cosmetic Injections Course, you will receive online classroom and demonstrations on Botox, dermal fillers, off label Botox and fillers, PRP, sclerotherapy, Kybella, and PDO threads. Then choose one of our nationwide locations to attend your clinicals for hands-on learning!
On top of having multiple locations across the country, we also train hundreds of students per month at our Arizona campus. We offer a wide variety of courses, and financing options are available. Are you interested in working directly with clients to make their visions a reality? Medical esthetics may be the right choice for you. Call us today at 480-290-7399 for more information.
We will be happy to answer any questions you may have about taking the first steps towards your new career in this booming industry. Join our successful alumni working as laser hair reduction technicians, laser tattoo reduction specialists, medspa owners, cosmetic injectors, aesthetic nurses, cosmetic physicians, and more.