Laser Hair Removal Courses Remote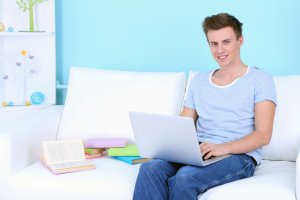 Have you been wanting to get into the cosmetic laser industry? Are you an esthetician looking to gain more skills? Here at the National Laser Institute, we offer laser hair removal courses remote so that they are accessible to you at any time. If you prefer to learn in a hands-on in person-environment we also offer that as well. This is a booming industry where treatments are in demand as well as jobs. Now is the perfect time to take a plunge and get started in this exciting career!
Who can become a laser technician?
You may be thinking that you need to have a medical background or already be an esthetician to be able to get training to become a laser technician. This couldn't be further from the truth. As long as you are at least eighteen years old and have a high school diploma or GED you are eligible to take our cosmetic laser course at the National Laser Institute. We love students who come from completely different career backgrounds or are stay at home moms. These students are always hungry to learn and excited about starting a whole new chapter in their lives. When you take a course with us such as our laser hair removal courses remote option you'll be learning an entirely new skill with fresh eyes. What could be more exciting?!
Our remote learning options
Here at the National Laser Institute, we offer remote learning such as our laser hair removal remote courses option. You will get the same great teaching that you would in person at our headquarters only now it can be from the comfort of your home! This is so exciting as we know it will expand the number of students that have the ability to learn from us and get into an entirely new career field. When it comes to remote learning we offer a Hybrid* Online course that is both in-person and remote. We then also offer a fully remote course. In both options, you will get the same education and the same amazing dedication from our staff of expert instructors who have many years of experience in the medical aesthetics industry.
Here's a breakdown of what you can expect to learn during the classroom portion of the course:
Treating different skin conditions and types

Evaluating skin types using the Fitzpatrick scale

Skin physiology and tissue interactions

Laser Physics

Laser Safety

Indications and contraindications

How to perform the consultation process

Laser settings and functionalities
During the hands-on learning you can expect to learn to administer treatments such as:
Laser hair removal

Intense Pulsed Light (IPL) photofacial

Laser spider vein reduction

Laser acne treatments

CoolSculpting body contouring

Laser wrinkle reduction

Radiofrequency (RF) skin tightening

Laser skin tightening

Cellulite reduction

Laser tattoo removal
At the end of the program you'll be able to:
Recognize the unique characteristics of a cosmetic client

Understand the fundamentals of how a laser interacts with skin tissue

Explain how different types of light-based devices interact with the skin in nonsurgical procedures

Identify safety issues and complications as well as recognize contraindications for various cosmetic laser treatments

Determine which types of laser treatments will create the desired results for your clients

Understand the hazards associated with cosmetic lasers and how to avoid them

Demonstrate proper technique and safe operation of laser and pulsed light devices

Explain the benefits, expectations, and results associated with several laser devices
Why choose the National Laser Institute for courses such as laser hair removal courses remote option?
At the National Laser Institute we are dedicated to the success of our students. We truly believe in the power of this industry to improve the lives of clients as well as the people doing the work. You should wake up every day and truly love what you do. Don't let yourself waste away your life at a job that is unfulfilling. Here at the National Laser Institute we'll guide you through the entire process to get you started in this exciting industry and before you know it you will have graduated and be starting your first job! Don't look back and wish you would have started sooner. Allow yourself to start now! Here are some of the reasons why our school may be the best option for you:
Classes lead by dermatologists, cosmetic surgeons, and leading industry physicians and medical aesthetics experts

Train on multiple, industry-leading technologies

Luxury, retail medical spa training center

Staffed with a specific team of 20 customer service/marketing agents

Medical advisory board with over 100 years of combined experience

Business development/marketing seminar

Featured in the top national health and beauty publications

Industry pioneer for education in Laser, Botox, and Filler training
Here are some student testimonials just in case you don't take our word for how great we are:
Curious about other student's laser hair removal courses remote experiences? Check out these student testimonials!
"My experience at National Laser Institute blew my expectations out of the water! The staff is amazingly knowledgeable and truly encouraging. They sincerely want every student to succeed! Along with an amazing two weeks of class and hands on experiences, I made some of the best memories I will hold near to my heart forever. I am truly blessed to not only have attended NLI, but that my education at the facility helped me land a job with a dermatologist only three days after returning home! I will forever be grateful for the knowledge I gained from NLI, and the relationships I built while I was there."
Sarah Hennerich
"National Laser Institute is the complete package. Positive energy from day one to the very last day. Instructors, who are not only very knowledgeable but can clearly articulate the information in their own unique way while making it fun! Wide variety of Lasers to use on a diverse clientele giving you real-life applications! A current view of what is happening in the marketplace of Medical Aesthetics. You will not go wrong with choosing NLI as your Education Provider!!!"
Lisa Pomp
Contact us today!
If you are ready to jump into a career as a laser technician and you are interested in remote learning such as our laser hair removal courses remote options, then give us a call today! We can't wait to hear from you!
During our Hybrid* Online Comprehensive Laser Course you will receive online classroom laser training with a variety of instructors and live demonstrations with several hours on each modality. Then choose one of our nationwide locations to attend your clinicals for hands-on learning!
Modalities include Laser Hair Removal, Photofacial, Laser Skin Rejuvenation, Radiofrequency Skin Rejuvenation, Coolsculpting, Cellulite Reduction, Tattoo Removal, Radiofrequency Skin Tightening, and Microneedling.
If you're ready to get started in the medical aesthetic industry then give us a call at 855-637-4530 to talk with one of our admission representatives. They'll answer all your questions and guide you through the whole process.