Radio Frequency Classes Dallas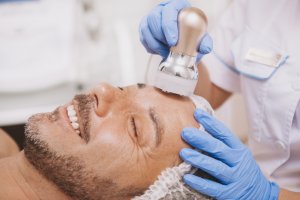 An interest in radio frequency classes and training in the Dallas area has spiked over the last few years. Also referred to as RF, it is commonly used for skin tightening in heavy use areas. Dallas residents and Texans in general, are some of the hardest working folks we know. But working in the intense heat and tough surroundings can take it's toll on the body. And that's exactly why RF is in such high demand right now.
If you've ever cooked on a electric stove, or listened to the radio in your car, you've experience RF energy. In the medical world, we use radio waves for everything from skin tightening to skin tone. Because such a wide variety of uses exist, there's a high demand for training. If you're interested in learning this tech should seek quality schooling, and pick a class schedule that works best for them.
Here at the National Laser Institute, we offer complete online laser courses that cover everything from RF treatments to Body Contouring.
What Is Radiofrequency?
We get this question A LOT, and thankfully the answer is pretty clear. Short for RF, it is used to tighten areas of the skin. During treatment an electrical current is used to heat up small areas of tissue, which in turn promotes cell turnover.
You can use RF for many things, but some of the more common uses are lifts, tone, and structure. In general, we use lasers to treat the skin without risking damage.
Is It Safe?
RF has proven to be a safe and effective treatment, and, in general, is well-tolerated. However, as with other treatments, you should always discuss RF with a Physician first.
Do I Need Training To Administer RF Treatments in Texas?
You do need training to treat patients with RF in Dallas and surrounding areas. You'll have a ton of choices as far as training is concerned, but, keep in mind that not all classes are created equal. So, if you're looking for an RF cert, finding a class designed around the electronics used in the field can be huge. Because let's face it – why would you want to spend time learning something you'll never use? We always recommend doing your research ahead of time here at NLI as it can pay off in the long run.
What Will I Learn In Laser Class?
As we mentioned before, NLI covers everything from Radio Frequency to Body Contouring in our classes. Here's a list of the topics we'll discuss in our hybrid* course
Laser Hair Reduction
Laser Tattoo Removal
Photo-facial
Cool-sculpting Body Contouring
Radio-frequency Treatments
Skin Rejuvenation
Skin Tightening
Cellulite Reduction
Microneedling
Plus more!
Our Radio Frequency Classes in Dallas feature online instruction from leading experts in the field. And, because our training program is virtual, it allows students to take it where ever they want.
Where Can I Find Radio Frequency Classes In Dallas?
If you're looking for radio frequency classes in the Dallas area, there's never been a better time. In fact, we've seen an impressive rise in demand for online classes over the past few months. Businesses like NLI are doing everything they can to meet that demand. Our hybrid* course features a mix of online classroom and hands on training, and, can work around busy schedules. If you live in the Dallas area, you can visit one of our many locations to discuss your options.
Do you still questions about radio frequency classes in Dallas? Give us a call: 480-290-7399, and we'll point you in the right direction.
During our Hybrid* Online Comprehensive Laser Course you will receive online classroom laser training with a variety of instructors and live demonstrations with several hours on each modality. Then choose one of our nationwide locations to attend your clinicals for hands-on learning!
Modalities include Laser Hair Removal, Photofacial, Laser Skin Rejuvenation, Radiofrequency Skin Rejuvenation, Coolsculpting, Cellulite Reduction, Tattoo Removal, Radiofrequency Skin Tightening, and Microneedling.