Cellulite Reduction Online Training Phoenix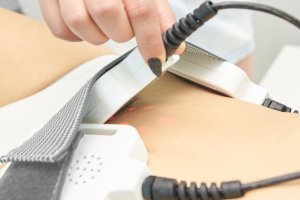 Are you interested in taking a cellulite reduction online training course in Phoenix? Our laser technician course may be the perfect course for you. We offer online learning as well as an online/in-person course. No matter how you want to learn we have an option for you. This is a booming industry! Many clients are looking for solutions to issues such as sagging skin, cellulite, and stubborn fat. As a laser technician, you can improve the lives of your clients. Spend your days working in the cosmetic laser industry helping clients gain confidence! There is nothing more rewarding than knowing you change people's lives!
What is Cellulite Reduction?
Cellulite reduction is a cosmetic laser treatment to reduce the appearance of cellulite. Cellulite is a fat deposit beneath the skin. It is lumpy, dimpled skin on the thighs, hips, buttocks, and belly. There are many things that may contribute to the appearance of cellulite. Genetics, diet and exercise, and your age. Depending on the severity of the client's cellulite it may be moderate or severe. When assessing a treatment plan it is important to note how extreme their cellulite is. The more extreme, the more treatment sessions they may need. 
Here are some stats about cellulite:
Between 80 and 90 percent of women will probably experience cellulite

Cellulite is an orange-peel skin, due to its texture

Numerous treatments are available, but the effect is mostly temporary

A diet low in fat, smoking cessation, and an active lifestyle may help reduce the appearance of cellulite
Clients may be more susceptible to getting cellulite if they have the following:
Someone in your family has it

You are older (your skin loses elasticity as you age, making surface changes more visible)

A sedentary lifestyle

You eat an unhealthy diet high in fats and carbohydrates
Cellulite Reduction Online Training in Phoenix
Want to take cellulite reduction online training in Phoenix? Here at NLI, we have the perfect program for you. You'll become trained in cellulite reduction and a variety of other treatments. Upon graduation, you will be a cosmetic laser technician. During our program, you will learn a range of treatments. Everything from laser tattoo removal to micro-needling. 
Learn In-demand Body Contouring Treatments
Body contouring treatments are in-demand. Many clients are looking for treatments to deal with stubborn fat, double chin, and cellulite. You'll learn treatments such as Coolsculpting and cellulite reduction. Coolsculpting uses freezing technology to freeze fat away. The fat is then eliminated naturally through the body. The best part? It's permanent. Clients love these treatments as they are non-invasive and the results last forever!
Why take a course online?
You may be wondering why do cellulite reduction online training in Phoenix? Why do training online? Online training is accessible. You don't need to pick up and leave your life. You can start our laser technician course from the comfort of your home. 
Start our Cellulite Reduction Online Training Phoenix
Ready to get started with our online course? Give us a call today! You could be a laser technician in a matter of weeks!
During our Hybrid* Online Comprehensive Laser Course you will receive online classroom laser training with a variety of instructors and live demonstrations for several hours on each modality. Then choose one of our nationwide locations to attend your clinicals for hands-on learning!
Modalities include Laser Hair Removal, Photofacial, Laser Skin Rejuvenation, Radiofrequency Skin Rejuvenation, Coolsculpting, Cellulite Reduction, Tattoo Removal, Radiofrequency Skin Tightening, and Microneedling.
If you're ready to get started in the medical aesthetic industry then give us a call at 855-637-4530 to talk with one of our admission representatives. They'll answer all your questions and guide you through the whole process.