Photofacial Blended Online Training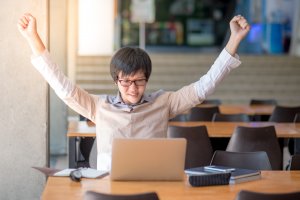 Looking for blended medical aesthetic courses? Here at NLI, we offer photofacial blended online training. During our course, you will learn the latest in-demand treatments and gain the skills needed to succeed in this industry. We can't wait for you to get started on the path to your dream career!
What is Photofacial blended online training?
Photofacial blended online training is training that is done online and in-person. You get the best of both worlds. In the online portion of the course, you will learn the classroom side of things. This includes laser technology and laser safety. You'll cover:
Treating different skin conditions and types

Evaluating skin types using the Fitzpatrick scale

Skin physiology and tissue interactions

Laser Physics

Laser Safety

Indications and contraindications

How to perform the consultation process

Laser settings and functionalities
During part two of the program, you'll come to our school. This is the most exciting part of the course. You'll get to interact with fellow students. You'll get hands-on guidance from our instructors. During this time you will learn how to administer the latest in-demand treatments. Including:
Laser Tattoo Removal

Coolsculpting Body Contouring

Radiofrequency Treatments

Skin Rejuvenation

Skin Tightening

Cellulite Reduction

Microneedling, and so much more!
Why take a blended online course?
There are many benefits to taking a blended online course. Many people learn better through online training. They are able to stay more focused and organized. Another benefit is that you can keep your day to day routine. You can continue with your life and do your learning when it suits you. By adding an in-person portion, however, you also get hands-on training. Most people learn best by doing. Once you have the experience of doing treatments on someone it is a lot easier to feel confident in the future when you administer treatments. 
What is a Photofacial?
What is Photofacial treatment anyway? A Photofacial is a treatment that targets skin impurities with non-invasive, light-based technology. The results of this treatment are more youthful and radiant skin. Photofacials are best for treating the following conditions:
Sun damage
Rosacea
Broken capillaries
Certain acne scarring
Freckling
Age/dark spots
Apply to take our Photofacial Blended Online Training Course today!
By the end of the photofacial blended online training, you'll feel confident in your ability to work one on one with clients. You will be confident in yourself and your knowledge and you'll be ready to work in this growing field!
During our Hybrid* Online Comprehensive Laser Course you will receive online classroom laser training with a variety of instructors and live demonstrations with several hours on each modality. Then choose one of our nationwide locations to attend your clinicals for hands-on learning!
Modalities include Laser Hair Removal, Photofacial, Laser Skin Rejuvenation, Radiofrequency Skin Rejuvenation, Coolsculpting, Cellulite Reduction, Tattoo Removal, Radiofrequency Skin Tightening, and Microneedling.
If you're ready to get started in the medical aesthetic industry then give us a call at 855-637-4530 to talk with one of our admission representatives. They'll answer all your questions and guide you through the whole process.