Why Consider Esthetician School Online?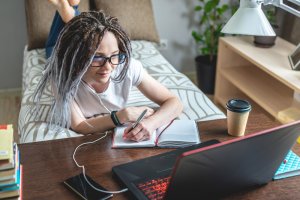 Are you thinking about pursuing a career in beauty? Have you considered attending an esthetician school online? Many people mistakenly believe that online esthetician courses are ineffective. In this blog post, we will discuss why completing esthetician school online may be the right choice for you.
What Do You Learn When Completing Esthetician School Online?
Also known as esthetics schools, esthetician schools prepare students to become licensed beauty professionals. Each state has its own rules and regulations regarding esthetician licensing. However, all good esthetician schools teach their students about anatomy, facial science, safety and sanitation, and skin sciences.
Some esthetician schools may also teach students about customer service, marketing, and salon management. All of these skills and theories can be taught and learned seamlessly online, though some hands-on, applied training may be necessary. hybrid* programs are a way to get the best of both worlds: learning skills and theories on your own time and practicing with experts when you are ready.
However, esthetician schools do not teach students how to do hair, makeup, and other general cosmetic treatments. Although some cosmetologists may be general estheticians, most estheticians are not cosmetologists. Estheticians are skincare specialists, while cosmetologists are in the business of general beauty.
What Can I Do After Completing Esthetician School Online?
Once certified, estheticians may choose to work in many different settings. Commercial settings like salons and spas are popular, although job openings also exist in clinical settings like plastic surgeons' offices. More skilled and established estheticians may also open up private practices.
However, estheticians can only work with only the superficial layers of the skin. They cannot conduct any cosmetic laser treatments or inject any cosmetic fillers. This can put a major cap on income potential, especially in a world where medical aesthetics continue to grow in popularity. For this reason, it is not uncommon for estheticians to "upskill" after completing esthetician school.
Medical Esthetics Courses Near You
The National Laser Institute has been an industry leader for nearly two decades. Whether you are a medical professional looking to expand your business, a recent graduate entirely new to the workforce, or anything in between, we are here to help.
During our Hybrid* Online Comprehensive Laser Course, you will receive online classroom laser training with a variety of instructors and live demonstrations for several hours on each modality. Modalities include Laser Hair Removal, Photofacial, Laser Skin Rejuvenation, Radiofrequency Skin Rejuvenation, Coolsculpting, Cellulite Reduction, Tattoo Removal, Radiofrequency Skin Tightening, and Microneedling.
During our CME Hybrid* Online Cosmetic Injections Course, you will receive online classroom and demonstrations on Botox, dermal fillers, off-label Botox and fillers, PRP, sclerotherapy, Kybella, and PDO threads.
Then choose one of our nationwide locations to attend your clinicals for hands-on learning!
On top of having multiple locations across the country, we train hundreds of students per month at our Arizona campus. We offer a wide variety of courses. Financing options are also available for students in need. If you are interested in working directly with clients to make their visions a reality, medical aesthetics may be the right choice for you. Call us today at 480-290-7399 for more information.
We understand you may be nervous about taking the first steps toward your new career in this booming industry. We will be happy to answer any questions you may have. Join our successful alumni working as laser hair reduction technicians, laser tattoo reduction specialists, medspa owners, cosmetic injectors, aesthetic nurses, cosmetic physicians, and more.