Do I Need to be an Esthetician Before Attending a Medical Aesthetic School?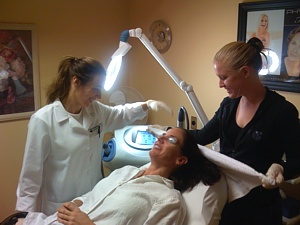 We get this question quite frequently. Many people who are passionate about beauty and enjoy the skincare industry wonder if they need to attend esthetician school before joining a medical esthetic school.
The short answer, in most states, is no. However, if you do want to attend a medical esthetic school in order to perform Botox, dermal fillers, sclerotherapy, and other cosmetic injectables, you do have to be a medical professional.
Below we lay out the qualifications, career opportunities, and salaries for those interested in medical esthetic school as well as the benefits that esthetician school can bring to the table.
Educational Requirements
In order to attend a medical esthetic school in most states, you must have earned your high school diploma or GED. There are some states that require a medical professional degree, so it's best to check your state's requirements before enrolling. To learn more about your state's requirements, you can call 800.982.6817.
Job Specifications
Attending a medical esthetic school means that you're becoming certified to work with cosmetic laser devices in order to perform state-of-the-art anti-aging treatments. In the case that you're a medical professional attending a medical esthetic school, this means that you're becoming certified to perform cosmetic injectables like Botox, dermal fillers, and sclerotherapy. So as a medical esthetician, your job is to be able to identify skincare problems or anti-aging concerns and select the best possible treatment based on your client's skin tone, texture, and medical background. (For example, if they are known to keloid scar then you will make note of that and find a treatment that will avoid keloid scarring).
Career options for medical estheticians are growing every day. In fact, the medical esthetic industry has been on the rise for the last decade. Medical estheticians are capable of working in medical spas, doctor's offices, dermatology clinics, health care facilities, spas and salons, and much more.
Attending esthetician school prior or after you attend a medical esthetic school can only help, not hinder, your earning potential. Simply put, you gain more skills in order to treat a variety of clients. In esthetician school, you'll learn waxing and tweezing. In medical esthetic school, you'll learn laser hair reduction. Having these skill sets will allow you to treat clients who are wax-fanatics or who want laser hair reduction and thus, more clients = more income.
Medical Esthetician Salary
It's hard to determine a set number for a medical esthetician salary because it depends on a number of factors. For instance, are you in a high traffic area? If not, are you spending a lot on marketing? Are you actively talking to people about your services and getting them to come in for a treatment? Pay structures will vary depending on the place you work and where you're located, and it could be commission, hourly, a combination of the two, or salary. Each state tends to have different income levels as well.
If you're still looking for that magic number, Payscale reported that medical estheticians may make between $9 – $20 an hour (without tips) and make an income of between $21k – $51k. However, we truly believe that the harder you work, the better the payoff!
National Laser Institute
National Laser Institute is the leading medical esthetic school in the nation and offers a variety of courses, from laser training to Botox certification to comprehensive training. Our courses include hands-on training with expert instructors who have been in this industry for many years. Attendees will have clinical practice with state-of-the-art technology and treat real clients within a luxury medical spa setting in order to gain the skillsets they need to succeed.
We are recognized as gold standard education and have earned many outstanding reviews. We have also been in this industry for over a decade! To learn more about our courses or medical esthetic school, simply fill out the form to your right or call us at 800.982.6817.