Cosmetic Laser Technician Training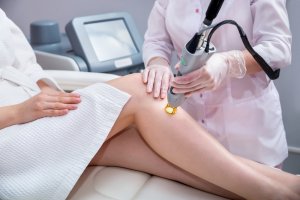 Becoming a successful cosmetic laser technician largely depends on the type of training you receive.
In most states, you must receive laser technician training and certification to practice your craft.
Laser certification also lets your clients know you have been professionally trained by an esthetics school and can operate laser machinery.
Learn how you can jumpstart a new career in the medical aesthetics industry!
Consider Cosmetic Laser Technician Training
Cosmetic laser training school is the best place to start if you are considering a career in medical aesthetics.
Training for aspiring certified laser technicians includes hands-on education with skincare treatments like laser hair reduction, laser tattoo removal, laser wrinkle reduction, laser skin rejuvenation, body contouring (CoolSculpting) and much more!
In most states, cosmetic laser techs are allowed to operate laser devices, but some states require laser technicians to have nursing (or more advanced) degrees to perform certain cosmetic procedures. So, it's important to check your state's regulations when looking into a career in the health and beauty field.
To legally perform cosmetic injections, however, you must be a medical professional (physician or nurse) and acquire certification from a medical aesthetics school. Physicians and nurses can also perform cosmetic laser treatments with proper training and education.
Career Opportunities as a Cosmetic Laser Tech
Since the demand for personal care services and skin care procedures are on the rise, the job opportunities for skincare specialists is on the rise. The U.S. Bureau of Labor Statistics projects 12 percent growth in career opportunities for cosmetic laser techs and skin care specialists between now and 2024 – that is about 7,700 new jobs nationwide.
As a certified cosmetic laser technician, you may find yourself working at:
A physician's office. Nearly a decade ago, cosmetic treatments were administered by plastic surgeons and dermatologists with several years of experience. Now, primary care physicians, obstetricians and OB/GYNs are adding a variety of services to their businesses, because the treatments are cash-based, meaning there are no insurance hassles.
Medical spa. Cosmetic lasers compliment non-laser treatments like Botox and dermal fillers. With recent advances in technology, medical spas are expanding their services to include aesthetically- and medically-based services.
Day spa or beauty salon. While spas typically focus on relaxation and rejuvenation, they have recognized the need to add these treatments. Some businesses hire a physician or nurse to provide cosmetic procedures to clients who might get these treatments elsewhere.
Niche boutique. Small businesses that focus on a single skincare treatment type can decrease overhead costs all while providing excellent service. Niche boutiques have become popular for things like laser hair and tattoo removal. While these procedures typically require multiple sessions, this can turn new clients into repeat customers.
Fitness center. Recently, some national fitness chains have begun offering cosmetic laser treatments as part of their in-house spa amenities. Fitness centers are capitalizing on their current member base and expanding to non-members to provide a one-stop-shop.
Laser Technician Training at National Laser Institute
If you are looking for a career change, consider laser technician training at National Laser Institute. After two weeks you can start a career as a cosmetic laser tech in the medical aesthetics industry!
Our cosmetic laser courses are taught by some of the industry's leading physicians, nurses, cosmetic laser experts and marketers who have up to 20 years of experience in the field.
The Comprehensive Laser Course is the most popular among attendees. The first half of the course is spent in the classroom where you will learn the fundamentals of laser and light technology, laser applications, client screening and candidacy, treatment protocols and more.
The rest of the course is spent doing clinical hands-on laser hair removal training in an educational setting. As a student, you will have the opportunity to take part in comprehensive laser demonstrations and administer these treatments yourself. And of course, you will have the opportunity to receive free laser treatments. In order to give your clients a great treatment, we want you to know what a laser treatment feels like.
By the end of the course, you will feel comfortable and confident to perform cosmetic treatments in any setting!
To learn more about National Laser Institute's course options, fill out the form on the right or call 1-480-290-7399.