Medical Esthetics Training for Laser Treatments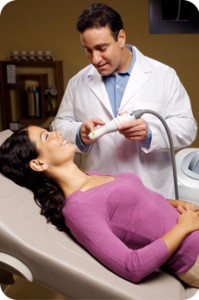 Medical esthetics treatments are non-surgical ways to improve the tone and texture of the skin. In the past decade, medical esthetics treatments have increased in popularity–especially laser hair reduction. Hollywood celebrities, like Kim Kardashian, have helped make such a social impact on these types of laser treatments, which is probably why they're in such high demand. In fact, laser hair reduction brought in over 1 million treatments last year. If you've been considering a career change, now is the time to enter the medical esthetics industry.
Medical esthetics pertains to a variety of cosmetic treatments, including laser hair reduction, Botox, laser tattoo removal, soft tissue fillers, laser wrinkle reduction, laser acne removal, and many more. In today's society–especially with the rise of social media and photo-sharing–people want to look  better than ever. Cosmetic laser treatments are not only effective, but they're fast, less expensive than surgery, and have the ability to show dramatic results.
Many people consider careers in the health and beauty industry, but many don't take the time to consider the impact that medical esthetics training could have on their career. Aesthetics training can be very limiting to the amount of skin treatments you can do and primarily tends to focus on waxing, skin rejuvenation, etc. However, since more and more people are ditching waxing for laser, we recommend taking a two week medical esthetics training course in order to receive training in many different kinds of cosmetic lasers.
As the leader in the medical esthetics industry, we offer a two week medical esthetics training course for those wanting to perform laser treatments. With our comprehensive laser course, attendees will receive hands-on training with top of the line laser equipment. This includes practicing highly sought after treatments such as laser hair reduction, laser wrinkle reduction, laser acne reduction, laser stretch mark reduction, and many more.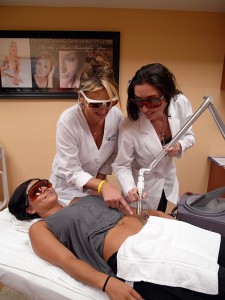 Students enjoy this comprehensive laser course because they receive hands-on training with scheduled clients, so they get a real world feel for how treatments are performed. Attendees who take advantage of our course have the ability to leave with the confidence to go out and start performing their own cosmetic laser treatments in a medical spa, dermatology clinics, doctor's office, or other beauty environments who offer laser treatments.
We've been a medical esthetics school for a decade and take pride in our prestigious reputation. We are recognized as gold standard education, have earned an A+ rating at the BBB and received a number of excellent reviews.
To learn more about medical esthetics training or National Laser Institute, please call 800.982.6817.
Read more information on: