Learn How to Treat Sun Damage with Microneedling Training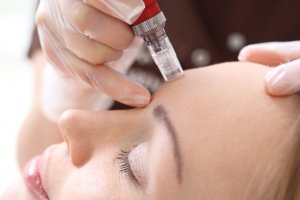 From Botox to eMatrix, there are numerous anti-aging options available to help your clients look and feel younger.
Microneedling is just one of the latest medical aesthetic treatments clients are seeking in the quest for smoother and rejuvenated skin.
Now you have the opportunity to learn this popular treatment during a one-day microneedling course at National Laser Institute.
What is Microneedling?
Microneedling is the newest trend in health and beauty. Known as collagen induction therapy, microneedling improves skin tone and texture as well as the appearance of stretch marks and acne scars.
The primary purpose of this minimally invasive procedure is to stimulate the production of new collagen using the skin's natural ability to heal itself. Collagen is a protein that gives our skin its structure and works like a netting that holds skin cells together, giving the skin a smooth and youthful appearance.
Unlike laser-based treatments, microneedling is safe for darker skin tones because it carries a lower risk of hyperpigmentation and scarring.
How Does Microneedling Work?
The entire treatment takes about 15 minutes. First, a numbing cream is applied, then the pen-shaped device containing several needles moves across the skin and creates a controlled injury to the skin's surface, which stimulates a three-phase healing process:
Inflammation. The handheld device pierces the skin, triggering the body's immune system to disinfect the wounds and increase blood flow to the injured area to create new tissue.
Proliferation. The wound is rebuilt with granulation cells, which are part of the extracellular matrix.
Remodeling. The wound is replaced with new dermal tissue and blood vessels.
This dermaroller procedure can be used alone or with serums that are infused deeply into the skin. Popular serums include:
Hyaluronic acid to add moisture and reduce wrinkles
Vitamin C to rejuvenate skin
Skin lighteners to reduce hyperpigmentation
And various acne-fighting ingredients that destroy bacteria
The result of a microneedling treatment is smoother, more even-looking skin. By promoting collagen growth, microneedling can make the skin look more refreshed.
The Benefits of Microneedling
Microneedling is in high demand because the results are noticeable, and the downtime is minimal. Other benefits of microneedling treatments include:
Fine lines and wrinkles. Sagging skin and facial wrinkles are the results of the loss of elastin and collagen. A microneedling procedure stimulates the production of natural collagen and elastin that reduces the appearance of fine lines and wrinkles.
Scars (including acne). Microneedling diminishes the look of acne scars through the breakdown of old tissue while producing new elastin and collagen for healthier skin.
Stretch marks. Stretch marks occur from rapid skin stretching. Microneedling breaks down the stretch mark tissue, which triggers collagen growth. A client's stretch marks will eventually fade after several treatments.
Rosacea. This is a common skin disorder that produces facial redness that can lead to the breakdown of collagen. Things like sunlight, beverages and temperature changes can cause rosacea. By producing a significant amount of collagen, microneedling can improve the appearance of rosacea.
Microneedling Training at National Laser Institute
If you are ready to kickstart your health and beauty career, consider training from National Laser Institute! In two weeks or less, you can enter the $16 BILLION medical aesthetics industry.
With over a decade of excellence, we are the leading medical aesthetics school in the country. We have taught tens of thousands of students how to become cosmetic laser techs, administering treatments such as microneedling, laser hair removal, tattoo removal, body contouring and more!
Each medical aesthetics course combines classroom (didactic) education and clinical hands-on training for the ultimate experience! We want you to feel comfortable and confident providing a variety of laser treatments to your clients.
In the classroom, you will learn things like facial anatomy, skin preparation, patient care as well as how to combine microneedling with other compatible treatments for optimal results. The second half of the course is spent doing clinicals in a medical spa environment with scheduled clients to give you real-world experience.
If you would like to learn more about microneedling training, please feel free to fill out the form on your right or give us a ring at 1-480-290-7399.