Medical Aesthetician Careers Expected to Grow in Upcoming Years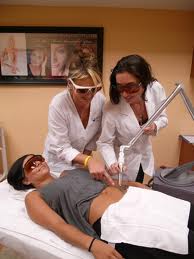 If you have a passion for skincare, health, and beauty, then you're in luck. The Bureau of Labor Statistics reported that, currently, roughly 47,000 medical aestheticians and aestheticians are working throughout the United States. The market for medical spas opening throughout the U.S. to give aestheticians and medical aestheticians employment is expected to grow 18% each year, reaching a market of 3 billion by 2016. Because of this rapidly growing industry and positive expansion, over 11,000 new employment opportunities are expected to become available.
While aestheticians are solely trained on the epidermal layers of skincare treatments, (waxing, facials, wraps, masks, tweezing, etc.) medical aestheticians are trained in both dermal and epidermal areas. This means they are trained to fire cosmetic lasers (laser hair reduction, radiofrequency skin tightening, laser tattoo removal, IPL photofacial skin rejuvenation, etc.) and for medical professionals, that means with medical aesthetic training, you'll be able to perform Botox and dermal filler treatments.
Can you be both a medical aesthetician and an aesthetician? Definitely. Aestheticians can attend medical aesthetic school and those who are not aestheticians can also attend medical aesthetic school if they meet their state's requirements. Usually this means you must have earned your high school diploma or GED.
Aesthetician school typically takes between 6-12 months to complete, but medical aesthetician school only takes 2 weeks to train in a variety of nonsurgical cosmetic treatments.
National Laser Institute is the leading medical aesthetician school in the nation and offers a two week comprehensive course. This course covers all the in-demand cosmetic laser treatments, including laser hair reduction, IPL photofacial skin rejuvenation, laser wrinkle reduction, laser acne removal, and much more. Hands-on clinical training is included, and attendees will be able to perform treatments on scheduled clients within a retail medical spa environment. This course is taught by medical professional experts who have been in this industry for multiple years.
As a medical aesthetician, you're capable of working in dermatology clinics, doctor's offices, medical spas, or even start your own business. To learn more about career opportunities or medical aesthetician school, simply fill out the form to your right or give us at call at 800.982.6817.