Medical Esthetician School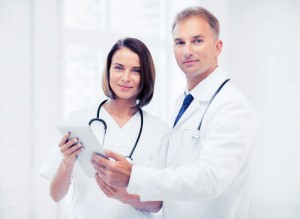 A medical esthetician is someone who specializes in skin care treatments within the dermal and epidermal layers of skin.
Medical estheticians fall somewhere in between dermatologists and estheticians, as they are both dedicated to helping clients with skin care concerns.
Those interested in becoming a medical aesthetician are usually already working as a dermatologist, esthetician or skin care specialist, and they want to advance their career by becoming trained in other skin care advancements and technologies.
Consider Medical Esthetician School
Medical esthetic school is the best place to start if you're considering medical esthetician training. With a medical aesthetician program, estheticians can perform cosmetic laser treatments like:
Laser hair removal
Laser tattoo removal
Laser wrinkle reduction
Laser skin rejuvenation
And much more!
In order to legally perform cosmetic injectables, however, you must be a medical professional and have acquired certification from a medical esthetician school. Medical professionals can also perform cosmetic laser treatments with the proper training from medical esthetic school.
Although medical professionals learn how to operate and use needles in medical school, it's a whole different ball game when it comes to performing cosmetic injectable treatments like Botox, dermal fillers and Kybella. Medical professionals must be educated on:
How Botox works in tandem with facial muscles
The history of Botox
Safety issues
Pre- and post-treatment care
And more.
Alongside this, both estheticians and medical professionals need to know how to operate cosmetic laser equipment and its safety functions. This ensures the safety of the client as well as gives them the most ideal results for their skin type and skin concerns. Without this kind of training, you could seriously harm or injure your client.
Prerequisites for Medical Esthetician School
Like we discussed above, becoming a medical esthetician does require mandatory training. For estheticians and those who want to enter the health and beauty market as a medical esthetician, most states require you to have at least a high school diploma or GED before enrolling in a medical esthetic course that certifies you in cosmetic lasers.
For medical professionals wanting to become certified in cosmetic injectables, you need to have a prior medical background in order to inject.
Licensing and state regulations vary from state to state, so its important to be aware of your home state's requirements. Medical esthetician schools require a certain amount of hands-on training as well as classroom training to pass the course.
Income Opportunities
As a medical esthetician, you're entering a whole new playing field. Many income opportunities await you once you've finished your initial training. We have seen many of our graduates go out and get full time jobs with:
Dermatology clinics
Doctor's offices
Medical spas
Laser facilities
Or even start up their own clinic to offer the services they are now certified in.
If you're happy within your current career, adding medical esthetics increases your income opportunity!
Medical Esthetician Training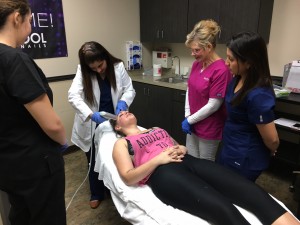 National Laser Institute is a medical esthetician school dedicated to giving you quality medical esthetician education whether you're qualified to receive Botox injection training, dermal filler training, laser training or more!
Our students learn from some of the industry's leading experts with 7-20 years of experience in the field. Each course is divided into didactic (classroom) and clinical hands-on training to provide you with the ultimate learning experience.
In the classroom, you will learn things like facial anatomy, tissue interaction, and pre- and post-patient care. What you learn in the classroom will prepare you for your clinical hands-on training in a medical spa environment. You will be broken up into small, intimate groups where you will watch comprehensive demos and have the opportunity to perform treatments yourself on scheduled clients.
National Laser Institute is the leader in the medical esthetics industry and has been in this business for several years. Between both medical esthetician school campuses, we train hundreds of students each month. We have earned an A+ rating at the BBB, received many outstanding reviews, and are recognized as gold standard education.
To learn more about medical esthetician school courses or National Laser Institute, please call 480-290-7399.
Read for more information on: