How To Become A Medical Director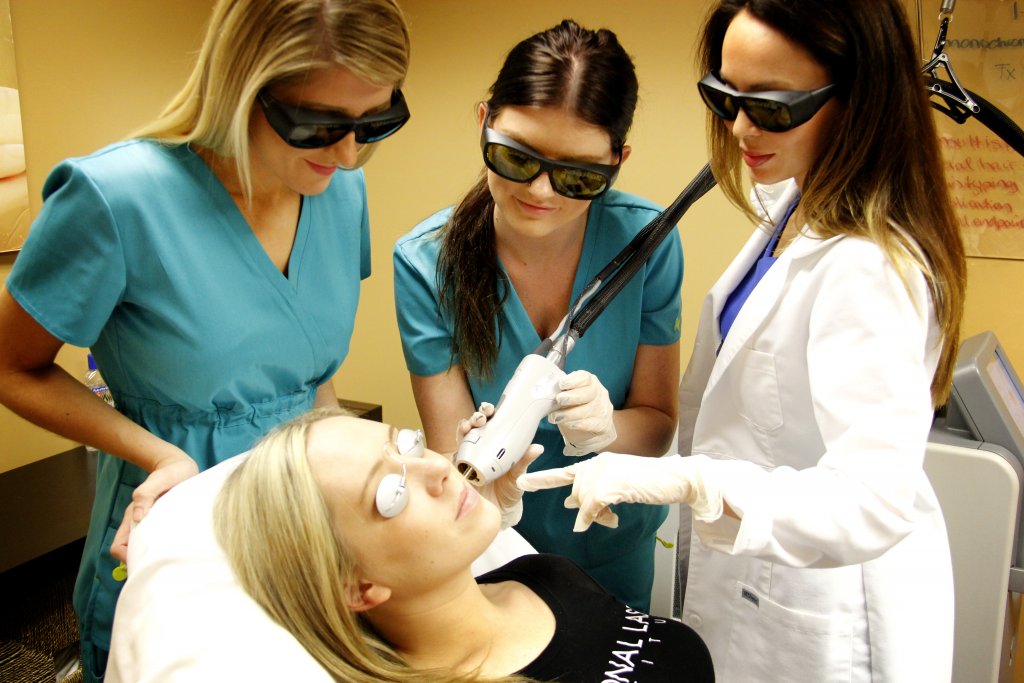 What Is A Medical Director?
Are you someone who is looking to become a medical director? Have you ever considered working in the field of medical aesthetics? This is an exciting industry that is booming and medical directors are in high demand. Now is the time to jump into this growing field if you are looking to become a medical director.
Do you want to work in an environment where patients are excited to be there and new and exciting treatments are constantly available? This could be the field to switch into! Here's everything you need to know about how to become a medical director in Scottsdale, Arizona with our course at National Laser Institute.
A medical director is a physician who oversees the operations of the facility that they work in. This can be in a long-term care facility or in other facilities such as a med spa. The medical director is someone who executes the policies, systems, and agenda of the facility. As a Medical Spa Director, you will oversee a medical spa and the practices within that spa in order to keep clients safe. In order to be qualified to become a medical director one has to have a medical degree, previous work experience, and board certification. Many positions as a medical director are pretty flexible in terms of hours and time spent on the job. This is a great position for someone who is looking to have more flexibility in their career but would still like to maintain a healthy income.
Who Can Become A Medical Director?
Medical directors are required to have a medical degree, board certification, and experience in the medical field. Medical management experience is also important. 
How Much Does A Medical Director Make?
The pay of a medical director varies. According to Payscale the pay can start from around $40K and go as high as $91K. The average salary is around $73K. Pay depends on experience and the location of the medspa. A Medical Spa Director that had between one to four years of experience can expect to earn an average of around 53K while a Medical Spa Director with between ten to nineteen years of experience can expect to earn around 90K. The more years of experience and the more knowledge you bring to the table, the higher your pay will be as a Medical Spa Director. This is a very lucrative career that has the ability to have a more flexible and stress-free schedule and workday. 
Medical Director Training Programs
Looking to sign up for a medical director training program/certification course? Here at the National Laser Institute, we offer a comprehensive three-day course that will leave you fully equipped in order to become a Medical Spa Director. Over the course of the three days, you will learn all about the medical aesthetics industry and everything you need to know to fulfill your role as a future Medical Spa Director. This is the perfect comprehensive course to take if you are looking to transition into this position in a relatively short period of time. Start your new career today!
Here's An Overview Of What Our Program Encompasses:
Our medical director course is for medical professionals who want to offer cosmetic laser services and perform cosmetic laser treatments. This extra didactic training can be added to any of the medical professional comprehensive courses offered in order to present you with the additional, required information needed to practice new and innovative laser technologies.
This three-day course for health professionals includes the training needed to become an authorized Medical Director or authorized Health Professional. Instruction focuses on aesthetic laser and light-based treatments. The curriculum includes 24 hours of classroom education followed by optional clinical training.
At the end of the course, a medical professional will be qualified to apply to the Arizona Radiation Regulatory Agency to become an authorized Medical Director or authorized Health Professional.
Here's A Breakdown Of How Our Medical Director Course At The National Laser Institute Is Day By Day:
Day 1: Medical Director Overview
8:30 am – 10:00 am Intro to all aesthetic procedures & Safety/common adverse effects.
10:00 am – 12:00 pm OSHA/Clean Field Overview: Bloodborne pathogens and health department safety and compliance.
12:00 pm – 1:00 pm Skin conditions/Safety precautions.
1:00 pm – 2:00 pm Lunch Break
2:00 pm – 4:00 pm Medical Director Overview: Logistics and compliance for all boards, protocols and setup, contracts and insurance.
4:00 pm – 5:30 pm Business Development: Setting up an aesthetics practice, choosing the right procedures for your practice, & tips and tricks to grow your practice.
Day 2: Intro To Cosmetic Laser & Anti-Aging Technologies
8:30 am – 11:00 am Laser consultations & Contraindications, Laser Light and Tissue Interaction, Benign pigmented and vascular lesions.
11:00 am – 12:00 pm Importance of skin typing.
12:00pm – 1:00pm Lunch Break
1:00 pm – 3:00 pm Reviewing consent forms and post-care for each treatment.
3:00pm – 5:00pm Tour of the medical spa & live demonstrations.
Day 3: CME Laser Didactic – A Deeper Understanding
8:30 am – 1:00 pm Hair and Skin Anatomy/Fitzpatrick Scale, & Laser BioPhysics
1:00pm – 2:00pm Lunch Break
2:00pm – 6:00pm Intense Pulsed Light & Laser Safety/Classification
Why Choose The National Laser Institute?
Our courses are all led by nurses, doctors, skin care specialists, and medical aesthetics experts
CE/CME credits are available for nurses, doctors, and medical professionals
70% of our students fly in from around the country to receive training at our institute
We offer small class sizes so that training is more individualized and supportive
We send out around 600 job opportunities a month to graduates
We offer training in a luxury retail medical spa environment with hands-on comprehensive training
The Medical Aesthetics Industry
The medical aesthetics industry is an industry that is always growing! It is currently a sixteen billion dollar industry and is only expected to grow even more! Now is the time to jump into this extremely lucrative and refreshing industry. Nonsurgical cosmetic procedures are on the rise with millennials as well as baby boomers. With procedures such as Botox, dermal fillers, cosmetic lasers, and newer treatments such as coolsculpting, the industry is only continuing to grow in popularity. 
Where Can You Work As A Medical Director In The Medical Aesthetic Industry?
Physicians' Offices
The time is coming where a patient can go to their primary care doctor and receive their routine Botox injections while they are getting their annual check-up. This wasn't possible a decade ago but is now a reality with the popularity of cosmetic treatments. In the past, these treatments were primarily performed by plastic surgeons and dermatologists with several years of training. Now, primary care physicians, obstetricians, and OB/GYNs are adding different aesthetic services to their practices, because they are cash-based, and there are no insurance hassles. This is a great place to work if you are a nurse or doctor that would like to stay in the same type of environment that you are used to working with patients.
Medical Spas
So what is a Medspa? A Medspa is a medical spa that specializes in cosmetic lasers and nonsurgical treatments such as Botox, dermal fillers, and coolsculpting. With recent advances in technology, medical spas are expanding their offerings. Medspas are popping up all over the country as more and more millennials are interested in getting medical aesthetic procedures and the industry across all ages is booming.
Day Spas and Beauty Salons. 
When most people think of a spa or beauty salon they think of massages and facials. Now, however, many day spas and beauty salons are adding medical aesthetic treatments to their offerings. Offerings can now range from laser hair reduction to Botox. Now clients can get an all-around day pampering that includes cosmetic laser treatments and injections. Have you always wanted to work at a beautiful hotel day spa? This may be the perfect career path for you!
Niche Boutiques
If you are looking to work somewhere where there is only one specialty offered and one type of clientele then niche boutiques are the place for you. Many of these boutiques are very small and offer only specialties such as laser tattoo removal or laser hair removal. Due to the fact that these treatments are done or many sessions, these types of businesses lead to a lot of repeat clients and referrals. This is a great business model to start if you want to become a Medical Spa Director that owns their own business and would prefer to work for yourself instead of for someone else.
Fitness Centers 
In this day and age everything is all about convenience! People go to fitness centers to become the best version of themselves. They want to look and feel better, so why not offer medical aesthetic treatments there as well? Some national fitness chains have started to offer cosmetic laser treatments as part of their in-house spa amenities. This is another great place that you could work! Want to be around happy, healthy individuals who are looking to optimize their health, fitness, and looks? This is the perfect place to work for you!
Possible Treatments That Will Be Performed In These Places:
Photofacial
Skin Tightening
Microlaser Peel
Skin Rejuvenation
Skin Resurfacing
Laser Hair Removal
Laser Tattoo Removal
Body Contouring
Cellulite Reduction
BBL
Job Placement Assistance
All our students who come to the National Laser Institute have access to our job assistance that we provide to you following your course with us. We provide 600 jobs leads a month for all students who have completed a course with us. Completing a course with us at the National Laser Institute is a great place to come for certification and education in this industry. Our school is seen as the Stanford of the Medical Aesthetics Industry when it comes to education. You can rest assured that you are receiving the best education in the Medical Aesthetic Industry and the best job placement assistance following your course with us!
Overall the Medical Aesthetics industry is an exciting industry to be a part of as it continues to grow! If you are looking to become a medical director in the medical aesthetics industry look no further than our online or in-person weekend medical director comprehensive course at the National Laser Institute.
To learn more information about the medical director course at National Laser Institute, fill out the form on the right or call 855-637-4530  to speak with an Admissions Advisor. We look forward to you starting your dream career!
Check out our podcast all about getting into the medical aesthetic industry! Listen on Apple Podcasts and subscribe!