Surprising Uses for Botox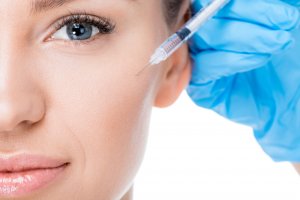 It's no secret women have been getting Botox injections to reduce the appearance of forehead lines and wrinkles for years.
In fact, botulinum toxin is the No. 1 nonsurgical cosmetic treatment with over 7 million procedures performed in 2016, according to the American Society of Plastic Surgeons (ASPS)!
But did you know there are several off-label uses for Botox injections in the medical aesthetics industry?
Surprising Uses for Botox
Though it's best known for smoothing wrinkles, Botox has several surprising off-label applications. Simply put, off-label means an FDA-approved drug is being used for an unapproved use.
Before a drug can be approved, a company must submit clinical data and other information to be reviewed by the FDA. The company must be able to show that the drug is safe and effective for the intended use.
The term "safe" means the FDA has determined that the benefits outweigh the potential risks of using the drug. Sometimes, a specific treatment may be considered off-label, because there simply isn't enough clinical data on it.
So, what are some other uses for Botox injections? Here are a few of the most popular:
1. Hyperhidrosis (excessive sweating). Are you prone to armpit stains and excessive sweating during exercise? Do your feet and palms sweat, too? Botox injections can help relieve symptoms of hyperhidrosis by "turning off" sweat glands at the injection site.
2. Acne. When it comes to acne, there is a whole market devoted to breakout-busting products. Recent studies have shown a little Botox administered to active acne lesions can reduce oil production and lead to less acne.
3. Migraines. If you ever suffered through a migraine, you know how painful it can be. Thanks to its dynamic properties, Botox might be able to provide relief! This works wonders for migraine sufferers in their 40s and 50s who were thinking about Botox for wrinkles. The Botox injection points are often similar, making the treatment twofold.
4. TMJ. Botox can be used in the treatment of TMJ (temporomandibular joint disorder). When dealing with issues involving the jaw and the facial muscles that control it, Botox can be used to treat jaw pain as a result of grinding and clenching.
And there have been rumblings of Botox use to make blowouts last. Yes, really. Some women who get Botox in their forehead have reported that they don't sweat around their hairline, making their blowouts last longer!
Botox Training: What You Will Learn
During Botox training at National Laser Institute, you will learn things like:
Patient assessment and consultation for Botox treatments, including indications and contraindications for the medical aesthetic treatment.
The aging process: Why lines/folds occur and how to treat them.
A brief history and science of Botox.
Proper Botox injection techniques.
 Safety protocols, risks and benefits of Botox and other cosmetic injectables.
Botox Training at National Laser Institute
Did you know if you are a physician, nurse or medical professional, you qualify to take our CE/CME training courses?
At National Laser Institute, we offer comprehensive aesthetics courses that can be completed in as little as two weeks! And if you are on-the-go, we have weekend courses, too.
Each course is led by some of the industry's leading nurses, physicians, skincare specialists and cosmetic laser techs with seven to 20 years of experience in the field.
Our courses include classroom education and clinical hands-on training to provide you with the ultimate learning experience! In the classroom, you will learn things like facial anatomy, Botox injection techniques and patient care.
During hands-on training in our educational setting, you will watch comprehensive Botox and cosmetic injectable demonstrations and perform treatments yourself. We have a dedicated team that works around the clock to schedule clients for you to gain real-world experience.
By the end of your Botox training at the National Laser Institute, you will have the confidence and skills to perform Botox and other cosmetic injectable treatments in any medical setting!
We invite you to check out tens of thousands of National Laser Institute reviews from previous attendees like Dr. Ryan Krch who took several of our CE/CME courses. You can hear about his training experience in the video below!
To learn more about National Laser Institute's course options, fill out to form on the right or call 1-480-290-7399.