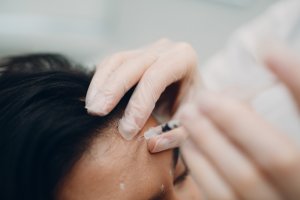 If you have been paying attention to the latest trends in health and beauty, you already know that the demand for cosmetic injections such as Botox has never been greater.
Last year, more than 7.4 million men and women received the wrinkle reduction treatment, bring in more than $2.9 billion. As a whole, the medical aesthetics industry is worth $16.5 billion and continues to grow each and every year.
For medical professionals with prior injection experience, advanced Botox training is essential for those individuals who want to expand their knowledge and use of Botox even further to increase the revenue of their current practice.
With over 15 years of excellence, the National Laser Institute provides advanced Botox training where you will learn how to inject non-traditional areas for facial contouring and aesthetic enhancement procedures to drastically enhance the appearance of aging clients.
Comprehensive Cosmetic Injection Techniques
Advanced Botox training courses are designed to provide medical professionals with the necessary skills to perform aesthetic enhancement procedures beyond the nasolabial folds, lip augmentation and marionette lines.
Physicians and nurses will learn how to combine Botox with dermal fillers to administer treatments such as cheek augmentation and scar revisions. Other less common areas for aesthetic enhancement procedures include the oral commissures and neck bands. In order to perform these advanced Botox and filler treatments, attendees will learn many cosmetic injection techniques:
Threading. The full length of the needle is inserted into the middle of the wrinkle to create a channel. While the needle is slowly drawn back, "threads" are deposited along the length of the wrinkle or fold.
Cross-hatching. This cosmetic injection technique is useful for filling the oral commissures or relatively large areas that require correction. Cross-hatching is a series of parallel linear lines followed by a series of injections perpendicular to the first set.
Feathering. Multiple passes of the needle create a haystack configuration that is layered and feathered to create a three-dimensional contour.
By the end of an advanced Botox training course, attendees will know how to restore volume and enhance the contour and appearance of aging clients with the use of several aesthetic enhancement procedures. Learning objectives include:
How to use Botox and dermal fillers to address cosmetic concerns.
The art of facial sculpting and replacing facial volume through individual facial analysis.
Combining Botox and dermal fillers during the same visit for maximum results.
Cosmetic injection techniques.
Advanced Botox and dermal fillers training also include hands-on training in a retail medical spa. Here, you will watch comprehensive Botox demonstrations and treat a variety of clients to feel comfortable and confident in various cosmetic injection techniques.
Advanced Botox Training
A Botox training course is essential for nurses, physicians and medical professionals who want to earn their neurotoxin certification and learn cosmetic injection techniques.
The National Laser Institute offers advanced Botox training where you will learn how to administer aesthetic enhancement procedures to help your clients achieve their desired skin care goals with Botox and dermal fillers. Each continuing education course includes classroom education and hands-on training so that you can become a master injector.
In the classroom, you will take part in discussions about the industry and what to expect once you incorporate Botox into your practice. Topics include:
Extrinsic factors contributing to the aging process.
Combining Botox and dermal fillers during the same visit for maximum results.
Cosmetic injection techniques.
Potential treatment complications and how to address them.
Aesthetic enhancement procedures for facial rejuvenation.
Advanced Botox training also includes hands-on training in a medical spa environment. Here, you will put your new skills to the test as you watch comprehensive cosmetic injection demonstrations and treat scheduled clients in order to master your cosmetic injection techniques by offering cosmetic injection treatments.
We invite you to check out tens of thousands of National Laser Institute reviews from previous attendees like Dr. Ryan Krch who took several of our CME training courses. You can hear about his training experience in the video below!
To learn more information about our medical aesthetics course options, fill out the form on the right or call 1-480-290-7399 to speak with an admissions advisor.