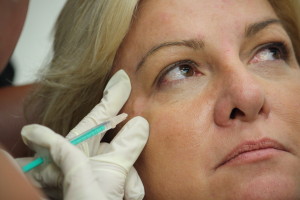 Are you a medical professional seeking Botox injection training? 
At National Laser Institute, our Botox training courses are designed to give nurses, physicians and medical professionals didactic and hands-on training in an educational setting.
The best part: Attendees can complete their training in as little as a weekend or can receive up to 2 weeks of training!
What is Botox?
Botulinum toxin (Botox) is a protein used to treat and prevent facial wrinkles. Botox temporarily relaxes the facial muscles, paralyzing the ones that cause fine lines and wrinkles. The neurotoxin is used to treat dynamic facial lines, which appear as a result of muscle movement around the eyes and mouth, as well as in between the eyebrows.
Botox is also used to treat medical conditions like hyperhidrosis (excessive sweating of the hands, feet and other areas). The botulinum toxin is marketed under the names Dysport, Xeomin and Botox.
 There are three common areas of the face where Botox is injected:
Between the eyebrows. A few units of Botox injected between the eyebrows can reduce the appearance of frown lines, the two vertical lines that create an "11."
The forehead. Botox can be applied to the forehead to reduce the appearance of a furrowed face.
Crow's feet. To create an overall younger appearance, Botox can be injected on the side of your eyes, which are most commonly referred to as crow's feet.
Why Should I Learn Botox?
For one, botulinum toxin (Botox) is the leading nonsurgical medical aesthetic treatment in the nation. It's been ranked as the #1 noninvasive, cosmetic service in the U.S. for the past decade. In 2016, there were over 7 million Botox treatments performed in the United States alone, with a 4% increase from the year prior.
Another reason Botox and dermal fillers are so popular is that the treatment can be performed in 30 minutes or less, making it a simple cosmetic injectable procedure to schedule in for a majority of clientele.
Because Botox averages at $500 per treatment, physicians, nurses and medical professionals have the opportunity to capitalize on this earning potential by becoming a cosmetic nurse and receiving their Botox certification.
Botox Injection Training: What to Expect
Our Botox injection training courses are divided into two parts: classroom education and clinical hands-on training.
In the classroom portion of this course, physicians, nurses and medical professionals will learn everything they need to know about injectable procedures like Botox, Dysport and Xeomin from industry experts who up to 20 years of experience in the field. Topics covered during didactic training include:
Patient assessment and consultation for cosmetic procedures like botulinum toxin (Botox) and dermal fillers (Juvederm, Restylane, Voluma)
Indications and contraindications for Botox and dermal fillers
Aesthetics overview
The aging process: Why lines/folds occur and how to treat them
History and science of Botox and dermal fillers
Botox and dermal filler injection techniques
Safety protocols, risks and benefits of Botox and dermal fillers
Combining dermal fillers, Voluma and Botox, upper, mid and lower face contouring
During the clinical hands-on training portion of the course, students are put into small, intimate groups where they watch live demonstrations no more than a few feet away from the training bed. They will have the opportunity to perform Botox and fillers on real clients within an educational setting. Our expert instructors are by your side the entire time in case you have any questions. We want all attendees to benefit from individual attention from the multiple instructors who are training you.
Advanced Botox Training
For medical professional with experience injecting or who have taken National Laser Institute's prerequisite Botox and dermal fillers course, advanced Botox training courses are available. The focus of this course is to understand the art form of these injectables and develop and aesthetic eye.
Students will learn advanced injection techniques such as:
Off-label type Botox and dermal filler treatments.
Botox for an eyebrow arch.
Botox for platysmal bands.
Dermal fillers for under the eyes.
Fillers for cheeks.
National Laser Institute is the leading medical esthetics school in the nation and has earned a gold standard of education. The teachers at National Laser Institute have been in the medical aesthetics industry for years and are the best in the business.
Are you curious what nurses, physicians and medical professionals are saying about National Laser Institute? Watch our testimonial video below!
If you're interested in learning more about Botox injection training or our other CE/CME course options, simply fill out the form on your right or call 800-982-6817.