How Botox Can Cure Your Acne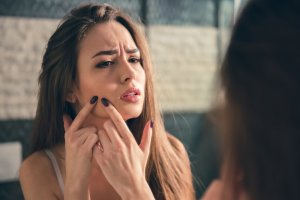 Clients are always chasing the newest beauty treatments and going after the hottest trends.
The same can be said for patients who are in search of the latest acne treatment, whether it's homemade remedies or charcoal masks.
Believe it or not, Botox injections are becoming more popular for uses other than lines and wrinkles in the medical aesthetics industry. Many physicians are now saying that Botox can be used to treat acne scars.
During Botox training at National Laser Institute, you'll learn how Botox can cure your acne!
How Does Botox Treat Acne?
A Chicago plastic surgeon conducted a study that found 85 percent of the 20 patients he treated with botulinum toxin injections for acne saw a decrease in pore size, oil production and breakouts in the treated area.
Many physicians believe Botox for acne reduction works because it stops the production of sebum in the face. A Botox treatment that targets acne involves injecting a small amount of the neurotoxin into key muscles of the face.
Acne occurs when the sebaceous glands release too much oil into the skin's pores. Bacteria use the oil, or sebum, as food and causes the pore to become inflamed, resulting in a pimple. By stopping the production of sebum, you decrease the amount of oil on the face and minimize the chance of acne.
In addition to clearing breakouts, Botox has several off-label uses that include eliminating excess sweating, controlling leaky bladders and minimizing scars.
Needle-Free Acne Treatment Options
If your clients are looking for a needle-free alternative for acne reduction, a BroadBand Light (BBL) acne treatment is another option.
This minimally invasive treatment is effective for killing bacteria within the skin that causes acne, which results in fewer acne bumps, less facial redness and pigmented acne scares within the skin. It works by using short blasts of high-intensity light to produce younger-looking skin that is more even in tone and texture.
A BBL acne laser treatment also uses a filter that creates a "blue light effect" that can destroy the bacteria that forms acne. This blue light process can diminish acne and acne scars through a series of treatments.
Medical Aesthetics Training at National Laser Institute
With over a decade of excellence, National Laser Institute offers medical aesthetics training that can be completed in just two weeks!
Our comprehensive Botox training courses are led by some of the industry's leading physicians, nurses and cosmetic laser experts who have seven to 20 years of experience in the field.
Are you looking for the ultimate learning experience? Each course includes classroom (didactic) education and clinical hands-on training to gain real-world experience in a medical spa setting.
The Comprehensive Laser Course is by far our most popular course for estheticians and those looking for a career change. It covers some of the most in-demand cosmetic laser treatments such as laser hair removal, Intense Pulsed Light (IPL) photofacial, skin rejuvenation, skin tightening, body contouring (CoolSculpting) and more.
Our CE/CME training courses are geared towards physicians, nurses and medical professionals looking to earn their Botox training and certification. Attendees will have the opportunity to learn aesthetic procedures like Botox (botulinum toxin), dermal fillers (Restylane®, Perlane® and Juvederm®), Kybella, platelet-rich plasma (PRP) and more.
To learn more about National Laser Institute's medical aesthetics courses, please fill out the form on the right or give us a call at 1-800-982-6817.