Laser Hair Removal Classes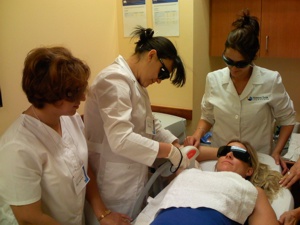 Laser hair removal technicians have excellent career prospects in front of them. Millions of people are embracing the concept of permanently smooth skin that laser hair removal offers. A good laser hair removal technician should see no shortage of business.
To become a laser hair removal technician, you need to take the appropriate training classes. You must also become certified to meet legal requirements in most states. The laser hair removal training classes you take should be given by the best in the industry. When you learn from the best, the quality and professionalism of your work will shine through. This, of course, will be attractive to potential clients.
2016 statistics report that laser hair removal continues to be in the top 5 nonsurgical cosmetic treatments in the U.S. (According to ASAPS). Last year, there were over 1.1 million laser hair removal treatments performed in the United States alone. Laser hair removal is a part of the $16 billion medical aesthetic industry, and attending laser hair removal classes is a step in the right direction if you're looking to find a career within the market.
Become Certified Through Laser Hair Removal Classes
At National Laser Institute, we employ some of the finest instructors available. Our instructors are certified, successful and experienced. In fact, there is over a century of experience spread out among our teaching staff. You will find that our classes are thorough, teaching you every aspect of the laser hair removal business while allowing you ample opportunity to practice your new found skills. Through our two week course, you will become thoroughly versed in the art of laser hair removal. You will receive your certification upon successful completion of the program.
Most importantly, you will receive clinical, hands-on training with cosmetic laser technology. We only provide the most advanced, state-of-the-art equipment for you to use. Your instructors will go over each laser machine in-depth and once you are prepared, you will use your newly learned techniques to perform laser hair removal on scheduled clients!
What are students saying about our laser training school? Watch our video testimonial below and find out:
Take your laser hair removal classes from the best in the business. Request information from National Laser Institute today by calling 1-800-982-6817 or simply fill out the form to your right.
Night Classes
For those who's schedule works better in the evenings, we offer laser training night classes. These classes take place Monday – Friday from 6pm – 10pm. Night classes fill up quickly, so be sure to check for our next dates and secure your spot!