Victoria Beckham Considers Laser Tattoo Removal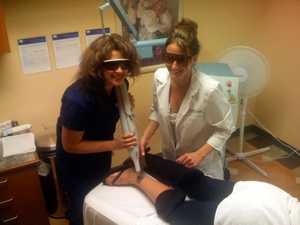 Laser tattoo removal is a well-known cosmetic laser treatment that many Hollywood celebrities have received, including Megan Fox and Miley Cyrus. Now the infamous Victoria Beckham (AKA Posh Spice) is considering laser tattoo removal so she doesn't have to "grow old" with past tattoos. Beckham does not regret any of her tattoos, all of which are meaningful to her. However, she fears they will look unflattering as she ages.
Like Beckham, many people receive tattoos for sentimental value. But unfortunately, many people don't remain as happily-ever-after as Victoria and David Beckham. Laser tattoo removal has been used to eliminate ex-lovers names from skin as well as to rid tattoo regret. In fact, the most common reason for laser tattoo removal is removing one tattoo so another new one can take its place.
45 million Americans have at least one tattoo, but it's actually 70% of women and only 30% of men who go through with receiving laser tattoo removal.
Laser tattoo removal specialists don't necessarily have to be medical professionals in most states. Laser tattoo removal training is required, but you also must meet all your state's requirements as well. In most states, aestheticians, cosmetologists, and others who enjoy the world of skin care and health & beauty can become trained in laser tattoo removal if they have earned a high school diploma or GED.
The average cost of laser tattoo removal is $200, and it only takes roughly 15 minutes to complete a treatment. Because laser tattoo removal is a series treatment–meaning clients need more than one to see good results–the average profit laser techs make on a laser tattoo removal client is roughly $1,400.
It takes less than two weeks to become a laser tattoo removal technician at National Laser Institute, the leading cosmetic laser school in the nation. NLI's laser tattoo removal course is led by leading laser experts who teach you all about the fundamentals of tattoo removal, laser tattoo removal equipment, safety, and much more. Attendees will have the opportunity to treat real tattoo removal clients in our luxury medical spa setting in order to gain hands-on training.
If you've thought about adding laser tattoo removal to your skill set, National Laser Institute can help. To learn more about our laser tattoo removal courses or our other laser courses, simply call 1-800-982-6817 or fill out our form on the right.