Laser Hair Reduction Training Night Class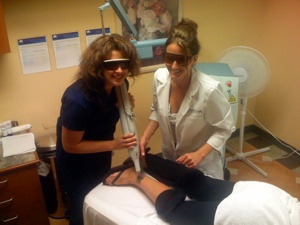 For many, the billion dollar medical esthetic marketplace sounds enticing as a new career change. Cosmetic laser treatments, such as laser hair reduction, make up a huge part of that market. In fact, this industry is perfect for anyone who has an interest in skincare, beauty, and anti-aging.
Laser hair reduction training can be complete in two weeks or less at National Laser Institute, the leading laser school in the nation. However, we understand that not everyone can put their life on hold in order to gain laser certification. That's why we now offer laser hair reduction training night courses.
One of our most frequently asked questions is this: what if I'm not an esthetician? Can I still receive training? The answer is yes. In most states, all you need is your high school degree or GED in order to enroll. Career changers, estheticians, cosmetologists, and medical professionals are just some of those who attend training with us at National Laser Institute.
Night Class Schedule
Weeknights | Monday – Friday: 6pm – 10pm
With our laser hair reduction training night class, not only will attendees learn laser hair reduction treatments, but also IPL photofacial skin rejuvenation, laser safety, radiofrequency skin tightening, acne reduction, cellulite reduction, laser tattoo removal, spider vein reduction, and much more.
This night course can be complete in as little as four weeks of training! National Laser Institute provides attendees with instructors who have been in this industry for years as well as hands-on clinical training with treatments, where they will be treating scheduled clients within a luxury medical spa. We also provide our graduates assistance through access to our Graduate Services Department, which aids in job search by providing 100-200 career openings each month.
To learn more about our laser hair reduction training courses or night classes, simply fill out the form on your right or call us at 480-290-7399.
More courses: