Laser Tattoo Removal School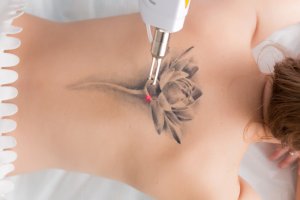 Because of the vast improvements made in recent tattoo removal technology, laser tattoo removal school is one of the fastest growing sectors in medical aesthetics training.
Older technology broke the top layer of the skin, which resulted in slow-to-heal, painful scarring and open wounds.
The latest technology targets the ink directly and stimulates the ink to fade away, avoiding dreadful side effects of scarring, wounds, pain, and downtime.
If you are considering laser tattoo removal school, National Laser Institute is truly the best choice.
What Will I Learn In Laser Tattoo Removal School?
Did you know the number of laser tattoo removal procedures has increased 43% from 2011 to 2012?
Our laser tattoo removal school classes are small and intimate, taught by leaders in the medical aesthetics industry as well as marketing experts to help you get your new laser tattoo removal practice off and running.
At National Laser Institute, we offer didactic (classroom) education and hands-on training for the ultimate learning experience.
During a Just Tattoo Removal course, attendees will learn:
Tissue interaction
Wavelengths and laser selection
Pre- and post-procedural care
Treatment contradictions
Treatment plans and tattoo types
Clinical observations on real clients
Hands-on training with real tattoo clients
Exposure to different skin and tattoo types
Clinical experience within a retail medical spa environment
During clinicals, you will treat real clients that we bring in for you. Did you know we are the only esthetics school that spends millions of dollars each year to schedule real clients? It's just one of the things that sets us apart from other laser hair removal schools across the country.
If you would like to learn more about laser tattoo removal school, give us a call at 800-982-6817 of fill out the form on your right.