Give Yourself the Gift of Laser Training this Holiday Season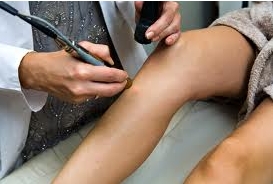 It's hard to believe that 2012 is almost coming to a close. Weren't we all just making our new year's resolutions and promising to stick to them? Don't let 2013 sneak by you without bettering yourself and your life. If you've been wanting to join the medical aesthetics industry by making a career change, give yourself the gift of laser training this holiday season!
Change is often a scary thing, and people sometimes get too comfortable in their current careers–even if they aren't happy. The upside to this is that laser training only takes two weeks and within that time you'll receive exceptional hands-on training as well as get to work on scheduled clients with a variety of different laser treatments. We believe this combination of clinical and classroom training is the absolute best for students who want to immediately go out into the real world and gain jobs are dermatology clinics, doctor's offices, medical spas, salons, and more.
Our students have been very impressed with the type of laser training we offer. With our comprehensive laser course, students learn on the most advanced laser equipment with treatments such as laser hair removal, laser tattoo removal, laser stretch mark reduction, laser acne reduction, and laser wrinkle reduction. We provide instructors who are experts in the field of cosmetic laser and cosmetic injectables in order to give students the best possible laser training experience.
More often than not, aspiring laser technicians want to know how much they'll be able to make with a career in medical aesthetics. Because we've been in this industry for over a decade, we've seen a few different scenarios. The most popular, by far, is hourly pay plus commission. This can range from $15-$25 and hour with commission anywhere between 3%-20%. However, if you're a people person and build a great client list by building lasting relationships, you could be treating 8-10 people a day and make really great money.
We've had many career changers come through our laser training school over the last few years, and were thrilled they made the change. If you're interested in reading some testimonials, you can read through our laser training testimonial page.
Don't sell yourself short by sticking with a job you don't absolutely love. Receive laser training and start your new career with our two week training program at National Laser Institute! To learn more about laser training or National Laser Institute, please call 800.982.6817.