Tattoo Removal Training in Scottsdale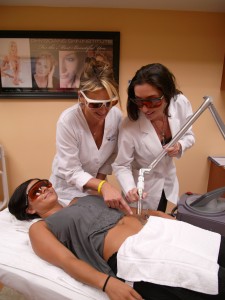 Laser tattoo removal has quickly become a popular way to remove unwanted tattoo ink on the skin by using state-of-the-art laser technology. Because industry professionals have people wanting tattoo removal services, more laser technicians and medical professionals are receiving tattoo removal training. One of the best places for tattoo removal training is right here in Scottsdale, Arizona, because we offer industry-standard, regulated laser training within our medical spa environment.
In order to clear up some confusion on current tattoo removal regulations and course requirements, we're answering a few FAQs here.
What is laser tattoo removal?
Laser tattoo removal is the process of removing tattoo ink from the skin using cosmetic laser equipment. The most frequently used tattoo removal device is the Q-Switched laser, which emits light and heat energy into the tattoo's pigment. This cosmetic energy breaks up the tattoo ink within the skin, then flushes it out of the body through the lymphatic system. Your laser professional will give you your specific treatment period based on your tattoo and skin type, and after some treatments your tattoo fades and disappears.
What qualifications do I need to meet in order to attend school?
To attend a tattoo removal training course in Scottsdale, AZ, you need to have your high school diploma or GED. You do not need to be an esthetician prior to your tattoo removal training.  By AZ regulation, you also need to be laser hair removal certified in order to perform laser tattoo removal.
Tattoo removal training course description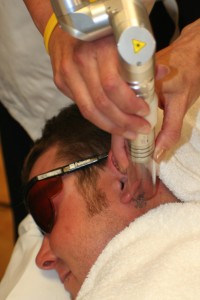 Our tattoo removal training course meets every Arizona requirement in terms of cosmetic laser and tattoo removal. In our 11 day tattoo removal course, you will have 5 days of didactic lecture from experts in the industry, learning about tissue interaction, patient selection, laser equipment and settings, tattoo ink in correlation with skin types, and much more. You will have 3 days of training on laser hair removal in order to meet Arizona regulations as well as photofacial training, and then the rest of the time you will focus on hands-on training on scheduled clients, performing tattoo removal treatments in a luxury medical spa.
Where can I work once I've completed the course?
Any place that needs a tattoo removal technician–dermatology clinics, tattoo shops, doctor's offices, medical spas–the possibilities are endless!
Why National Laser Institute?
National Laser Institute is the leader in the medical esthetics industry and has been in the business for almost a decade. We pioneered the laser training curriculum for laser schools across the country and have received many outstanding reviews. To learn more about tattoo removal training or National Laser Institute, please call 480-290-7399.