Laser Classroom/Didactic (5-Day)
5-Day Laser Training Course Overview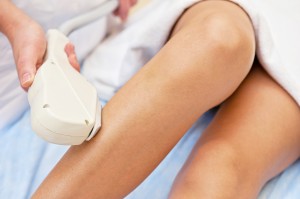 For those considering a career as a cosmetic laser technician, it's exciting to know that without any medical or aesthetic background you can learn all you need to know about the ABC's of laser in this information-packed course. Our classroom curriculum is designed to give students an in-depth knowledge of skin care mechanics in addition to Comprehensive Laser Bootcamp training education. We train our students in the basic fundamentals of how lasers work, describe the clinical applications in the industry, and promote an understanding of laser safety. Students will leave with a thorough knowledge of cosmetic lasers and the education needed to be successful in this industry.
Building off of laser basics at the beginning of our course, students will be taught the fundamentals of laser physics, the importance of the Fitzpatrick scale (classifying skin typing) and laser safety, and will be able to explain the clinical applications of lasers in the industry. A variety of experts in the field will also educate students on the business side of the laser industry, such as client screening and candidacy, safety protocols, marketing and the application of treatments. Students will have an overall solid grasp of lasers and will be ready to take on any line of work in the skin care working environment.
(*Note: This laser training course does not include hands-on training. If you are looking for clinical hands-on training, check out our 2-week Comprehensive Laser Bootcamp Course or our 1-week CORE Course for clinical hands-on training)
Career Advancement
In addition to providing a cosmetic laser and Intense Pulse Light education National Laser Institute has the only course in the country that contains an extensive presentation on how to build your business as an employee, independent contractor, or business owner. This marketing portion is presented by Louis Silberman, medical spa owner who has been written up in Entrepreneur and Fortune magazine for his successes in the health and beauty market.
5-Day Laser Training Course Agenda
When you attend our laser training course, you will receive:
Laser course workbook
Medical Aesthetics Marketing and Operations Package (detailed manual plus a 3-hour DVD on how to build your business!)
Laser Safety Officer Training (which also includes the 2 hours of CPR)
Here is a sample course schedule as to what you would be learning each day!*
TOPIC/DATE
TIME
LECTURES

Classroom/Didactic

Day 1

9:00am – 1:00pm
1:00am – 2:00pm
2:00am – 6:00pm
Hair, Skin, & Lasers
Lunch
Hair, Skin, & Lasers
Objectives: Laser Science, Laser Bio-Physics, Hair & Skin Anatomy, Tissue Interaction, ABC's of Laser, Fitzpatrick Scale, Disorders of the Skin

Classroom/Didactic

Day 2

9:00am – 1:00pm
1:00am – 2:00pm
2:00pm – 4:00pm
4:00pm – 6:00pm
ABC's of Laser
Lunch
Laser Physics
Tissue Interaction
Objectives: The fundamentals and basics of laser physics, the Fitzpatrick scale (classifying skin typing) and tissue interaction

Classroom/Didactic

Day 3

9:00am – 11:00am

11:00am – 1:00pm

1:00pm – 2:00pm

2:00pm – 3:30pm

3:30pm – 5:30pm

5:30pm – 6:00pm

Laser and Intense Pulse Light Summary

Understanding Client Care

Lunch

Laser and Intense Pulse Light Safety

Radiofrequency & Skin Tightening

Live Botox/Filler Demonstrations

Objectives: Laser and Intense Pulse Light summary, skin rejuvenation procedures, client screening and candidacy, laser and Intense Pulse Light safety, radiofrequency and skin tightening.

Classroom/Didactic

Day 4

9:00am – 12:00pm

12:00pm – 1:00pm

1:00pm – 2:00pm

2:00pm – 4:00pm

4:00pm – 6:00pm

Clinical Laser Applications

Guest Speaker: Tattoo Removal

Lunch

Customer Service Phone Pre-Consults

Laser Safety Officer Training

Objectives: Laser applications, laser safety officer training, laser safety and operation, tattoo removal guest speaker.

Classroom/Didactic

Day 5

9:00am – 11:00am

11:00am – 12:00pm

12:00pm – 1:00pm

1:00pm – 2:30pm

2:30pm – 4:30pm

4:00pm – 6:00pm

CPR Training

Laser Guest Speaker

Lunch

Guest Speaker: Laser Techs

Guest Speaker: Plastic Surgeon

Business Development & Marketing Seminar

Objectives: Learn CPR training, listen to laser guest speakers, business development and marketing seminar.
(*Classes are subject to change without notice.)

Why Become a Laser Technician?
Laser technicians are often found working in medical spas, physicians' offices, laser clinics and other establishments. Data shows that last year, there were 2,100 medical spas open for business across the country. Laser hair removal and IPL photo skin rejuvenation treatments are two of the most in-demand nonsurgical cosmetic treatments in the United States. Each year, millions of people around the world seek out laser services. At National Laser Institute, you can complete your education in two weeks or less!
Here at National Laser Institute, we frequently receive inquiries from med spas, doctor's offices and clinics across the country seeking our graduates. As the requests come in, we distribute the leads to our alumni. We also have a team that works to build relationships with medical spas nationwide so that we are a resource for our students and for employers who are looking to hire laser technicians. In fact, we send out between 200-500 job leads each month. While no school in the country can "guarantee" you a job, we are confident that our reputation speaks for itself.

Laser Training Testimonials
Students Talk About Their Amazing Experience at NLI
Going to NLI is the best thing I could have ever done, and for the first time in my life I felt like I was exactly where I was supposed to be. I can't thank you all enough for everything you all do, each and every one of you are amazing and you guys have an incredible program. For the first time I felt like I was around people that actually believed in me and didn't just shut me down like I'm used to. Everybody there only made me feel like there is no limit to what I can do and where I can go, and I'm so thankful for that. I'm so sad to be done, I wish it never ended! Thank you so much from the bottom of my heart. Hope to see you all again xoxo
Janae Welch
National Laser Institute was a life-changing experience. All the staff and instructors truly made it a unique and fun experience that you wouldn't get anywhere else. I highly recommend if you're looking to change careers. I feel comfortable enough to go out in the real world as a laser tech with no prior experience in the beauty industry!
Caroline Bihnion
If you are reading this you must want a change in your life. National Laser Institute is a good career change in an industry that is continually growing. My experience with National Laser Institute was a positive life change for me. The curriculum is interesting and covers a wide spectrum of the history and use of various lasers. The course is taught by a variety of knowledgeable instructors that are available to every student. I made many good friends in the class and with the staff. I highly recommend National Laser Institute to anyone wanting a change in their life and becoming involved in a fun and rewarding industry.
Cheryl Ramsey
View hundreds more testimonials here!
All General Courses at National Laser Institute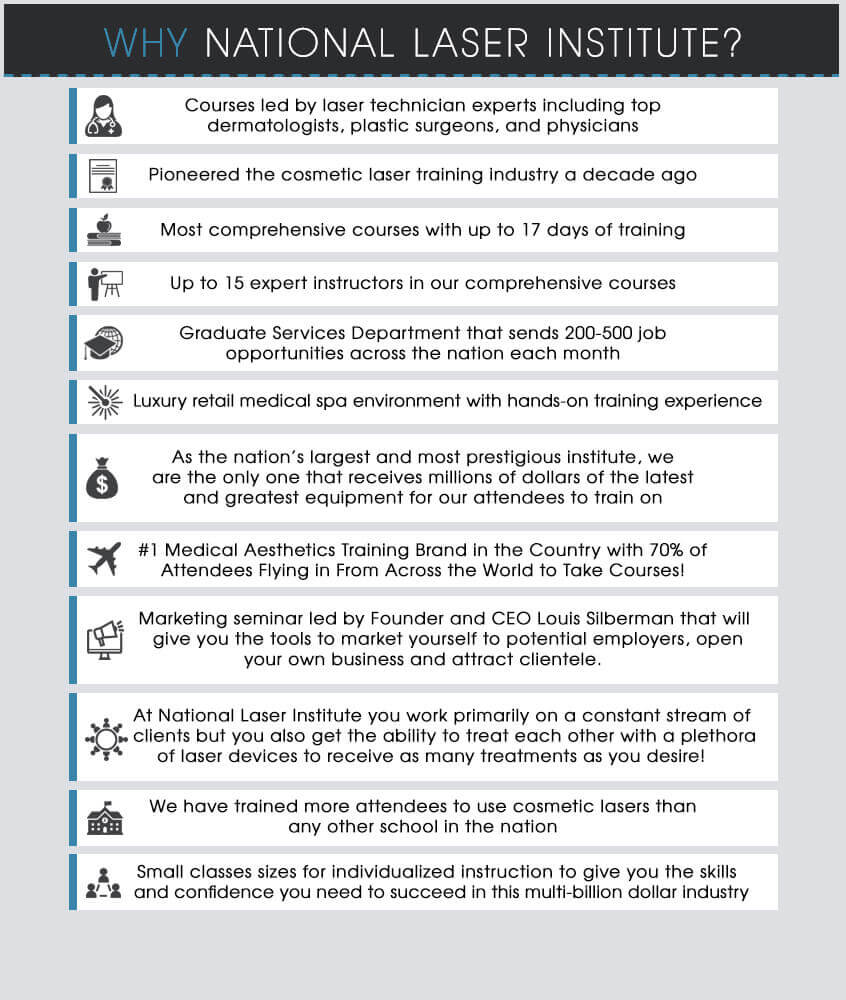 Our educational focus is, and always has been medical aesthetics. It's our passion! In fact, our instructors have a combined 200 years of experience with laser, IPL, radiofrequency and other modalities. NLI students get to experience a variety of instructors with different backgrounds and teaching styles. This makes each educational session fun and unique! All of our instructors have a minimum of 5-20 years working with laser full-time. Our instructors include physicians, nurses, certified laser experts, plastic surgeons, dermatologists, skincare specialists and guest speakers from the country's top medical aesthetic brands.
National Laser Institute also offers its graduates access to the first and largest online medical aesthetics library. This resource is ideal for those who would like to expand their research and knowledge in the anti-aging industry. This comprehensive library is filled with thousands of pages of information that range from clinical studies, treatment information, business development, equipment information, career tools, medical aesthetic news, and much more. We have also included a vast amount of informative videos on all relevant topics as well as sample client forms to help aid you in your business ventures.