Kat Von D Seeks Out Laser Tattoo Removal Treatments
The Hollywood star of TLC's hit TV show, LA Ink, is getting some ink of her own removed. A while back Kat got a tattoo of her ex boyfriend, Jesse James, inked on her skin. But it wasn't just a tattoo: it was an entire portrait of him. But after discovering he was unfaithful, the two broke up, yet she was left with the permanent memory of him on her arm.
"I get to start the day off with some good ol' tattoo laser removal!" Kat tweeted the day she went in to get the portrait of Jesse removed. Then she followed up by posting pictures of the tattoo laser firing onto her Jesse portrait.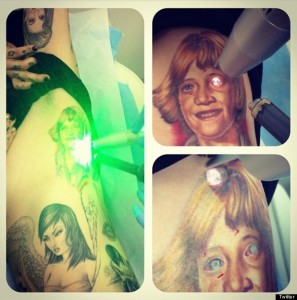 Like Kat, many people get laser tattoo removal treatments for this reason. Nobody wants a reminder of their past, which is why so many choose laser treatments. Unlike creams, laser tattoo removal works by using cosmetic laser and light energy directed toward the ink within the skin. That energy penetrates deep within the skin to break down the ink into fragments. From there, the ink is flushed out of the body through the lymphatic system. The entire tattoo removal process takes between 5-10 minutes, depending on how big the tattoo is.
Some ink pigments are harder to get off, so clients will more than likely need a couple treatments. The typical process usually takes between 4-8 treatments before clients see clearer results.
In her tweet, Kat also hashtagged "#creatingjobs" in regards to receiving her tattoo removal treatment. This is true, because there is definitely a niche market for those who want to receive laser tattoo removal. That's why we offer tattoo removal training for medical professionals and health and beauty industry experts. Those who receive tattoo removal training can take these skill sets and are able to perform tattoo removal on their own clients.
At National Laser Institute, we offer an exclusive tattoo removal course as well as a comprehensive laser course where tattoo removal is taught. In both courses, students can take advantage of hands-on training within a luxury medical spa setting, where they will train on scheduled clients. Experts in the field of medical aesthetics teach small class sizes for optimum learning opportunities.
We have been in the medical aesthetics for over a decade and are recognized as gold standard of education. If you are interested in or would like to learn more about tattoo removal training or National Laser Institute, please call 800.982.6817.