Laser, IPL, and Electrolysis: Everything You Need to Know About Incorporating Medical Hair Removal Devices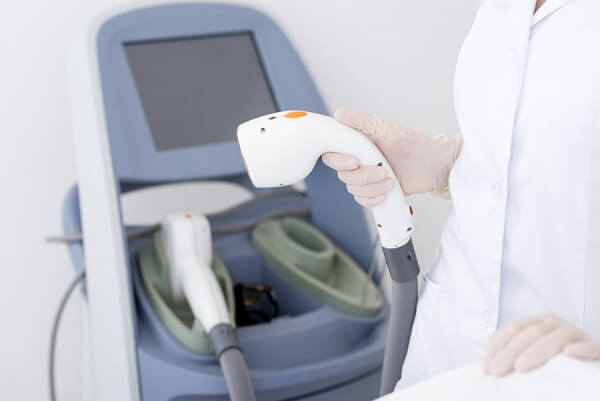 Let's face it: shaving is a drag, tweezing is a pain, and waxing is messy. For these reasons, medical hair removal – including the use of lasers, intense pulsed light (IPL), and electrolysis –  has become increasingly popular over the past decade and, in terms of technology, it has come a long way.
But, which treatment is right for you and your clients?
LASER HAIR REMOVAL
Lasers emit a single wavelength of light that's concentrated and aimed at the melanin in individual hair follicles. The follicle absorbs the heat and leaves surrounding skin unharmed. Lasers are very fast, treating several follicles at once, and typically get better results than IPL. They're considered safe for all skin types; the only drawbacks are that treatments can be somewhat uncomfortable and, technically, laser hair removal provides hair reduction, not permanent removal.
Depending on the Fitzpatrick skin type, hair color and type, and size of the area being treated, six treatments (one every four to six weeks, so that treatments occur during the hair growth stage) is the average number required, though darker skin types can require as many as 10 to 12 treatments. Laser hair removal can be performed on most areas of the face and body.
INTENSE PULSED LIGHT (IPL)
Though commonly considered a type of laser, IPL is actually a broad-spectrum of wavelengths diffused at varying depths; surrounding tissue absorbs some of the light, heating up the skin's pigment, which is why IPL can potentially cause burns or pigmentation issues on darker Fitzpatrick skin types. Because it doesn't go as deep into the skin as lasers, IPL often requires more treatments (also spaced out every four to six weeks), but they're typically less expensive and more comfortable than lasers. IPL can be performed on most areas of the face and body.
ELECTROLYSIS
The main benefit of electrolysis is that it's the only FDA-recognized method of permanent hair removal. The device uses heat or chemical energy to destroy the hair's growth center, after which a fine probe is inserted into the follicle and the hair is removed with tweezers. Electrolysis typically takes multiple treatments, spaced initially about one week apart; over time, (the average is 18 months with regular treatments), they can be performed less frequently. While some say electrolysis is painful, others tolerate it well with or without a topical numbing cream. Another benefit is that it can be performed on all skin types, even light hair on light skin, because it isn't targeting melanin. There is a small risk of scarring because the electrical current doesn't discern between the follicle and surrounding cells.
WHO CAN LEGALLY PERFORM MEDICAL HAIR REMOVAL?
This is a legitimate question, with several different answers. For laser hair removal and IPL treatments, a medical director is required to oversee the facility where the treatments are performed. For electrolysis, some states require an electrologist license, along with a certain number of treatment hours; others do not require licensing at all. For any type of medical hair removal treatments, I stand firm in my belief that every technician should be educated, licensed, and experienced, but unfortunately, that's not always the case.
POST-TREATMENT CONSIDERATIONS
With all types of medical hair removal, clients should stay out of the sun about two weeks before and after treatments and keep skin as cool as possible after treatment, avoiding intense exercise, hot tubs, and so forth. Skin may be slightly red, swollen, or sensitive for one to two days and ice packs may be applied if desired. If pin dot bleeding occurs with electrolysis, scabs should not be picked to avoid scarring and infection.
ADDITIONAL CONSIDERATIONS
It's important to think about your particular client demographics when implementing medical hair removal into the spa. These factors will help you determine the prices of treatments. Do homework by checking out your competitions' pricing. A high-end spa can claim higher prices, as long as the client believes they are getting a good value. It has to be something that the discount establishments don't offer. An example is offering "something for nothing," such as a free lip or chin hair removal with the purchase of a series of treatments for a larger body part, such as the legs.
Of course, the size of your facility will determine the types of machines you can utilize. If treatment rooms are very small, there will not be space to keep a large machine in there all the time, but machines can be kept in a larger, central location and wheeled into rooms when needed.
All machines require maintenance, which is typically built into the service contracts. As far as paying for the machines, leasing and financing them are really about the same: typically, 10 to 20 percent is required as a down payment and then financed-to-own over five years.
The benefits of medical hair removal are many and the risks associated with properly performed treatments by highly trained providers are few. It's no wonder so many spas are offering these services and why it remains one of the top five non-surgical, cosmetic procedures.