4 Easy Steps Toward Becoming a Medical Aesthetician
A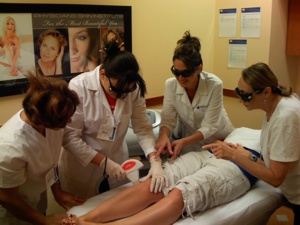 Medical aesthetician is a skin care expert that is certified in performing a variety treatments on the dermal and epidermal layers of skin. Like aestheticians, medical aestheticians can also become trained to perform facials, waxes, peels, and more. They primarily stick to recent laser technologies that are able to give clients revolutionary results, such as laser hair removal, laser tattoo removal, Botox, laser wrinkle reduction, laser acne reduction, and many more.
We see many cosmetologists, aestheticians, medical professionals, and other career changers taking an interest in medical aesthetician school. It's easier than you may think to become a certified medical aesthetician. We break it down for you in four easy steps below.
1. Make sure you meet the requirements. In most states, you need to have your high school diploma or GED to perform laser. You must be a medical professional to perform cosmetic injectables, such as Botox or dermal fillers. However, it is important that you research your state's requirements before choosing a medical aesthetician school. To learn more about your state's requirements, you can call 800.982.6817.
2. Research medical aesthetician schools. It's not in your best interest to attend a school that's local to you. You need to make sure that school offers what you need in terms of quality education. Ask yourself the following questions:
Are they regulated by your state?
Do they offer hands-on training?
How updated is the equipment they use?
How long is the course and does it meet your state's requirements in terms of earning proper certification?
How long has the school been around?
3. Attend a regulated medical aesthetician school. Once you find the medical aesthetician school that's right for you, it's time for you to choose and complete your course. You can talk to a course advisor to see which is the best fit for what you'd like to do. National Laser Institute has classes that are designed to fit your needs, whether you're a medical professional who only wants Botox injection training or an aesthetician who wants comprehensive laser training–we've got something for you.
4. Earn your certification and explore your job options. Most importantly, complete and graduate from your course! Your hard work is what earns you your certification, and that's what employers will be looking at. They're going to want to hire someone who's had extensive hands-on training and experience from experts within the field. THIS is ultimately why it's important to choose a good medical aesthetician school.
At National Laser Institute, we have a dedicated team that sends out 200-500 job leads a month to our alumni. Medical spas, physicians offices and other businesses frequently reach out to us, because they want to hire our graduates!
National Laser Institute is the leading medical aesthetic school in the nation and has been around for over a decade. We train hundreds of students each month in our multiple locations and are regulated by the ARRA. Our courses offer students hands-on training with scheduled clients within a medical spa setting and offer medical professionals CE/CME credits.
To learn more about medical aesthetics or National Laser Institute, please call 800-982-6817.
Learn more: