5-Day CME Laser Training Course
5-Day CME Laser Course Overview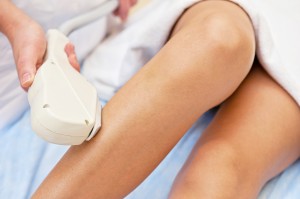 Our 5-day CME laser training course is tailored to medical professionals seeking cosmetic laser training only. The laser course includes learning in a classroom as well as hands-on, clinical training. In this cosmetic laser training course, medical professionals will learn all types of in-demand services, including laser hair removal, IPL skin rejuvenation, radiofrequency skin tightening, and many more.
Medical professionals can earn CME credit or CE credit by attending our laser course. Once you complete your laser training with us, you will be able safely perform a variety of laser treatments and fully understand all processes and protocols. Medical professionals will train on the latest laser technology in the industry and understand equipment functionality.
Why Cosmetic Lasers?
Revolutionary laser technology has been a game changer in the heath and beauty industry. The medical aesthetics industry is currently a 16 BILLION dollar marketplace. Last year, laser hair removal and photo skin rejuvenation treatments were two of the most performed nonsurgical cosmetic treatments in the U.S., according to the ASAPS (American Society of Aesthetic Plastic Surgery).
Cosmetic lasers offer phenomenal anti-aging results without undergoing surgery. Not only can cosmetic laser equipment remove unwanted hair and tattoos, but it can also eliminate acne, restore skin to a more youthful state, and rid any unsightly veins. Because a majority of these treatments are highly in demand, you are able to capitalize on the gain for your practice.
Sample Course Schedule
5 Day CME/CE Laser
TOPIC/DATE
TIME
ACTIVITY

CME Laser Didactic

Day 1

8:30am – 1:00pm
Didactic Education
1:00pm – 2:00pm
Lunch Break
2:00pm – 6:00pm
Didactic Education

CME Laser Clinical Hands-On *

Day 2 – Day 5

8:30am – 10:00am
Didactic Education
* Laser Clinical includes modalities such as: Laser Hair Reduction, Photofacial, Skin Tightening, Tattoo Removal, Radio Frequency Skin Rejuvenation, Ablative Laser Skin Resurfacing & CoolSculpting Body Contouring.
10:00am – 1:00pm
Laser Clinical Hands-On
1:00pm – 2:00pm
Lunch Break
2:00pm – 6:00pm
Laser Clinical Hands-On
(*Classes are subject to change without notice.)

Who Can Perform Cosmetic Laser Treatments?
Laser training: Intensive training for Registered Nurses (RN), Physicians (MD & DO), Nurse Practitioners (NP), Physician Assistants (PA), Dentists (DDS & DMD), and other qualified health professionals on the delivery of IPL (Intense Pulsed Light), radiofrequency, and laser treatments for cosmetic, anti-aging skincare results.
Medical Professional Testimonials
Why Medical Professionals Choose NLI
National Laser Institute's course was everything I expected and more. The staff was very helpful. To work and learn the most current laser technology and to lean the most current techniques gave me all the confidence I need to get out there and start applying in the 'real world.' Once again, great school. I would not choose another school if I had a chance to do it again!
James Yoon, RN
I really enjoyed the laser training course. The instructors are extremely knowledgeable and phenomenal at teaching. I also really enjoyed performing the treatments we learned on real clients as well as other students. I even got some done myself!
Cindy N.
View hundreds more medical professional testimonials here!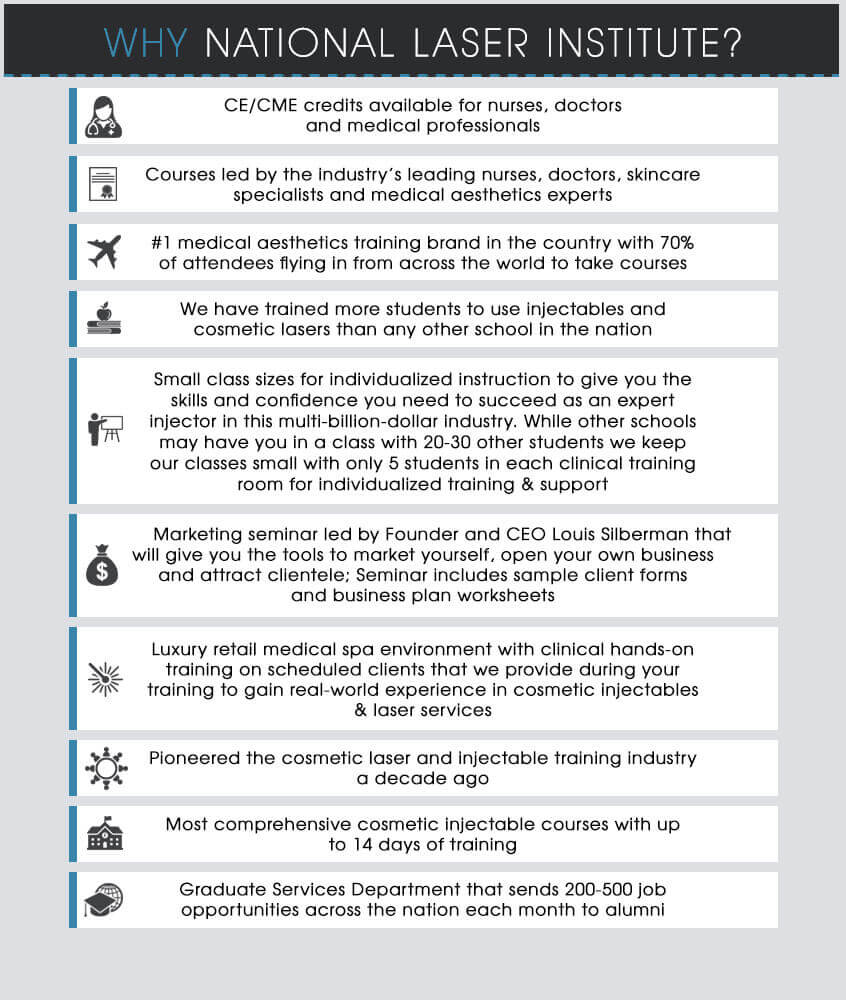 Classes are offered every month
, click to 
view the schedule
.
For more details on our 5-day laser training course, please give us a call at 1-800-982-6817 or fill out our form on the right.