5-Day CME Laser Training Course
5-Day CME Laser Course Overview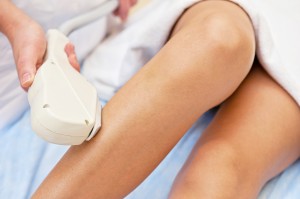 Our 5-day CME laser training course is tailored to medical professionals seeking cosmetic laser training only. The laser course includes learning in a classroom as well as hands-on, clinical training. In this cosmetic laser training course, medical professionals will learn all types of in-demand services, including laser hair removal, IPL skin rejuvenation, radiofrequency skin tightening, and many more.
Medical professionals can earn CME credit or CE credit by attending our laser course. Once you complete your laser training with us, you will be able safely perform a variety of laser treatments and fully understand all processes and protocols. Medical professionals will train on the latest laser technology in the industry and understand equipment functionality.
Why Cosmetic Lasers?
Revolutionary laser technology has been a game changer in the heath and beauty industry. The medical aesthetics industry is currently a 16 BILLION dollar marketplace. Last year, laser hair removal and photo skin rejuvenation treatments were two of the most performed nonsurgical cosmetic treatments in the U.S., according to the ASAPS (American Society of Aesthetic Plastic Surgery).
Cosmetic lasers offer phenomenal anti-aging results without undergoing surgery. Not only can cosmetic laser equipment remove unwanted hair and tattoos, but it can also eliminate acne, restore skin to a more youthful state, and rid any unsightly veins. Because a majority of these treatments are highly in demand, you are able to capitalize on the gain for your practice.
Sample Course Schedule
5 Day CME/CE Laser
TOPIC/DATE
TIME
ACTIVITY

CME Laser Didactic

Day 1

8:30am – 1:00pm
Didactic Education
1:00pm – 2:00pm
Lunch Break
2:00pm – 6:00pm
Didactic Education

CME Laser Clinical Hands-On *

Day 2 – Day 5

8:30am – 10:00am
Didactic Education
* Laser Clinical includes modalities such as: Laser Hair Reduction, Photofacial, Skin Tightening, Tattoo Removal, Radio Frequency Skin Rejuvenation, Ablative Laser Skin Resurfacing & CoolSculpting Body Contouring.
10:00am – 1:00pm
Laser Clinical Hands-On
1:00pm – 2:00pm
Lunch Break
2:00pm – 6:00pm
Laser Clinical Hands-On
(*Classes are subject to change without notice.)

Who Can Perform Cosmetic Laser Treatments?
Laser training: Intensive training for Registered Nurses (RN), Physicians (MD & DO), Nurse Practitioners (NP), Physician Assistants (PA), Dentists (DDS & DMD), and other qualified health professionals on the delivery of IPL (Intense Pulsed Light), radiofrequency, and laser treatments for cosmetic, anti-aging skincare results.
Medical Professional Testimonials
Why Medical Professionals Choose NLI
National Laser Institute's course was everything I expected and more. The staff was very helpful. To work and learn the most current laser technology and to lean the most current techniques gave me all the confidence I need to get out there and start applying in the 'real world.' Once again, great school. I would not choose another school if I had a chance to do it again!
James Yoon, RN
I really enjoyed the laser training course. The instructors are extremely knowledgeable and phenomenal at teaching. I also really enjoyed performing the treatments we learned on real clients as well as other students. I even got some done myself!
Cindy N.
View hundreds more medical professional testimonials here!
All CME Courses at National Laser Institute
Looking for CME classes and CE courses? Browse our course selection below!
Intro to Cosmetic Injections 2-Day Weekend Course:

 BOTOX®/Dysport®/Jeuveau and Juvederm/Restylane Dermal Fillers. Learn to inject Neurotoxins safely in basic areas such as the forehead, crow's feet, and glabella. Learn to inject dermal fillers in basic areas such as marionette lines, nasolabial folds, and lips.

Advanced Injectable 2-Day Course:

Build your confidence by injecting basic areas and learning to inject off-label treatment areas including the mid-face region, platysmal bands, brow lift, lip pop, secondary smile lines, and so much more!

Intro to PRP 1 Day Course:

 Learn to safely turn your client's blood into rich platelet-rich plasma. Re-inject the PRP into tear troughs, nasolabial folds, lips, and microneedling/PRP.

Advanced PRP 1 Day Course:

 Building on basic PRP training, learn to inject PRP with cannulas as well as gain exposure to hair restoration.

Neck-Body-Veins 1-Day Course: Learn to perform hyper-diluted Radiesse, Kybella and Sclerotherapy injections in this one-day course.
PDO Threads 2-Day Weekend Course

:

 Learn how to comfortably perform this non-surgical "facelift" which creates a subtle, refreshed look. Clients love this treatment!

Cosmetic Laser 5-Day Course:

 Learn how to perform the most sought-after laser treatments like laser hair reduction, photofacials, skin tightening, Coolsculpting, and tattoo removal!

Next Level Injections 2 Day Course:

 Gain in-depth knowledge of neuromodulators and dermal fillers taught by master injectors including didactic, hands-on practice, and live demonstrations on the most advanced filler techniques for Botox, Dermal Fillers, Platelet Rich Fibrin (PRF) & More! This course is designed for any injector in the marketplace who has taken injection training prior from any training school or has done injecting before.

Sculptra Aesthetic Injection Course: Get ready to learn how to inject the latest and greatest Sculptra® Aesthetic injection techniques to contour the face and body and regenerate collagen to restore lost volume for mindblowing results lasting up to 2 years!
Next Level Laser Course:

 Discover advanced training in a mix of treatment protocols including the Carbon Facial, Advanced Treatment Layering, Advanced Fractional CO2, Advanced Radio Frequency Microneedling, Advanced Multi-Modality Rosacea & Melasma, Advanced Active Acne & Acne Scars, and Advanced Surgical & Trauma Scares & Stretch Marks. This course is designed for anyone in the marketplace who has taken cosmetic laser training prior from any training school or has worked with cosmetic lasers before.

Medical Director 24-hour Online On Demand Course:

 Learn how to be the supervising party overseeing a medspa or medical aesthetics practice at a physician's office or any type of location. Safety guidelines, regulations, procedure knowledge, and A-Z "How To" instruction.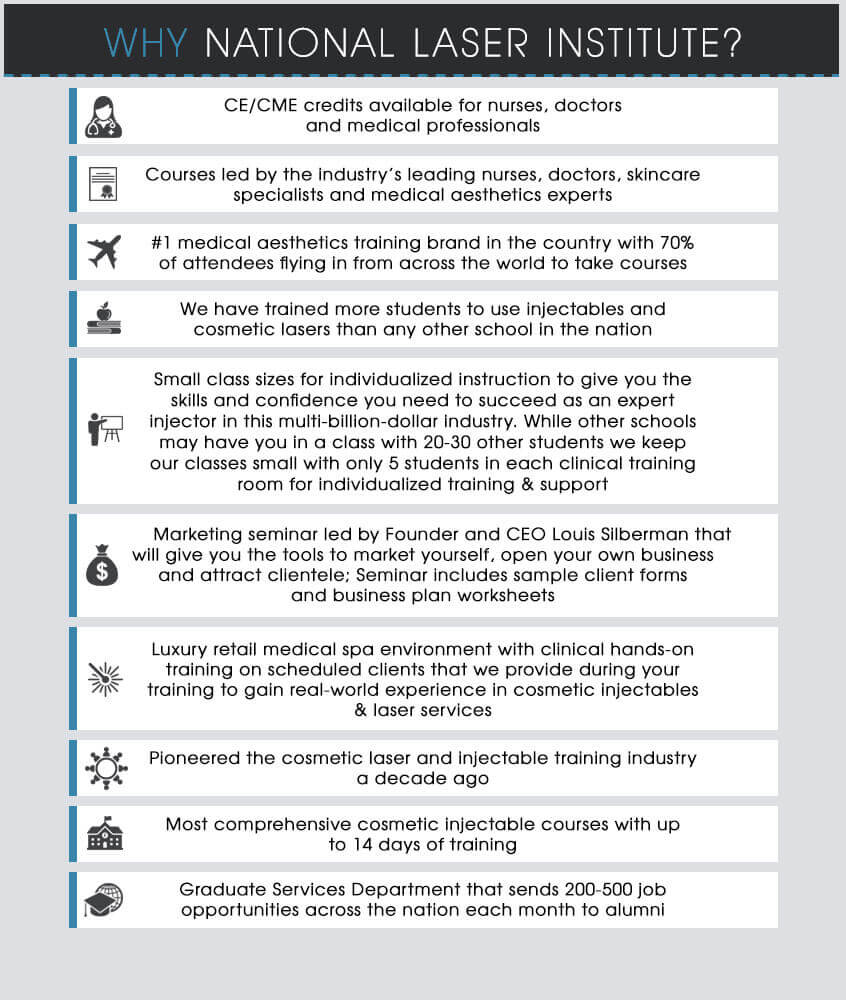 Classes are offered every month
, click to 
view the schedule
.
For more details on our 5-day laser training course, please give us a call at 1-480-290-7399 or fill out our form below.