2-Day Botox and Dermal Filler Training
2-Day Botox and Filler Course Description
Our 2-Day Botox and Filler course is designed for Registered Nurses (RN), Physicians (MD & DO), Nurse Practitioners (NP), Physician Assistants (PA), Dentists (DDS & DMD), and other qualified health professionals who want to understand the basics of Botox (Botulinum toxin type A) and dermal fillers (Restylane, Perlane and Juvederm). This weekend Botox and dermal fillers course includes classroom education and hands-on training in a retail medical spa so that attendees will have a firm grasp of the theoretical background and practical application of Botox and dermal fillers.
Each course here at National Laser Institute is taught by industry-leading professionals who have seven to 20 years of experience working in the field. They will provide you with the knowledge and skills that you need in order to successfully integrate cosmetic injections into your practice and treat your future clientele!
For being a 2-day course, it's jam-packed with valuable and in-depth information as well as everything you need to know in order to start providing treatments to your own clientele. It will cover both clinical considerations and important cosmetic issues that enhance communication between you and your client. Our 2-Day Botox and Filler course will also teach you how to build a practice and capitalize on the enormous Botox and dermal filler market that exists in the United States.
Your tuition includes a course manual that consists of written materials and marketing tools, including examples of history, consent and policy forms, and a certificate of training upon completion of the course. We also provide you with access to our online medical aesthetic library, which holds thousands of pages of resources including instructional videos, clinical studies and more. You also have the opportunity to earn CE credits or CME credits.
Classroom (Didactic) Education
The first half of each day will be spent in the classroom. During this time, you will discuss and learn the fundamentals of performing cosmetic injections with Botox for the glabellar region (frown lines, nasal wrinkles), forehead lines and bunny lines. You will learn the fundamentals of performing injections with facial fillers for marionette lines, nasolabial folds and midface volumization.
Your instructor will also lead in-depth discussions about topics that include:
Safety protocols for various cosmetic injections
How lines, folds and wrinkles occur
Proper injection areas for Botox and dermal fillers
How to conduct the consultation process
The risks and benefits of different cosmetic injections
These lectures not only will help you understand the basics of these aesthetic procedures but will also prepare you for hands-on training in an educational environment.
Hands-On Training
With National Laser Institute's low student to instructor ratio, our clinical sessions facilitate an intimate learning environment, complete with comprehensive demonstrations and one-on-one guidance from your instructor to help you perfect your cosmetic injection techniques by treating real clients from start to finish. This includes coming up with a treatment plan while understanding what outcome the client would like.
The aesthetic products used in the hands-on portion of this weekend Botox and dermal fillers course include BOTOX®, Dysport and dermal fillers such as Juvederm and Restylane.
In addition to treating paying clients, you will have the opportunity to receive these anti-aging services. To truly understand what your clients will experience, we believe it's important to have the procedure yourself!
Sample Course Schedule
2 Day CME/CE
TOPIC/DATE
TIME
ACTIVITY

Botox Training and Hands-On Clinical Practice

Day 1

8:30am – 11:00am
Didactic Education
11:00am – 12:00pm
Lunch Break / Marketing Seminar
12:00pm – 1:00pm
Botox Demonstration
1:00pm – 6:00pm
Hands-On Clinical Training:
Botox / Dysport / Neurotoxins

Dermal Filler Training and Hands-On Clinical Practice

Day 2

8:30am – 11:00am
Didactic Education
11:00am – 12:00pm
Lunch Break
12:00pm – 1:00pm
Dermal Filler Demonstration
1:00pm – 6:00pm
Hands-On Clinical Training: Dermal Fillers / Juvederm / Restylane
(*Classes are subject to change without notice.)

Why Botox and Dermal Fillers?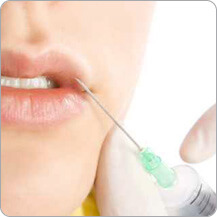 Botulinum toxin type A (Botox) and dermal fillers are among the most popular nonsurgical services in the United States. The appeal of cosmetic injections is that they give clients rejuvenated, youthful results with minimal downtime as opposed to surgical procedures that carry a greater risk of complications.
Medical professionals who provide noninvasive procedures don't have to worry about the hassle of insurance reimbursements because cosmetic treatments are cash-based services. They can also turn every patient into repeat business, providing a steady stream of revenue to their practice. The average Botox treatment price, for example, is around $397 and takes less than 15 minutes to perform. If you see four patients in one hour, you can make approximately $1,588!
With Botox and dermal filler treatments in high demand and predicted to increase, now is the best time to receive Botox training to incorporate these procedures into your service menu. Physicians and nurses have a substantial competitive advantage because cosmetic injections can only be administered by medical professionals who have received their Botox certification. Our 2-Day Botox and Filler course allows you to deliver Botox safely and effectively to your clients.
Course Objectives
By the end of our 2-Day Botox and Filler course, you will be able to:
Identify who is a candidate for Botox and facial fillers
Understand the aesthetic consultation process
Explain why lines and folds occur and how to treat them using various cosmetic injections
Explain the indications and contraindications of dermal fillers and Botox injections
Demonstrate proper cosmetic injection techniques for various anti-aging services
Explain the anatomy and musculature of the face
Understand the different types of cosmetic fillers (Juvederm, Restylane, etc.)
Identify the risks and benefits of various anti-aging services
Explain the risks, benefits, and pre-and post-care protocols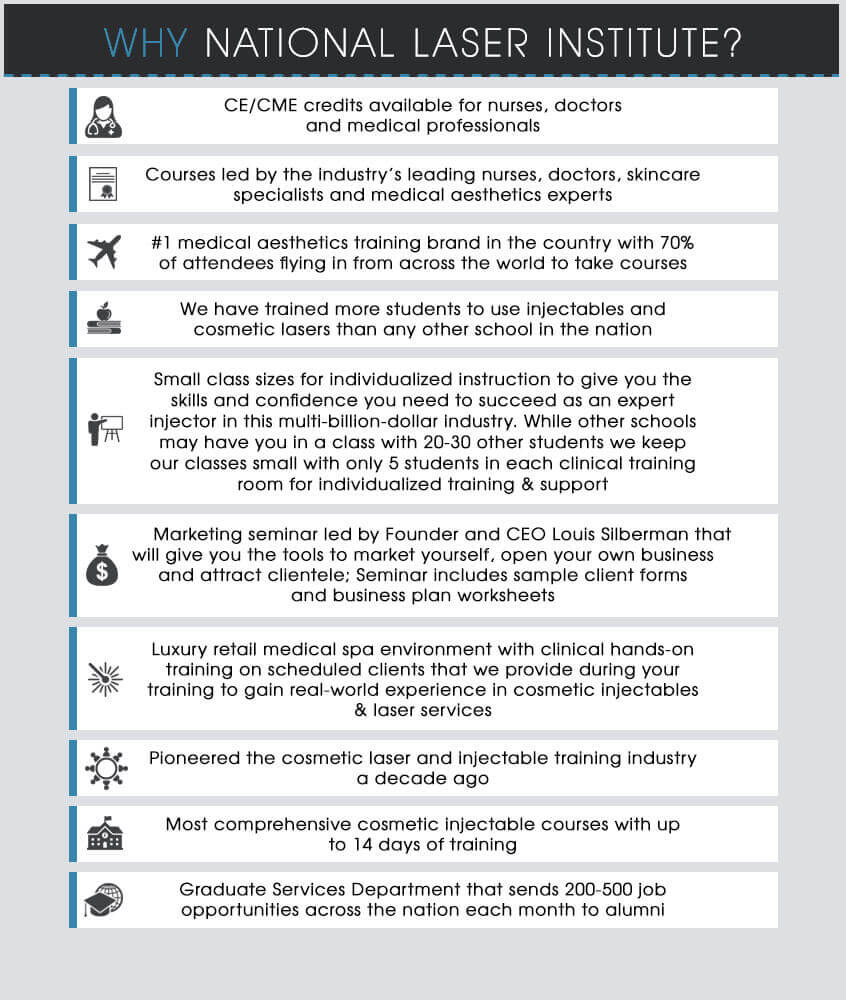 Medical Professional Testimonials
National Laser Institute is the leading medical aesthetics school in the nation with over 20 years of experience in the industry. Each year, we train thousands of physicians, nurses, and medical professionals on how to administer a variety of cosmetic treatments. Read what our graduates have to say about their experience with us below!
Why Medical Professionals Choose NLI
The Botox and fillers class offered a lot of hands-on experience. I gained a great deal of confidence in my ability to perform treatments, especially since the instructors are right there to guide and encourage you.
Eva S. Estes RN
Absolutely loved my experience. I learned so much and am excited about this journey of doing Botox and fillers. I am definitely planning on taking more classes. I would recommend your classes to anyone inquiring about aesthetics! Thank you so much!
Mary Beth Medina, MSN FNP-C
National Laser Institute took me from a RN with 0 experience or knowledge in medical spa knowledge to a RN that feels confident performing services to the community in my hometown in Northern Canada. There is little opportunity here to experience these services, and I'm so happy I can bring my knowledge and treatments here. Thank you, National Laser Institute!
Rebekah Daigle
View hundreds more medical professional testimonials here!
All CME Courses at National Laser Institute
Looking for CME classes and CE courses? Browse our course selection below!
Intro to Cosmetic Injections 2-Day Weekend Course:

 BOTOX®/Dysport®/Jeuveau and Juvederm/Restylane Dermal Fillers. Learn to inject Neurotoxins safely in basic areas such as the forehead, crow's feet, and glabella. Learn to inject dermal fillers in basic areas such as marionette lines, nasolabial folds, and lips.

Advanced Injectable 2-Day Course:

Build your confidence by injecting basic areas and learning to inject off-label treatment areas including the mid-face region, platysmal bands, brow lift, lip pop, secondary smile lines, and so much more!

Intro to PRP 1 Day Course:

 Learn to safely turn your client's blood into rich platelet-rich plasma. Re-inject the PRP into tear troughs, nasolabial folds, lips, and microneedling/PRP.

Advanced PRP 1 Day Course:

 Building on basic PRP training, learn to inject PRP with cannulas as well as gain exposure to hair restoration.

Neck-Body-Veins: 3 in 1 Course: Learn to perform hyper-diluted Radiesse, Kybella, and Sclerotherapy injections in this one-day course.
PDO Threads 2-Day Weekend Course

:

 Learn how to comfortably perform this non-surgical "facelift" which creates a subtle, refreshed look. Clients love this treatment!

Cosmetic Laser 5-Day Course:

 Learn how to perform the most sought-after laser treatments like laser hair reduction, photofacials, skin tightening, Coolsculpting, and tattoo removal!

Next Level Injections 2 Day Course:

 Gain in-depth knowledge of neuromodulators and dermal fillers taught by master injectors including didactic, hands-on practice, and live demonstrations on the most advanced filler techniques for Botox, Dermal Fillers, Platelet Rich Fibrin (PRF) & More! This course is designed for any injector in the marketplace who has taken injection training prior from any training school or has done injecting before.

Sculptra Aesthetic Injection Course: Get ready to learn how to inject the latest and greatest Sculptra® Aesthetic injection techniques to contour the face and body and regenerate collagen to restore lost volume for mindblowing results lasting up to 2 years!
Next Level Laser Course:

 Discover advanced training in a mix of treatment protocols including the Carbon Facial, Advanced Treatment Layering, Advanced Fractional CO2, Advanced Radio Frequency Microneedling, Advanced Multi-Modality Rosacea & Melasma, Advanced Active Acne & Acne Scars, and Advanced Surgical & Trauma Scares & Stretch Marks. This course is designed for anyone in the marketplace who has taken cosmetic laser training prior from any training school or has worked with cosmetic lasers before.

Medical Director 24-hour Online On Demand Course:

 Learn how to be the supervising party overseeing a medspa or medical aesthetics practice at a physician's office or any type of location. Safety guidelines, regulations, procedure knowledge, and A-Z "How To" instruction.
For more details on our 2-day Botox and dermal filler training course, please see our course schedule and give us a call at 1-480-290-7399 or fill out our form below.