Looking For Career Change Ideas?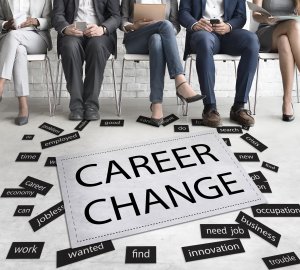 Feeling lost and stuck? Need career change ideas? Thrive and get the career you want even in uncertain times. The medical aesthetics industry is the perfect field if you want to make a career change fast. If you're ready to wake up loving what you do, start now with medical aesthetics!
The Medical Aesthetic Industry
The medical aesthetic industry is booming.  Why? Because practitioners get to work with happy clients. Also, they enjoy flexible schedules. Plus, they receive good pay for their expertise and work in aesthetically pleasing environments. With every treatment, they build their clients' confidence!
What's not to love about medical aesthetics? This $16 billion industry is booming and continuing to grow as millennial's and baby boomers can't get enough of these anti-aging treatments. If a career change like this appeals to you, then keep reading to learn about the courses we offer. You, too, can get started in a dream career! 
Why Change Careers?
You may be on the fence about changing careers. Maybe you're scared about doing something completely new. Or, you're thinking you'll fail or won't enjoy a new career in reality as much as you think you would. The thing about life is that great opportunities and new adventures only happen when you take a risk! You don't know how you're going to feel about something until you're actually doing it! So take the leap and go for it. Our students rave about our programs and end up falling in love with this industry! 
The Course
If you're considering a career change, you most likely do not come from a medical professional background (if you do, check out our other courses for medical professionals here). You may be thinking how can I get into this industry with no medical background? Well, you can become a cosmetic laser technician! As a cosmetic laser technician, you'll administer a variety of laser treatments on clients and you'll be able to work in a variety of settings. The best part? The only requirement to get into our courses is that you must be at least eighteen years old with a high school diploma. You can come from any background (stay at home mom, truck driver, retail employee – it literally doesn't matter).
Don't worry about feeling intimidated or like you'll be the only student who doesn't know anything on day one. Our expert instructors will guide you through the course and you'll come out confident in your ability to administer cosmetic laser treatments on real clients. You'll go from knowing nothing on day one to feeling confident in your ability to get a job in this exciting field. We're so excited about your ability to change your life in such a comprehensive course. This is one of the best career change ideas if you are looking to avoid going back to school for a long period of time. Our course is perfect for anyone who wants to jump into a new field in a matter of weeks!
Join us for our new online "hybrid*" course that you can attend from the comfort of your own home by simply using your phone or computer! During our Hybrid* Online Comprehensive Laser Course you will receive a combination of online classroom laser training and hands-on clinicals with a variety of instructors and live demonstrations with several hours on each modality. Modalities include Laser Hair Removal, Photofacial, Laser Skin Rejuvenation, Radiofrequency Skin Rejuvenation, Coolsculpting, Cellulite Reduction, Tattoo Removal, Radiofrequency Skin Tightening, and Microneedling. 
By The End Of Our Comprehensive Laser Program, You'll Be Able To:
Recognize the unique characteristics of a cosmetic client

Understand the fundamentals of how a laser interacts with skin tissue

Explain how different types of light-based devices interact with the skin in nonsurgical procedures

Identify safety issues and complications as well as recognize contraindications for various cosmetic laser treatments

Determine which types of laser treatments will create the desired results for your clients

Understand the hazards associated with cosmetic lasers and how to avoid them

Demonstrate proper technique and safe operation of laser and pulsed light devices

Explain the benefits, expectations, and results associated with several laser devices
Why Choose The National Laser Institute?
If you're looking for career change ideas and have decided to pursue a career as a cosmetic laser technician, then the National Laser Institute is the place for you! Here's an overview of what makes the National Laser Institute so unique and the perfect place to start your journey into this exciting industry!
National Laser Institute's unparalleled experience. Founded in 2004, our company has emerged as the leader in the medical aesthetics training industry.

National Laser Institute has pioneered teaching the clinical/hands-on portion of coursework in a luxury, retail, medical spa located directly on campus.

National Laser Institute was a pioneer in the industry offering the required training by the State of Arizona in 2004, the first year that they required laser training. National Laser is approved by the Arizona Board for Private-Post Secondary Education. We provide CME credits from the Arizona Nurses Association and the American Academy of Family Physicians.

National Laser Institute offers training on the most advanced technology and is the first laser school in the U.S. to offer courses on Fractional Laser Wrinkle Reduction, Radiofrequency Skin Tightening, and Stretch Mark Removal.

National Laser Institute offers the most comprehensive courses ranging anywhere from 1 day to 2 weeks, in person to online.

National Laser Institute provides an added value Marketing class, taught by Louis Silberman, CEO and Founder of the National Laser Institute. Louis has been featured in Entrepreneur Magazine, Fortune Small Business, Les Nouvelle, Dermascope, and Skin Inc. and is one of the top medical aesthetic marketing minds in the country.
Check out our podcast all about getting into the medical aesthetic industry! Listen on Apple Podcasts and subscribe!
If you're ready for a career change, get started in the medical aesthetic industry!  Give us a call at 855-637-4530 to talk with one of our admission representatives. We will answer all your questions and guide you along your medical aesthetics journey!