Miley Cyrus Seeks Out Laser Tattoo Removal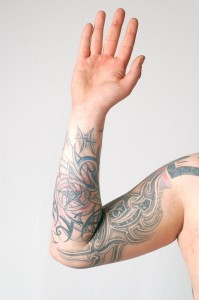 There have been a number of Hollywood celebrities who have received laser tattoo removal treatments, including Britney Spears and Charlie Sheen. However, the 19-year-old singer and actress, Miley Cyrus, was spotted at a laser tattoo removal office in Los Angeles. Miley Cyrus has nine tattoos, which is basically nothing compared to her brother, Trace Cyrus–who is almost full-body covered in tattoos. Apparently Miley was having regrets about one of her tattoos, but hey, she's only human.
Laser tattoo removal has become an increasingly booming industry over the years. Like Miley, we are all human and are prone to making mistakes. But if your mistake happens to be a tattoo, laser tattoo removal treatments are able to take care of you. It works by using a cosmetic laser targeted at the tattoo ink within the skin. The laser energy is fired at the ink, causing it to be absorbed in the pigment of the tattoo. Then, the laser energy breaks up the tattoo ink into fractions, flushing it out through the body's lymphatic system.
Typically, laser tattoo removal takes between 4-8 treatments to completely remove the entire tattoo. If you're a laser technician charging $100 per treatment with a client who needs 6 sessions, that's $600 straight cash for you and your business. This is why so many people are seeking out tattoo removal training. They've realized that the medical esthetics industry has continued to grow over the past few years–even in an unstable economy. People put beauty first, choosing to spend their hard-earned cash on treatments that are fast and effective.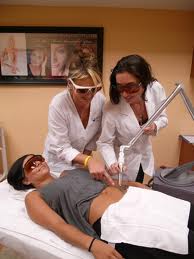 Tattoo removal training can be completed in less than a week at National Laser Institute. We offer a tattoo removal training course that strictly teaches attendees the ins and outs of tattoo removal. Students will learn the benefits of tattoo removal, the proper and most advanced removal techniques, how lasers work, and will be able to practice on scheduled clients in a luxury medical spa, ensuring that they feel confident and comfortable when firing a cosmetic laser.
We also offers a comprehensive laser course that covers tattoo removal training as well as a number of other popular laser treatments. In this course, students will have hands-on training with laser hair removal, laser wrinkle reduction, laser acne reduction, laser stretch mark reduction, and many more. These skill sets can be put to good use in doctor's offices, medical spas, salons, dermatology clinics, and anywhere that's seeking a cosmetic laser technician.
National Laser Institute is the leader in the medical esthetics industry and has earned an A+ rating at the BBB as well as a number of excellent reviews. To learn more about tattoo removal training or National Laser Institute, please call 800.982.6817.
Read more information on: