Should I Add Tattoo Removal to My Business?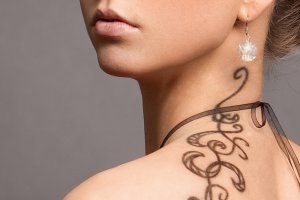 Have you ever thought about adding tattoo removal to your business?
In recent years the medical aesthetics industry has seen an influx of clients requesting tattoo removal treatments – and this trend is expected to continue in the future!
Here are three reasons why you should consider this popular medical aesthetics treatment if you are looking to receive your laser tech certification!
Should I Add Tattoo Removal to My Business?
Here is why you should consider laser tattoo removal training:
#1. Overwhelming statistics. Did you know over 45 million Americans have at least one tattoo? Of this group, 45 percent range between the ages of 18 to 25. Over half of the men and women who had a tattoo removed did so because they suffered embarrassment; however, there are several reasons clients get a tattoo removed. As the number of tattoos increases, so will the need for skilled tattoo removal technicians.
#2. Increasing patient base. If you are looking to expand your business and offer more services to your practice, then adding laser tattoo removal to your business is the way to go! Numbers don't lie – the potential clientele is enormous!
#3. Additional income. The average laser tattoo removal session costs between $200 and $500, and each procedure takes around 15 minutes to perform. As a cosmetic laser tech, if you perform three to four procedures an hour, you could earn an additional $800 an hour. But the potential income does not stop there. Clients often need 10 to 12 laser tattoo removal sessions, which makes the average income per patient around $2,000.
What Will I Learn During Laser Tattoo Removal Training?
When it comes to medical aesthetics training courses, you want to find an esthetics school that offers both classroom education as well as clinical hands-on training. Not only will you understand how laser tattoo removal works, but also how to treat a variety of tattoo clients looking to say goodbye to unwanted ink.
During tattoo removal training, you will learn:
Tissue interaction
Wavelengths and laser selection
Pre- and post-treatment care
Treatment contraindications
Treatment plans and tattoo types
Clinical observations on real clients
Hands-on training with real tattoo clients
Exposure to different skin and tattoo types
Clinical experience within a retail medical spa environment
Laser Tattoo Removal Training at National Laser Institute
Are you interested in adding laser tattoo removal to your business? The good news is the National Laser Institute has a program for you!
Our Just Tattoo Removal Course combines classroom instruction and clinical hands-on training for the ultimate learning experience. We will teach you everything you need to know to pursue a niche career in laser tattoo removal.
Of course, if you would like to learn other cosmetic treatments like laser hair removal and nonsurgical body contouring (CoolSculpting), our Comprehensive Laser Course has got you covered! You will learn a variety of medical aesthetic treatments that are popular in this multi-billion-dollar industry!
By the end of your training at National Laser Institute, you will feel comfortable and confident performing cosmetic treatments in any medical setting. Our alumni have found jobs working for working in laser & niche clinics, medical spas, physician's offices, salons, fitness centers and more!
If you would like to learn more about National Laser Institute's course options, fill out the form on your right or give us a call at 1-800-982-6817.