A Gentle Approach to Skin Problems and Hair Removal
By Nancy Brumback Contributing Writer
For 28 years, Eve Stelzner was a database engineer. Today, she is a certified laser technologist and owns Lase-Away Hair & Skin Solutions.
A personal experience led to the dramatic career shift. Stelzner had spent years and many dollars on creams and dermatologists trying to eliminate large brown spots that showed up prematurely on her hands. Then a friend, a nurse trained in laser technology, persuaded her to have laser treatment on her hands. The spots disappeared, and Stelzner was inspired to start a new business.
"I thought of all the people with birthmarks, scars, freckles, and felt I could help them."
So in 2008, Stelzner received her training at the National Laser Institute in Arizona. The training program was 114 hours, with about a third of the class doctors or nurses. She had additional training locally with consultants to laser manufacturers.
After months of research on laser technology and the equipment available, she made her decision.
"I found two lasers I really loved, ones that are truly 'virtually pain-free," she said, made by an Israeli company, Alma Laser. The Soprano, a diode laser, is used for hair removal, and delivers heat gradually for a more comfortable treatment. The Harmony laser is used for skin rejuvenation and tightening and to remove brown spots, freckles or fine red veins.
Stelzner opened Lase-Away Hair & Skin Solutions in November 2009, with Dr. Gert Walter, a graduate of Tufts University School of Medicine with a private practice and position as an emergency room physician at Emerson Hospital, as medical director.
"We are not a cosmetic salon, Selzner said. "We had to get a clinic license from the Department of Public Health," and meet stringent guidelines in the construction of the facility.
Lase-Away is set up to treat color issues with the skin, such as spots, freckles and small veins, and handles medical issues such as removal of precancerous cells. Stelzner also does skin resurfacing, dealing with scars, wrinkles and stretch marks, and skin tightening.
The Alma laser offers a new technique for hair removal that targets actively-growing hair and results in permanent hair reduction (the body sometimes creates new hair follicles) in three treatments. "You can pretty much throw away your razor," she said.
One of the questions Stelzner frequently gets is how safe laser treatments are and whether they can cause cancer.
"It's very safe, and it can actually reverse sun damage by removing some of the layers of skin," she said.
People also ask if the procedures will hurt.
"The hair removal does not hurt," Stelzner said. "We use cold air and a chilled instrument tip to keep the skin cool, so the procedure is virtually pain-free."
"The fractional laser used for skin resurfacing treatments doesn't hurt during the treatment, but the after effect is similar to a mild sunburn," she said, "and can be treated with ice and sunburn remedies." The procedure used to take color out is the "snappiest," and can feel like a quick rubber band snap. "We do use a numbing agent," she said, letting clients know the procedure to tighten skin "doesn't hurt at all."
Stelzner urged people interested in these procedures to call and discuss them with her.
"What makes our business stand apart is that we are safe, we know what we are doing, and we specialize in lasers. We really, really care about the comfort level of our customers and the results we achieve," she said. As evidence, she noted that most of Lase-Away's business comes from customer referrals.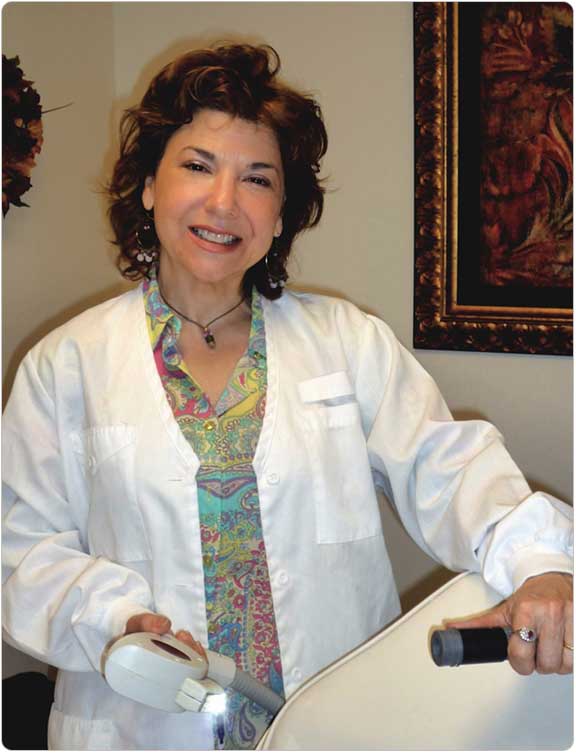 Eve Seltzner, certified laser technologist and owner of
Lase-Away Hair & Skin Solutions. PHOTO/NANCY BRUMBACK