Photofacial Careers Dallas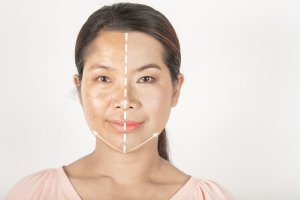 An Ode to Photofacial Careers, Dallas, and to Those That Fix Our Skin:
Dear Hot Texas Sun,
We love you for a lot of things. We love you for endless summers, for lazy float trips, for margaritas on patios and dancing in tank tops. Also, we thank you for sweet tea warmed on front porches and double header baseball games that require sunglasses and hats. We love running through sprinklers under your rays and feeling your warmth linger long into the firefly lit nights.
That being said, we also have a list of complaints:
When we were younger, the freckles you gave us made us glow like we had been kissed by the sun. Nowadays however (years of damage later) we look like we straight up made out, went to third base and got hot and heavy with it instead.  The blissful rays have officially wreaked havoc on our skin.
Therefore, in our maturity (ahem) we turn to cosmetic lasers and the angels trained to use them to right the wrongs you have caused.
Thank you for the good times. Again, thank you for the sunshine and dancing. But, as a result, today, we will take globs of sunscreen and wide brimmed hats and remain in med spas during your hottest hours.
Sincerely,
Freckles, Age Spots, Broken Capillaries, Hyperpigmentation and the Like.
(Please excuse our theatrics)
Okay, so the ode was a bit dramatic. But that doesn't mean it's inaccurate. If you've spent a day under the blazing Texas sun you (and your skin) know exactly what we're talking about.
That might also be what triggered your curiosity to search the Internet for "Photofacial Careers Dallas."
If you're truly interested in Photofacial careers Dallas, you've come to the right place! At National Laser Institute we are an absolute resource for all things cosmetic laser related. We're glad to help you delve into your topic of interest!
An Overview:
If you're looking for photofacial careers Dallas, you likely already know the details of photofacials and cosmetic lasers. But just for fun, and so that we can say we did, we'll do a quick run through:
Intense Pulsed Light (IPL) photofacial is a method of photo rejuvenation that improves the skin's tone, texture and appearance. In a series of five to 10 sessions, clients will see reduction in hyperpigmentation caused by the sun (See? Exactly what we're talking about!), smooth textured skin and erase broken capillaries.
On top of that, IPL photofacial will minimize the size of pores, reduce fine lines, and increase the elasticity of the skin.
With a trained hand, a laser technician will use a small, handheld device to deliver the treatment during each 20-30 minute session.
Want to know more about being a laser technician?
Sure! This is a particularly lucky question as it happens to be our area of expertise! Lasers and the people that operate them are absolutely in our wheelhouse!
Cosmetic laser technicians are the ones charged with performing techniques including IPL photofacials. At National Laser Institutes, enrollees in our Online Comprehensive Laser Course earn their laser technician certificate in two weeks or less.
In fact, attendees learn safe practices and technologies such as:
Laser Hair Reduction
Laser Tattoo Removal
Photofacial
Coolsculpting Body Contouring
Radiofrequency Treatments
Skin Rejuvenation
Skin Tightening
Cellulite Reduction
Microneedling, and so much more.
Taught by medical aesthetics specialists and experts, students similarly learn topics including:
Treating different skin conditions and types
Evaluating skin types using the Fitzpatrick scale
Skin physiology and tissue interactions
Laser Physics
Laser Safety
Indications and contraindications
How to perform the consultation process
Laser settings and functionalities
Anyways, let's paddle back to the original question. You are most interested in photofacial careers Dallas, correct? Well, we have that information too!
Photofacial Careers Dallas:
You've hit the jackpot with your area of interest. Photofacial careers Dallas are certainly a hot topic online!
IPL photofacials are offered citywide at countless clinics and spas. And you know what that means! Where there is demand for a service, there is a matching demand for providers of that service. In fact, in the Dallas area there are currently a ton of open positions for cosmetic laser technicians. Many of the clinics and spas requesting trained applicants, ask for providers that specialize in Photofacial specifically!
In two weeks or less, you could be that provider!
(Did you just get chills? Because we did for you! This is exciting stuff!!)
The pay for Photofacial careers Dallas:
This part is even more exciting! Per a search on Indeed the pay for laser technicians in Dallas is outstanding. It's so outstanding, in fact, that at an average of $17.61 hourly, it's eight percent above the national average!
So…what we're saying is EVERYTHING REALLY IS BIGGER IN TEXAS! Even the pay!
Now, it's important to note that, as with any job in any field, salary and hourly wage are dependent on several factors including experience, education and time in the business.
That being said, you are certainly looking in the right area for photofacial careers Dallas if money is a big factor for you (and who are we kidding, it's a big factor for everyone!).
Are there more benefits to the job?
Yep! There are countless job benefits for cosmetic laser technicians. For starters, laser technicians generally work in laid back environments (think laser clinic or day spa). They don't work many weekends or holidays. Many jobs offer competitive benefits packages that may include paid time off (vacation and holidays), sick leave as well as medical, dental, vision and life insurance. Additionally, employees are often granted access to use lasers and other materials at a free and reduced price. Some employers even extend the courtesy to technicians closest friends and family!
Can you remind me of where I can get training?
We thought you'd never ask! At National Laser Institute we would be thrilled to help you on your way to train for photofacial careers Dallas. We have the tools, the industry professionals and the desire to get you moving in the right direction.
Not to brag, but we also have a reputation to be proud of. More than 17 years ago, we acted as pioneers in the fields of cosmetic lasers and injectables. We continue to break barriers and serve up the best of the best in training and most up-to-date material.
We pride ourselves in being the industry leader in laser education and are pleased to be an institution that other schools try to emulate.
Graduate as one of the best!
But when you do graduate, you don't have to be done with us (because we certainly won't forget you!). National Laser Institute's Graduate Services Department provides as many as 500 job leads each months to help aid graduates in their job search. Because we aren't happy and settled until you've found the job of your dreams!
By all means, contact us today at 800-982-6817 for more details. If you aren't into phone conversations (we're staring at you Millennials) you can live chat with our expert advisors now!
During our Hybrid* Online Comprehensive Laser Course you will receive online classroom laser training with a variety of instructors and live demonstrations with several hours on each modality. Then choose one of our nationwide locations to attend your clinicals for hands-on learning!
Modalities include Laser Hair Removal, Photofacial, Laser Skin Rejuvenation, Radiofrequency Skin Rejuvenation, Coolsculpting, Cellulite Reduction, Tattoo Removal, Radiofrequency Skin Tightening, and Microneedling.