Sclerotherapy Made Affordable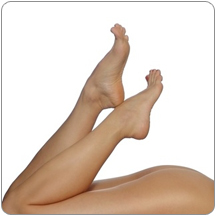 Have you always wanted to try Sclerotherapy to diminish the appearance of your spider veins, but didn't think you could afford the treatments? Well, now you can!
By being a Sclerotherapy MODEL for National Laser Institute's educational medical spa, you will receive deeply discounted treatments. Retail prices for individual Sclerotherapy treatments can range from $250-$350 in today's marketplace. That's a lot of money! However, as a Sclerotherapy Model, you can enjoy all the benefits of a professional treatment for a fraction of what others are paying in your area!
Each month, National Laser Institute offers Sclerotherapy treatments for only $125 on a first come, first served basis. What normally retails for hundreds of dollars can be yours for only $125. That's a huge savings! We also offer discounted treatments performed by expert technicians on non-school days.
Why Our Clients Love Sclerotherapy
Sclerotherapy is one of the most popular methods of vein reduction available today. Clients swear by the convenience of the quick treatments and are thrilled with new abilities to show off legs, ankles and thighs again. Most of our clients start with Sclerotherapy in one area, and love it so much they have it performed in other areas as well!
Sclerotherapy is a non-surgical, injection procedure used to eliminate small varicose veins, or superficial spider veins close to the surface of the leg. The Sclerotherapy process of injecting approved solutions into unwanted veins has been in use since the 1930s, and The American Academy of Dermatology states that Sclerotherapy patients today can expect a 50-90% visual improvement!
A Luxurious Medical Spa at Deeply Discounted Prices
Our sister medical spas are luxurious, state-of-the-art facilities. For our models, we offer huge savings with treatments performed by students in a safe, effective and supervised atmosphere. For a few dollars more, we also offer discounted treatments performed by expert technicians on non-school days.
We pride ourselves on being able to offer the absolute lowest possible prices yet maintain our rigorous safety standards, all in a beautiful medical spa setting. In fact, our non-school day prices are guaranteed to be lower than the deepest discounter in the state or we will beat it by 10%!
Appointments
To reserve a spot with us as a Sclerotherapy model, or as a model for any of our other treatments including BOTOX® and Dermal Fillers, Laser Hair Removal, Tattoo Removal, Laser Wrinkle Reduction, Skin Tightening, Cellulite Reduction or Spider Vein Reduction, simply visit National Laser Institute's Med Spa website. We have schools and sister spas in both sunny Scottsdale, Arizona and Dallas, Texas.
For Appointments in Arizona
Clients making their first appointment with National Laser Institute's Med Spa, call 480-290-7333. Returning clients, please call 480-222-4640.
For Appointments in Texas
All Clients Call: 214-252-7800