Tattoo Removal Careers: Right for Me?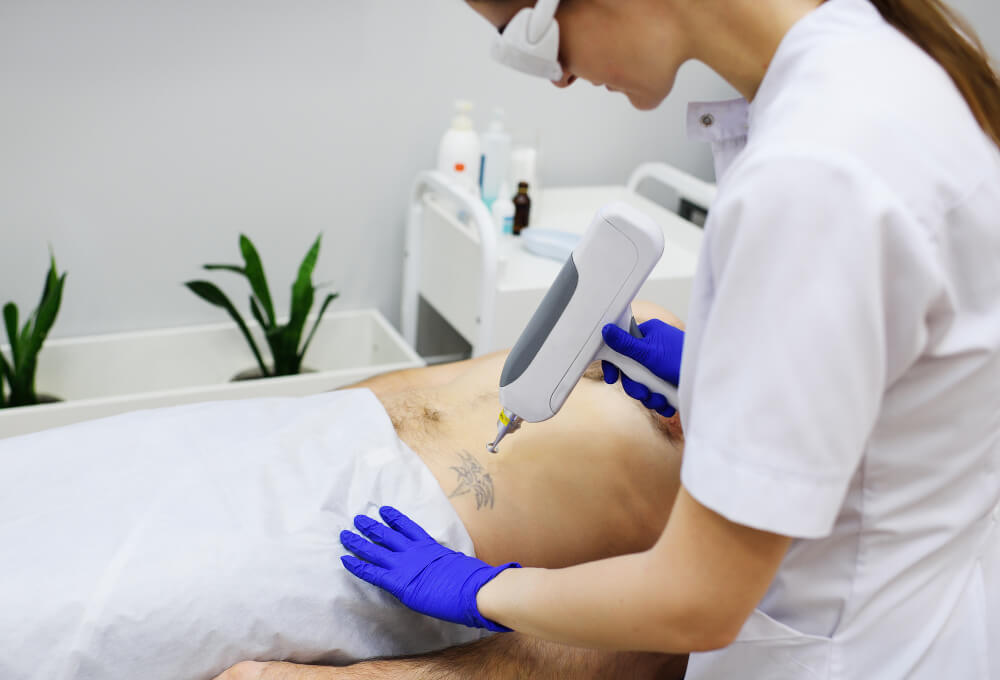 Curious about the world of tattoo removal careers? Have some extra time on your hands now that you're home all the time? It may be time for you to see what the fuss is all about.
Understanding Tattoo Removal Careers
In this day and age, there are many reasons people may choose to get tattoos. Most people are happy with their tattoos — and they should be! They're works of art, and they paid for them. Unfortunately, this isn't always the case for everybody. Others may find themselves literally marked with painful memories of a past they'd rather forget. Fortunately, tattoo removal technicians are here to help.
By using high-intensity light beams, a tattoo removal technician can break up the pigment colors of a patient's tattoo. Some tattoos may require more pulses and more sessions than others, depending on their size and color. Most patients don't require anesthesia, though some may prefer topical anesthesia beforehand.
Why Tattoo Removal Careers
Let's go over some fun facts:
Almost 30% of Americans have at least one tattoo.

25% of these tattooed Americans say they regret their tattoos.
So, we've already established there's a sizable client base for tattoo removal just by those two facts and figures alone. And when you consider that nearly half of all American millennials have one or more tattoos, it seems clear that this demand isn't going away any time soon.
There's demand, to be sure, but there's also a lot of profit. Tattoo removal technicians have a built-in client base, since every tattoo (even the small ones) require multiple sessions to see optimum results. Just one session can be anywhere from $200 to $500. You could choose to specialize in laser tattoo removal alone and still make a sizable profit. Plus, the average annual salary for a cosmetic laser technician is $50,905. Not bad for a job you can get with just a high school education!
Training for Tattoo Removal Careers
Every state has its own set of rules and regulations regarding who can and cannot become a cosmetic laser technician. In most states, however, the basic requirements are the same: Be at least eighteen years old and have a high school diploma. (A GED will work, too.) Confusing? Don't worry. You can always call one of our advisors, who'll be happy to assist with any questions you may have about getting your tattoo removal career started.
During our Hybrid* Online Comprehensive Laser Course, you will receive online classroom laser training with a variety of instructors and live demonstrations with several hours on each modality. Modalities include Laser Hair Removal, Photofacial, Laser Skin Rejuvenation, Radiofrequency Skin Rejuvenation, Coolsculpting, Cellulite Reduction, Tattoo Removal, Radiofrequency Skin Tightening, and Microneedling. Then choose one of our nationwide locations to attend your clinicals for hands-on learning!
Kickstarting Your Tattoo Removal Career
The National Laser Institute has been an industry leader for nearly two decades. We dedicate ourselves to helping our students advance to the next stage of their careers. Whether you are a medical professional looking to expand your business, a recent graduate entirely new to the workforce, or anything in between, we are here to help you get your tattoo removal career started.
On top of having multiple locations across the country, we train hundreds of students per month at our Arizona and Texas campuses. We offer a wide variety of courses. Financing options are also available for students in need. If you are interested in working directly with clients to make their visions a reality, medical aesthetics may be the right choice for you. 
Of course, we understand you may be nervous about taking the first steps towards your new career in this booming industry. We would be happy to answer any questions you may have. Call us at 480-290-7399 for more information. We have thousands of happy alumni. Take the first step to join them today.