A New Botox Competitor Is Here!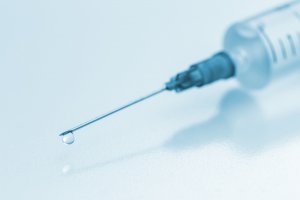 Beauty lovers, rejoice!
On February 1, the FDA announced the approval of Jeuveau, a new neurotoxin to treat frown lines. Evolus, which markets Jeuveau, is the first company in nearly a decade to enter the fastest-growing segment of the medical aesthetics industry.
Experts expect Evolus' new wrinkle treatment will be a key rival to Allergan's Botox.
There's A New Wrinkle Treatment In Town
The FDA approval for Jeuveau comes less than one year after the California-based company received marketing approval to sell its wrinkle treatment for frown lines.
The Botox-like treatment went through two U.S. Phase III trials and a global study of over 2,100 patients with glabellar lines, also known as "frown lines" between the eyebrows. The product trials were met with positive results which have led researchers to believe Jeuveau is a compelling and innovative option for the aesthetic treatment of glabellar lines.
Consumers should expect Jeuveau to be available throughout the United States starting in spring 2019. The company says it plans to price the treatment 20 percent to 25 percent lower than Allergan's Botox, which generated $3.5 billion in sales last year.
For physicians and nurses who plan to receive Botox certification, a new wrinkle option for frown lines allows them to expand their service menu and offer their clients a more affordable alternative to Botox.
Botox Training at National Laser Institute
Are you a physician or nurse looking to supercharge your earning potential? Advance your skill set and enroll in Botox training at National Laser Institute so that you can offer your clients cosmetic injections!
With over a decade of excellence, the National Laser Institute has taught countless physicians, nurses and medical professionals and helped them launch a career in the $16 BILLION medical aesthetics industry.
We offer several CE/CME training courses that combine didactic theory with hands-on clinical training for the ultimate learning experience. Whether you are looking for a short course or a more in-depth and advanced training curriculum, we have a course to meet your learning goals.
In the classroom, you will learn things like facial aesthetics, cosmetic injection techniques, patient care and the science of Botox. Clinicals take place in a medical spa environment where you and a small group of students watch comprehensive Botox and dermal fillers demonstrations and treat real clients.
By the end of your training, you will feel comfortable and confident in providing several aesthetic procedures, including Botox, dermal fillers, PDO threads, Kybella, sclerotherapy, platelet-rich plasma (PRP) and more!
We invite you to check out tens of thousands of National Laser Institute reviews from previous attendees like Dr. Ryan Krch who took several of our CE/CME courses. You can hear about his training experience in the video below!
If you would like more information about continuing education courses at National Laser Institute, fill out the form on the right of your screen or call 1-480-290-7399.