What's The Difference Between An Esthetician And A Laser Tech?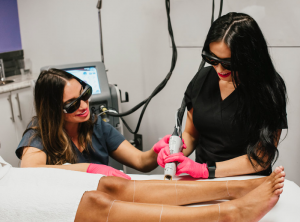 Today, nonsurgical cosmetic treatments are popping up all over the place. These procedures are relatively fast and inexpensive ways to rejuvenate and revitalize the skin.
As you do your research about the booming medical aesthetics industry, you may come across titles such as esthetician and cosmetic laser tech. So, what is the difference between an esthetician and a laser tech?
Distinguishing between the two can be tricky since both are considered licensed skin care specialists. Here we will discuss the differences between the two careers as well as the nonsurgical treatments they specialize in.
What Is An Esthetician?
An esthetician, sometimes spelled aesthetician, is a person who specializes in the beautification of the skin and is limited to providing treatments on the epidermis. They are trained in skin wellness, helping clients improve their skin's overall appearance through several body therapies such as sugar scrubs and body wraps. Estheticians are also trained to recognize common skin problems and can offer clients advice on a skin cleansing regimen.
Since esthetics is not considered a medical practice, estheticians are not allowed to give any type of injectables such as Botox or dermal fillers. Only physicians, nurses and medical professionals who have completed Botox injection training can provide cosmetic injections to clients.
Most estheticians work at beauty salons, day spas or skin spas; however, the salon is not the only place you will find an esthetician. Some estheticians work closely with dermatologists, performing complimentary treatments that don't puncture the skin's surface.
What Is A Laser Technician?
A cosmetic laser tech is a person who has completed training to use a cosmetic laser for several skin care applications. Their responsibilities include evaluating the skin concerns of a client, developing a treatment plan and applying the laser treatment. Hair removal is the most common use of laser technology; however, services can remove tattoos, minimize the appearance of wrinkles and treat spider veins.
Like estheticians, cosmetic laser techs can be found working at a medical spa, but they can also be found working at physician's offices, fitness centers, niche clinicals and other medical settings.
A common misconception about the field is people think you must be an esthetician or nurse to become a cosmetic laser technician. People from all walks of life, whether they are soccer moms, teachers, real estate agents or accountants, are capable of beginning a new career opportunity in two weeks with cosmetic laser training!
How To Become A Cosmetic Laser Tech
Since treatments such as laser hair removal are considered cosmetic, training is a must! Medical aesthetics schools across the country offer courses that are specifically designed to provide you with the skills necessary to become a successful cosmetic laser technician.
National Laser Institute, the nation's leading medical aesthetics school, offers cosmetic laser training for people who long for a career in this $16 billion marketplace. Each course includes classroom education and hands-on laser practice, so students feel comfortable in their new skill set.
The first half of your course will take place in a classroom environment where your instructor will lead in-depth discussions about topics like laser biophysics and how lasers interact with skin tissue. You will also spend time discussing:
Different types of light-emitting devices
Possible side effects and how to manage them
Disorders of the skin
How to conduct a patient consultation
Clinicals will take place in a retail medical spa so you can treat scheduled clients and gain real-world experience in a wide variety of cosmetic treatments. Here, you will witness comprehensive demonstrations and work on scheduled clients as well as receive treatments. To truly understand what your future clients are experiencing, we believe it is important to have the procedure yourself!
Cosmetic Laser Training At National Laser Institute
With over 15 years of excellence, National Laser Institute offers laser certification courses for those looking for an exciting and new career opportunity in medical aesthetics!
Our Comprehensive Laser Course is the most popular among students because it encompasses a wide range of treatments and equipment while providing students the opportunity to treat several scheduled clients within a medical spa environment.
The first half of this course is spent in the classroom where you will learn from experienced and professional instructors with seven to 20 years of experience in the field. The remaining days are spent in an educational environment where you will put your new skills to the test and treat clients that we book for you!
Our Graduate Services Department is here to help you succeed once you graduate. Our knowledgeable team works around the clock to send out over 600 job leads a month to our alumni! Previous students have found rewarding careers working at physician's offices, fitness centers, laser clinics and medical spas.
To learn more about courses at National Laser Institute, fill out the form on the right or give us a call 1-480-290-7399 to speak with an Admissions Advisor.