Laser Hair Removal Certification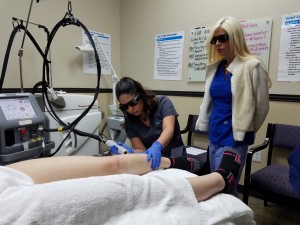 When you make the smart decision to become a laser hair removal technician, you need to get professional certification in order to treat clients in Texas and Arizona.
Laser hair removal certification in Texas and Arizona proves you have had the necessary training to use aesthetic laser equipment safely and accurately. Laser hair removal certified technicians are capable of working in medical spas, dermatology clinics, physician's offices, healthcare facilities, and laser centers, and even allow you to open up your own cosmetic laser business.
On average, your clientele will pay between $150 – $500+ per treatment (depending on the size of the area). It's an outstanding profit considering it takes between 10-30 minutes to perform laser hair removal.
At National Laser Institute, we offer a two-week training course leading to laser hair removal certification in Texas and Arizona. This training course provides our students with 8 hours of classroom training a day and hands-on clinical experience in our very own medical spa. This medical spa brings in real clients and is located on our campus.
Laser Hair Removal Certification in Less Than Two Weeks
With small class sizes that allow for individual attention from instructors, we provide you with the environment and tools you need to be successful here. We offer hands-on training in our luxury spa facility with the most state-of-the-art laser equipment. You'll learn from qualified medical professionals and expert industry leaders who will help you be the best of the best. Students come to us from all over the world to attend National Laser Institute. With our 100% financing program (for qualified applicants) that includes hotel and airfare, almost anyone can afford to come to school here.
Request more information about us by calling 800-982-6817 or by filling out the form on the right. You will not find a better training program for your education dollar. We are waiting to hear from you.
Watch our video testimonial below to see what students thought about their experience!