The Booming Business of Laser Hair Removal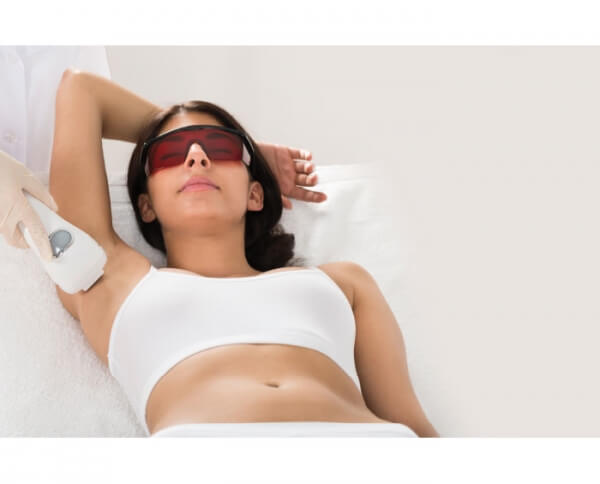 Laser hair removal is everywhere these days! From television commercials, magazine advertisements, and radio spots to giant billboards looming above freeways, people all over the country have learned that laser hair removal is fast, convenient, and more affordable than ever. This technological trend has been embraced by both women and men. The most requested hair removal area for women is the Brazilian area and underarms, while for men it is typically the back.
Now that laser hair removal is in such high demand, and so many day spas, medical spas, doctor's offices, salons, and niche boutiques are offering it, how do cosmetic laser technicians set themselves apart from the competition? How can professionals convey to potential clients that they are the best person for the job? Let's get down to the booming business of laser hair removal.
ESTABLISHING RAPPORT

Thanks to the internet, as well as local daily deal websites, such as Groupon and LivingSocial, anyone can easily snag an amazingly inexpensive deal on laser hair removal, and any properly-trained cosmetic laser technician can remove unwanted hair in mere minutes. The client walks in, the laser technician performs the hair removal service, and the client is back out of the door. However, was the client really there only for the Groupon deal? Did they just want their arms to
be less hairy or were there other body parts they have been considering, too?
If the technician is lucky, the client actually returns for a second treatment, but they typically do not because they usually feel like the treatment the technician gave them was all business or just Groupon. If the laser technician does not take the time to get to know all of the clients, they have truly gained nothing. Lost opportunities like these can not only affect a technician's word-of-mouth reviews, but also their bottom line.
Everything technicians need to start building rapport with their clients is right in front of them from the very moment that they meet the client. Make it all about them. The client may be there for hair removal, but who knows what else they might want or need as far as skin care goes. Begin by asking questions and not just about their unwanted hair, but also about their job, family, friends, and hobbies. Professionals should let them know right away that they want to take the time to find out who the client is and what they like, which sends the message that the professional relationship will be one that is going to evolve and endure over time. Are they in a relationship? Do they have pets or children? These questions are important. If a client falls in love with a particular service provider, they will always go back; if not, they will continue on their search for the one who makes them want to go back.

LASER VERSUS IPL
Most of the technology-based hair removal deals typically offer either laser or IPL hair removal with no indication of which one might be a better fit for the individual client. However, in the offer's fine print, they fail to include one very important detail: the client's Fitzpatrick skin type. This widely known scale in the skin care industry has a lot to do with both safety and efficacy of hair removal. The problem is, clients often think they are getting one thing, and end up with something else based solely on this factor. In fact, lay people often use the terms laser and IPL interchangeably, even though the two are completely different. Laser hair removal is simply a buzzword, sort of like Kleenex. Just as all facial tissue is not actually the Kleenex brand, not all laser hair removal is actually performed by lasers.
Does the client know the difference between laser and IPL hair removal? Do they know which modality would better suit their skin type and why the technician recommends one treatment over the other? Will they need more than the average number of treatments? Do not just assume that they know. The technician is the expert in hair removal and clients are counting on the technician to give them the best possible treatment with the best possible results. While lighter skin types often do well with IPL, it typically requires more treatments. Conversely, lasers tend to work better on darker skin types, but there are some inherent risks.
Laser hair removal accounts for only 60 to 70 percent of technology-based hair removal; the other 30 to 40 percent is done by IPL. While both treatments use targeted energy to interrupt the growth cycle of individual hair follicles, lasers
produce a single wavelength of light with a very concentrated beam and specific target, which happens to be the hair follicle's melanin. The follicle absorbs the significant heat, leaving the surrounding skin unharmed.
Though opinions differ, lasers typically get better, faster results. Each laser pulse takes just milliseconds and can treat several hairs at one time. Lasers are considered safe for all skin types, but, unfortunately, the treatments are not as comfortable for the client as IPL.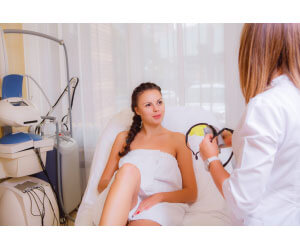 IPL, on the other hand, is not a type of laser treatment at all, but, instead produces a broad spectrum of wavelengths dispersed at a variety of depths, meaning that only some of those wavelengths go deep enough for permanent hair reduction. Because surrounding tissue absorbs some of the pulsed light, the skin's pigment also heats up, which is why there is a greater burn risk for darker Fitzpatrick skin types. IPL works very well in treating superficial pigmentation and fine blood vessels (spider veins) – making it ideal as an anti-aging treatment – but because it does not go as deep in the skin as lasers, IPL typically requires more treatments. The upside is that it offers a more comfortable treatment than lasers. IPL treatments should also cost a little less than laser, however, price is determined by the machine used and area being treated.
All of these things heavily factor in as far as results go and also have a lot to do with managing client expectations. If the technician is going to offer services through Groupon and other local deal websites, and even if they are advertising through traditional print, television, or radio media, it is a good idea to say something like, "Free consultation worth $X will determine the best treatment for your skin type."
CLIENT EXPECTATIONS
While many clients get highly satisfactory results with both laser and IPL hair removal, it is important to explain to them at the beginning of any treatment series that they are actually getting laser hair reduction rather than removal. Some people never have to shave again, while others may be able to cut down their daily shaving time from 15 minutes to one minute. For some people, any hair that does happen to grow back will be finer and lighter in color, but each client is different. According to Kellie Jones, a certified laser technician at National Laser Institute with more than 15 years of cosmetic laser experience, "There's never a 100 percent guarantee that all hair will be permanently gone and it may take more than the average number of treatments, which is typically about six, though it may end up being fewer."
Jones says that with darker skin types, hair reduction can take as many as 10 to 12 treatments and should always be done with a laser rather than IPL. "There's always an added risk with darker skin of hyperpigmentation and blistering, so you want to be extra careful. The newer sapphire cooling tips on laser devices help a lot, both with keeping tissue at a lower temperature and also with the client's comfort level. It's also a bonus that we, as laser technicians, no longer have to keep messy cooling gels in the refrigerator. Technology has really improved a lot since I first started in the industry."
Because hair varies in length and thickness on different parts of the body, it does not grow at the same rate, an important factor in getting optimal results with both laser and IPL hair removal. "Treatments need to be performed during the anagen, or growth, phase. If a client comes in for a second or third treatment and their unwanted hair hasn't grown back at all since the last treatment, they're not in the anagen phase and they're not going to get the results they're wanting. Technicians need to know how to properly schedule treatments for the particular area(s) being treated."
Finally, clients can optimize results by adhering to post-treatment care guidelines, such as staying out of the sun and keeping skin as cool as possible. "Lighter skin types should avoid sun exposure and heat for about a week; darker skin types need about two weeks." Inform clients that heat exposure includes intense exercise, hot yoga, Jacuzzis, and saunas.
MARKETING AND PRICING
With so many businesses now offering laser and IPL hair removal to first-time clients at significantly low prices, one must wonder how they could stay in business! The answer is that the hair removal treatments are simply the entry pointy to helping clients find the technician. It is like the McDonald's dollar menu, which offers smaller sized hamburgers, fries, and sundaes. The fast food giant is counting on the fact that people, once they are in line and placing their orders, will also add on a Big Mac or chicken sandwich. The same concept applies to spas. Technicians can get clients in the door by offering them a $25 hair removal on one body part. Once the client sees how wonderful the technician is, they can be sold on additional hair removal for other body parts, as well as facials, peels, and anti-aging technology-based treatments, all at regular prices.
EXCEEDING EXPECTATIONS

As important as it is for technicians to manage their clients' expectations by opening up a dialogue with them, it is just as important for them to try exceeding those expectations. Does the technician or their staff greet the client right away or offer them a beverage? Are there flowers on the front desk and are they fresh? Are the spa's retail cabinets dust-free and well-stocked? These things say to the client, "I am so glad you are here. I hope you will come back."
Another way to exceed client expectations is by offering them a service for free. For example, if the technician sold a hair removal package online with six to eight treatments and, upon meeting the client, realizes right away they are going to need more sessions, they should let them know, but in a way that does not make the client feel duped. Perhaps they can offer the client a steep discount on additional treatments or, if they end up getting a nice result with just eight treatments, tell them any touch-ups needed down the road are at no additional charge. If the client is upset that they are going to need more treatments than they initially purchased, offer them a complimentary facial or the opportunity to try an anti-aging photofacial; offer them something of real value that makes them feel like they are not just another
package deal.
MANAGING COMPLICATIONS
In every business there are risks of complications and laser and IPL hair removal are no different. The key to handling complications is the technician's response time. People sometimes hesitate when responding because they do not feel like they have the perfect solution, but they do not need to have one. What they do need is a lightning-quick response, showing clients that they are care for. Technicians should be sympathetic to the client's needs and do everything possible to take care of them.
Always offer the client something of value for free to offset their inconvenience. With a fast response time and the offer for a free treatment, technicians will get far fewer slams on Yelp and other social media websites. Also, be sure to monitor social media websites on a daily basis. These days, lots of people who are unhappy with the service they received from technicians will not call to tell them about it privately; they will go on Facebook or LinkedIn and complain to the world. It is simply the new reality. If the technician is not watching their websites consistently, those complaints can quickly spiral out of control.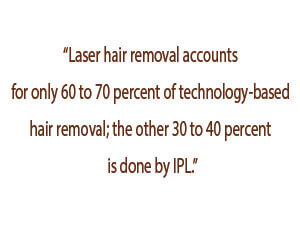 Standing apart from the competition does not typically happen overnight. It takes time, patience, and true commitment to going above and beyond clients' expectations. When the technician's ultimate goal is to build lasting client relationships, they are already well on their way. Do not just be a laser hair removal provider; be an excellent laser hair removal provider.