Laser Versus Intense Pulsed Light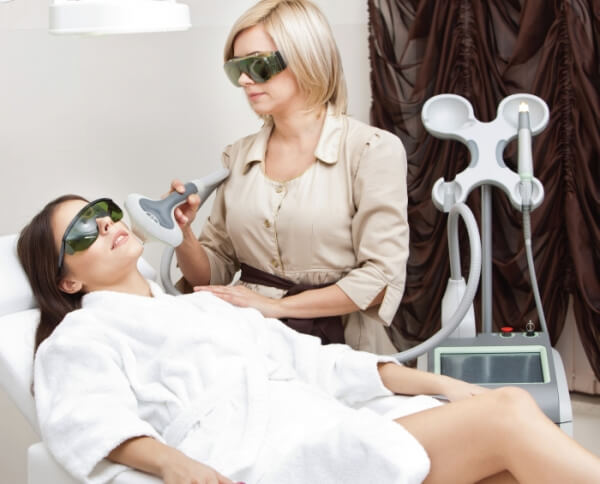 In the world of beauty, the term "laser hair removal" has come to encompass a variety of techniques that remove unwanted hair by zapping it away with the use of a light source. When cosmetic lasers were first cleared by the FDA for permanent hair reduction in the late 1990s, it sparked a new trend in the beauty industry and brought the term "laser hair removal" into popular culture. However, not every form of light-based technology used for permanent hair reduction is actually a laser. Additionally, even within the laser category, there are different types of laser beams with different wavelengths and properties. Knowing about different types of light-based hair removal technologies, and how they work, will allow you to provide your best professional service to your clients and help them achieve the best results.
The widespread use of the laser hair removal catchphrase has led to some consumers receiving misinformation when it comes to light-based permanent hair reduction. This misinformation can have dire consequences. It can lead to people receiving treatment that is not right for their specific skin and hair types, which can lead to inadequate results or even injuries like scarring, burning and discoloration. Learning the difference between laser and intense pulsed light (IPL) hair removal treatments – and the differences within the laser and intense pulsed light categories – will help you treat your clients in the most safe and effective manner.
The Difference Between Laser and IPL
Laser hair removal is a process of using a specific laser wavelength to damage the hair follicle and inhibit new hair growth. The word laser is actually an acronym that stands for Light Amplification by Stimulated Emission of Radiation. A laser emits a single concentrated beam of light. For hair removal, a laser will emit a specific wavelength to target melanin in the hair, heat the hair shaft, and selectively damage the hair follicle. Because the follicle is damaged, hair has a hard time re-growing.

There are several types of lasers and numerous manufacturers of laser devices. The types of lasers include ruby, alexandrite, diode and Nd:YAG lasers. Each of these lasers has a different wavelength, and certain wavelengths work better for certain skin and hair types. For example, the ruby laser (the first laser that received FDA approval for permanent hair reduction) has the shortest wavelength (694 nanometers). It works well for clients with fair skin and fine hair, but is not recommended for those with darker skin tones. The Nd:YAG laser has the longest wavelength (1064 nanometers) and can treat a wider range of skin tones. It is regarded as the gold standard for performing laser hair removal on clients with darker skin tones.
Intense pulsed light is different than a laser because it uses a high-powered light that contains multiple wavelengths as opposed to one single beam. The intense pulsed light method of hair removal uses individual light pulses to target melanin in the hair follicle. The melanin absorbs the light, which damages the follicle to inhibit new hair growth. Similar to laser hair removal, hair and skin color are important factors to consider when treating clients. Intense pulsed light typically works best on clients with light skin and dark hair and may not be appropriate for darker skinned clients.
Laser and intense pulsed light hair removal can be performed on skin anywhere on the body. Some of the most popular treatment areas for women are the underarms, bikini area, legs, upper lip and chin. For men, popular treatment areas include the back, abdomen, chest and shoulders, as well as the neck and face. Light-based hair removal can often help men who suffer from ingrown hairs caused by daily facial shaving.

Keep in mind that both laser and intense pulsed light treatments are only effective when targeting hair that is in the anagen phase (also known as the active growth stage). Because a client's hair goes through different stages, only a small amount of hairs are in the anagen phase at any given time. Because of this, treatments usually need to be spaced out every four to six weeks, with an average of up to six to 10 treatments for the best results. Also, it is important to note that laser and intense pulsed light devices do not promise permanent hair removal; only electrolysis is cleared for that. Laser and intense pulsed light procedures offer up to 90 percent permanent hair reduction because they have been proven to remove hair for long periods of time, but there is still a possibility that some hair may grow back at some point.
When using any light-based aesthetic device, safety is of top importance – and education is key to safely performing these treatments. In most states, no prior medical or aesthetic training is required to perform laser or intense pulsed light hair removal, but that does not mean one should pick up a laser or intense pulsed light device and begin treating clients. To learn how to properly perform laser and intense pulsed light hair removal treatments, seek out a top laser training institute that offers educational opportunities both in the classroom and in a professional hands-on environment. This will give you the knowledge and experience needed to provide the safest and most effective services for your clients.
Advances in Laser and IPL Technology
The medical aesthetics field is constantly growing and changing as new advances hit the marketplace. Over the past few years, laser and intense pulsed light device manufacturers have introduced new innovations that range from faster performance to comfort enhancement. This includes laser devices that offer dual wavelengths – allowing for a wider treatment range, as well as devices that have a larger spot size (the size of the treatment tip), enabling faster treatment of larger areas like the back, legs, and chest.
If you have performed laser or intense pulsed light hair removal before, you know that the procedure can be painful for some clients. Sometimes, a topical anesthetic can be applied to ease the pain, but now there are devices that can be used to cool the skin during the hair removal treatment. These devices range from add-on equipment that will apply a continuous flow of cool air to the skin to cooling tips that are built into the hair removal device and emit a cooling sensation when the device zaps a section of hair follicles.
Other advances include suction technology that bring the hair follicle closer to the light source, as well as devices that combine laser and radiofrequency technology to perform hair removal. As laser and intense pulsed light equipment continues to advance, we will likely see even more exciting developments emerge in the near future that will provide additional treatment options for this popular procedure.
Choosing the Right Device
With so many options, it can be intimidating to choose a hair removal device for your aesthetic practice. Not only are you deciding between using a laser or intense pulsed light device, you are also looking at numerous products created by different manufacturers – all with different features and varying price points. Here are some tips for finding the right equipment for your aesthetic practice and determining whether you want to rent, lease or buy your hair removal device.
The first thing to consider is whether hair removal will be a key focus of your business. For example, if your business specializes in anti-aging skin rejuvenation, hair removal may be an important part of your business, but not your core offering. If this is the case, you may want to look for a device that can perform hair removal as well as other functions. Some intense pulsed light devices can perform skin rejuvenation and spider vein reduction, in addition to hair removal. But keep in mind that typically, intense pulsed light devices are not recommended for treating darker skin tones. Some newer laser devices can also treat other skin conditions in addition to hair removal.

Next, you will want to see which device can help you treat the most clients. For example, ruby lasers have the shortest wavelength, resulting in the most limited treatment options. So, if you plan to treat a diverse clientele, this would not be the best choice for your business. Examine your options to see what device will be able to safely treat the largest number of clients.
Another factor to consider is whether or not you want special features. Do you think a cooling tip or cool air device will help increase the comfort of your clients? Will that help you book more treatments? These are important considerations to keep in mind when looking at hair removal devices for your aesthetic practice.
Price is also important. You want a high quality device, but you do not want to bankrupt your business! Fortunately, there are options for top quality devices at numerous price points. Additionally, many manufacturers offer the option to rent a device (by the day or week), lease a device (signing a longer contract), or purchase a device. These options give aesthetic professionals a wide range of choices to help fit different budgets.
The world of high-tech hair removal is booming in popularity and continues to grow. I know from my personal experience as a medical spa owner that laser and intense pulsed light hair removal procedures are some of our most highly requested treatments. Adding these services has proved to be a profitable business move for many in the aesthetic industry. As styles and fashion trends continue to call for a smooth physique, the requests for hair removal will likely not be dwindling anytime soon! By becoming educated in how to perform light-based hair removal in a safe and effective manner, you can help clients achieve hairless happiness by reducing hair growth while growing your business.