Treating Skin of All Shades: A Guide to Laser and Medical Aesthetic Technology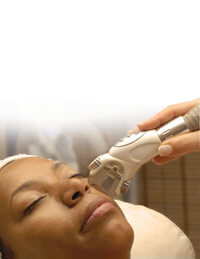 Comfort and confidence are two of the most important principles in your esthetic practice. You want clients to feel comfortable with the treatments they are receiving, and have confidence in you and your team's ability to perform each procedure safely and effectively. This is especially important when treating clients with darker skin tones categorized as type IV, V or VI on the Fitzpatrick Scale. Some clients may have fears or concerns about treatments that zap away unwanted hair, wrinkles or other skin problems. (See Fitzpatrick Skin Type Classifi­cation Scale.) They have often heard horror stories about people getting burned or scarred by lasers or other medical esthetic devices, and they may mistakenly believe that they are not candidates for certain procedures.
This is why it is essential for skin care professionals to be knowledgeable about treating all skin tones, and to share this knowledge with clients so they can learn about safe and effective treatment options that can help them achieve their desired results. Today's technology offers options for many of the most popular modalities, including permanent hair reduction, wrinkle reduction, scar reduction and skin-tightening, among others. This article will discuss some of the latest and greatest high-tech treatment options for darker skin tones.
Hair removal and permanent hair reduction
There was a time when light-based skin treatments were discouraged for people with darker skin tones. When lasers were first approved for permanent hair reduction in the late 1990s, only a small number of laser wavelengths were available. These wavelengths targeted the pigment of the hair and provided great results for those with light skin and dark hair. If someone had dark skin and dark hair, the limited technology didn't provide a safe treatment option. Further complicating the issue, untrained technicians tried to perform laser hair removal on clients with dark skin tones, only to leave them with burns, scars and discolor­ation.
Fast-forward to 2014: Options have vastly improved. One of the biggest game-changers in laser hair removal is the Nd:YAG 1064, which emits a wavelength of 1064 nanometers (nm). This type of laser is able to travel deep below the skin's surface to reach the melanin in the hair follicle without damaging the skin's superficial layer. The Nd:YAG is considered by many in the industry to be the gold standard for performing laser hair removal on Fitzpatrick skin types IV–VI.
Recent advances in equipment have also brought to market hair-removal devices that have color-blind properties. The newest wave of hair removal technology combines radio frequency (RF) energy and laser light to heat the hair shaft. The RF energy is color-blind, which allows this type of device to treat darker skin tones. However, the laser light is still targeting pigment, so a thorough consultation will be needed to determine if this is a good option. Longer-wavelength lasers are safer for darker skin, and this still holds true when lasers are combined with RF; for example, a device that combines RF with a diode laser (emitting a wavelength of 915 nm) is typically safe for treating skin types I–V.
With any hair-removal device, you will need to use caution when treating darker skin tones. It is a good idea to begin the treatment conserva­tively, using a low-energy setting that can be adjusted as the series of treatments continues. This is especially important if your client shows any previous signs of hyperpig­mentation or other skin damage.
Skin rejuvenation
Fractional laser skin rejuvenation has become one of the most sought-after treatments to combat the signs of aging. This procedure gained popularity by offering a noninvasive way to reduce the appearance of wrinkles, stretch marks, acne scars and other skin conditions with minimal downtime. A fractional laser emits a laser beam that is fractionated into multiple microbeams. The microbeams deeply penetrate the skin to selectively target water in the dermis and create a targeted wound to stimulate collagen production without harming the skin's superficial layer.
Fractional lasers can often treat dark skin, but this varies based on the device, the laser wavelength and the manufact­urer's guidelines. Unlike some of the lasers used for hair removal, fractional lasers do not target melanin. However, because darker skin types do pose a higher risk for discoloration and hyperpig­mentation, it is still important to use caution when performing this treatment. Be sure to talk with your client about her skin care and medical history. It may also be beneficial to test a small area of skin to evaluate the results before performing the procedure on a full treatment area.
RF skin rejuvenation. If you do not feel that fractional skin rejuvenation is right for your client, RF skin rejuvenation is another option. Similar to RF hair removal, RF skin rejuvenation devices have color-blind properties that utilize heat to damage tissue in the dermis and spark collagen production. Although the treatment may be a bit more conservative than a fractional laser procedure, it is still extremely effective for combating many of the same skin issues, and is also great for tightening sagging skin.
Micronee­dling. In addition to RF, there is another color-blind treatment that is growing in popularity: micronee­dling. Similar to the fractional laser and RF treatments, microneedling works by stimulating the production of collagen to create smoother, younger-looking skin. However, this is a physical wound as opposed to a heat wound. Microneedling works by using a handpiece outfitted with fine needles. The needles create tiny punctures in the skin to damage the dermis and stimulate collagen production while leaving the skin's superficial layer intact. With some treatments, anti-aging serums may also be applied during the procedure.
The needles used in this service are adjusted to different lengths for varied depths of penetration in order to address different skin issues, including acne scars, stretch marks, and fine lines and wrinkles. However, treatments using some of the deeper needle lengths can only be performed by medical professi­onals.
Chemical peels. Another option for skin rejuvenation does not involve the use of a high-tech device, but rather a treatment that has been performed for thousands of years. Chemical peels have been used since the days of ancient Egypt to treat a variety of skin concerns, and there is a reason that they are still widely popular today—they are able to refresh skin for a younger-looking appearance, reduce the appearance of scars and acne marks, and even out skin tone. Four of the most popular types of chemical peels are: alpha hydroxy acid (AHA) peels, beta hydroxy acid (BHA) peels, Jessner's peels and trichlor­oacetic acid (TCA) peels.
AHAs are mild acids, including glycolic, lactic, tartaric, citric and malic acids. AHA peels promote exfoliation for clients who want to reduce the appearance of fine lines, wrinkles and acne scars, while improving overall skin texture and tone.
BHA, also known as salicylic acid, is extremely effective for treating acne and smoothing skin texture.
Jessner's peels penetrate the skin even more deeply to address oily skin, acne, fine lines and pigment irregula­rities. This type of peel often combines salicylic acid, resorcinol and lactic acid in an ethanol solution.
A TCA peel is the deepest of the four peels. It coagulates skin protein to treat fine lines, wrinkles and pigment irregula­rities. However, it's important to note that with darker skin tones, there is a greater risk for hyperpig­mentation when using TCA.
Because dark skin is more prone to hyperpig­mentation, discoloration and scarring, all skin rejuvenation treatments should be evaluated on a case-by-case basis. Although many treatments are generally safe, the specific outcome of a service cannot be predicted. A thorough consultation and evaluation is essential to developing the best treatment plan.
Client comfort and confidence
When treating clients with darker skin tones, it is important to effectively communicate the treatment options that are available, along with the expectations for results and information about potential risks. Keeping yourself up-to-date with medical esthetic developments and techniques can help you provide the best services for your client. It is also important for clients to know that you are knowledgeable about treating Fitzpatrick skin types IV–VI, and have experience with the devices and techniques you are promoting. Ask some of your current clients if prospective clients may be able to contact them for a reference. Being able to hear from current clients—and possibly see their positive results—is a great way to build trust with potential clients and show that you are well-versed in treating skin of all shades.