CE/CME Credits for Medical Aesthetic Training Courses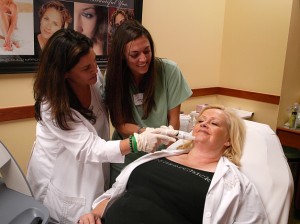 Can you believe it's almost the end of the year? Time tends to sneak by us fairly quickly, especially since we're all super busy individuals.
But there are some things you definitely don't want to leave down to crunch time, and that includes your CE or CME hours.
We know most states require medical professionals to receive and present CE/CME credits every year or so.
If you're unfortunately down to crunch time and are looking for a fun and interesting way to receive your credits, be sure and check out our medical aesthetic training courses.
Botox, Dysport & Fillers
National Laser Institute offers medical professionals a cosmetic injectable course that covers the #1 non-surgical cosmetic treatment, Botox, along with the highly in-demand dermal fillers as well as Dysport injectables. Medical professionals have the option of choosing from our 1 day, 2 day, or 3 day courses, which covers detailed knowledge of these cosmetic injectables, hands-on training, and sclerotherapy training. This course is perfect for medical professionals who want to learn the basics of cosmetic injectables to start treating their own clients.
Advanced Injectable Training
Our advanced injectable training course is a 2-day course for medical professionals who want to learn advanced techniques and treatment areas when it comes to treating Botox, dermal fillers, and Dysport. This course give attendees hands-on training with a variety of advanced treatment areas, including glabella, lateral brow, nose augmentation, marionette lines, chin augmentation, and much more.
Injectable and Laser Training
Our 7-day comprehensive course includes Botox, Dysport, dermal fillers, and highly sought after cosmetic laser treatments such as laser hair removal, laser tattoo removal, laser wrinkle reduction, and many more. Medical professionals receive hands-on training with both injectables and cosmetic lasers and are able to practice on scheduled clients within a luxury medical spa setting.
Don't leave your CE/CME credits until last minute! National Laser Institute gives medical professionals the opportunity to receive medical aesthetic training while earning credits. We are the leader in the medical aesthetics industry and are recognized as gold standard education. We have earned an A+ rating at the BBB as well as a number of outstanding reviews.
To learn more about medical aesthetic training courses for medical professionals wanting to earn CE/CME credits, please call 800-982-6817.