Be a Laser Tattoo Removal Model: $50 Treatments
National Laser Institute is North America's leading training center specializing in laser tattoo removal and other cosmetic laser treatments. Located in beautiful Scottsdale, Arizona and Dallas, Texas, with more locations opening in major cities nationwide, you can be sure you are in the best hands at National Laser Institute.
Retail prices for laser tattoo removal treatments typically range from $150-$500 per treatment depending upon size. At National Laser, our prices start at just $50 per treatment (Larger tattoos may cost a little more. We can let you know by phone or during a free personal consultation). There is nowhere in the entire country where one can pay so little for a tattoo removal treatment and be in such an expert environment. Our laser tattoo removal student technician will do your treatment under close supervision.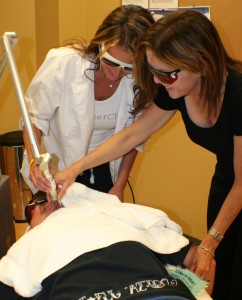 So how much money can you save? If the regular retail cost is $250 per treatment and you are paying $50 then for each treatment you receive you would be saving $200 per treatment. Treatments are done one month apart until desired result is achieved.
National Laser Institute also offers laser hair removal, photofacial skin rejuvenation, laser wrinkle reduction, skin tightening and cosmetic injectibles, including BOTOX® and dermal fillers at COST, 50% of retail for BOTOX® and starts at $275-$300 for fillers. We train doctors and nurses, with previous experience performing various non-cosmetic injections, in courses taught by a leading valley dermatologist.
Treatments are performed by students in a supervised atmosphere at one of the most luxurious medical spas in both Arizona and Texas. We use only the highest quality, most reputable brand name manufactures for our equipment and are known nationwide as a pioneer in education and safety.
We feel you will receive a safer treatment here than at any med spa in the country as safety is our #1 concern. All treatments are closely monitored by a certified expert. To receive more information, simply visit National Laser Institute's Med Spa website. We have schools and sister spas in both sunny Scottsdale, Arizona and Dallas, Texas.
For Appointments in Arizona
Clients making their first appointment with National Laser Institute's Med Spa, call 480-290-7333. Returning clients, please call 480-222-4640.
For Appointments in Texas
All Clients Call: 214-252-7800