Photofacial Careers Phoenix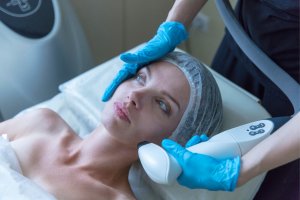 If you're interested in Photofacial Careers in the Phoenix area, you've came to the right place. Currently, there is a ton of opportunity in the esthetic market, and photo-facials are no exception.
In the Phoenix area alone, you'll find 5 pages worth of results on yelp – with new spas opening up seemingly everyday. But, what does that mean for you? For starters, it means you will have a ton of job place options after receiving a certification.
What Is A Photofacial?
IPL Photo-facials, often referred to as a foto-facial, are procedures that repair skin and promote radiant complexion. Short for Intense Pulsed Light, IPL photo-facials drive intense pulses of light into the skin. We use this 'light' treatment to stimulate the creation of collagen.
Why Choose Phoenix?
Normally Phoenix isn't the first place that comes to mind when you think of esthetics. But, it really should be one in your top-3 list. Scottsdale, or the Hollywood of Arizona, treats health and wellness very seriously. In addition to countless Spas and a noteworthy food scene, residents enjoy year round sunshine. It is that same sunshine that supports a purified lifestyle – great for anyone looking into a career in lasers.
For more on Photofacial Careers in Phoenix give us a call at: 800.982.6817
What You Need To Learn Before Doing Photofacials
Before starting a Photofacial Career in Phoenix, you'll want to get your certificate in cosmetic lasers. Photo-facial is one laser service that falls into a much larger category of cosmetic treatments. For example, in addition to learning about photo-facials, you'll also find the following in most laser courses:
micro-needling
cellulite reduction
skin tightening
skin rejuvenation
RF treatments
coolsculpting
body contouring
laser tattoo removal
laser hair reduction
Moreover, you'll also learn about laser physics, safety, and technique. That will give you the confidence you need to complete any of the above.
Who Makes The Best Fit For A Career In Lasers?
Ideally a career in lasers will work for just about anyone as long as they're at least 18 years of age. Because lasers do not require any medical background, they're very approachable, even to recent high school graduates.
For Photofacial Careers questions in the Phoenix area, check out our website
What You Need To Before Starting A Career in Photofacials?
Photofacial Careers in Phoenix are about as abundant as restaurants. But that doesn't necessarily mean everyone is guaranteed a job after training. In fact, with the market being so competitive, you'll have to do everything in your power to stand out among the rest.
First, you'll want to find a school that can provide both hands-on and classroom education. You can get away with just classroom, but getting actual hands-on training will give you the confidence you'll want to perform the safest, most effective procedures.
Secondly, you'll want to find a school with experience to back up their claims. It may not sound that important to you, but having industry backing can help in more ways than one.
Lastly, finding a program willing to work around your schedule is a must. Why you might ask? If your school is not able to work around your business, things will be over before they even started.
Thankfully NLI meets all the above criteria, and offers courses that make earning your laser cert. that much easier.
During our Online Comprehensive Laser Course you will receive online classroom laser training with a variety of instructors and live demonstrations with several hours on each modality. Then choose one of our nationwide locations to attend your clinicals for hands-on learning!
Modalities include Laser Hair Removal, Photofacial, Laser Skin Rejuvenation, Radiofrequency Skin Rejuvenation, Coolsculpting, Cellulite Reduction, Tattoo Removal, Radiofrequency Skin Tightening, and Microneedling.